Periwinkle injects a note of spring into capsule wardrobes
Posted by Rose on 16th Apr 2021
Sympatico's latest color pairs beautifully with my casual skirt lineup, not to mention pants and tops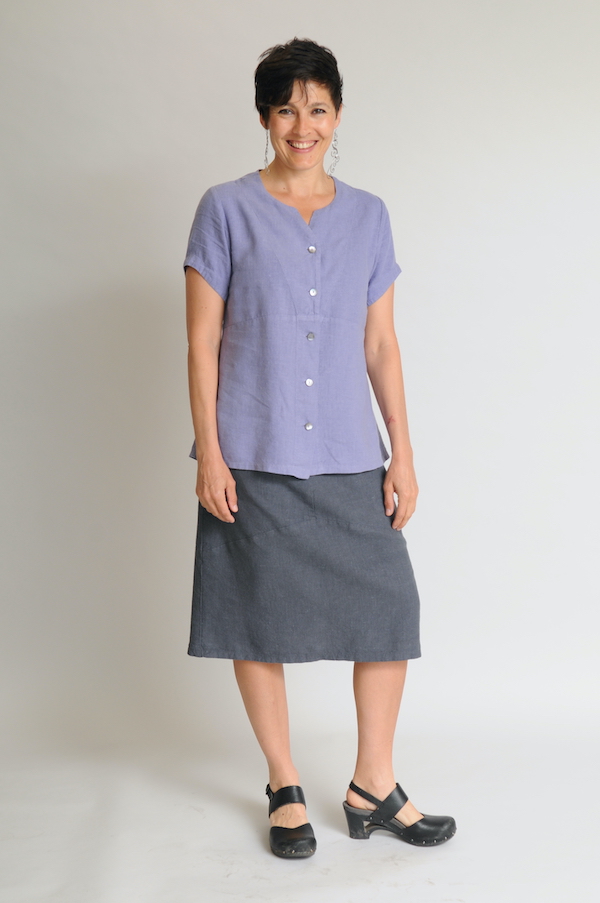 Zoe wears a Spring-friendly Swallowtail Top in Periwinkle over a Curved Skirt in Graphite.
New wildflower blossoms are emerging every day on our walk, making it seem like the ideal time to introduce Periwinkle. This easy-to-wear blue works with a broad array of complexions and hair colors. Periwinkle also coordinates nicely with many of Sympatico's perennial shades like Plum, Natural, Graphite, and Grey Fog as well as seasonal colors such as Sage and Sapphire. Capsule wardrobes that rely on neutrals can be quickly perked up with an infusion of Periwinkle. Pairing a Periwinkle top with a casual skirt is a lovely way to celebrate. Periwinkle has a clean clear look that is refreshing as spring itself.
As I blogged about recently I've been delving into dyeing over the past year and it's been an eye-opening experience. In the process, I was able to come up with some new creations for the Sympatico scarf collection using shibori and other tying techniques. Many of my efforts have surrounded the various shades of blue and green that can be drawn from indigo. So when it was time to come up with a new 2021 spring shade my thoughts naturally led in the blue direction. But I wanted a shade with a subtle red component that would play nice with Plum. My dyers, Mark and Mary, did a wonderful job dialing in just that quality in achieving the shade was to become Periwinkle.
As with many of Sympatico's past seasonal shades, Mother Nature was a decided influence. There are certain varieties of vinca that flower in that precise shade, so I was delighted when I saw the first lab dip (a small test piece for color approval) perfectly mirrored the color I had in mind.
I have stocked up lightly in Periwinkle casual skirts, Cropped Pants, and tops, but I can cut and sew more to order at no extra charge so long as my fabric supply holds out. If you don't see the shade you're seeking in your size and style, you can drop me an email or call me at 541-899-3988 to check if that's an option.
---
Rose Gerstner is the founder of Sympatico Clothing, an eco-friendly clothing collection that's ideal for building a sustainable capsule wardrobe. Sympatico's hemp and Tencel tops, pants, and skirts are designed for free moving comfort and real-world bodies. Rose regularly blogs about capsule wardrobes and sustainable fashion.
---