Artisan-Made Scarves Merge Art with Sustainable Practices
Posted by Rose on 21st May 2019
As some of you know, my daughter, Willow, lives in the city of Yogyakarta, the cultural center of Java, Indonesia. When I visit, exploring the teeming textile markets of "Jogja", as the locals call it, is a top priority, one that never ceases to uncover astonishing creations both traditional and modern. You can explore my latest artisan-made scarves and wraps here.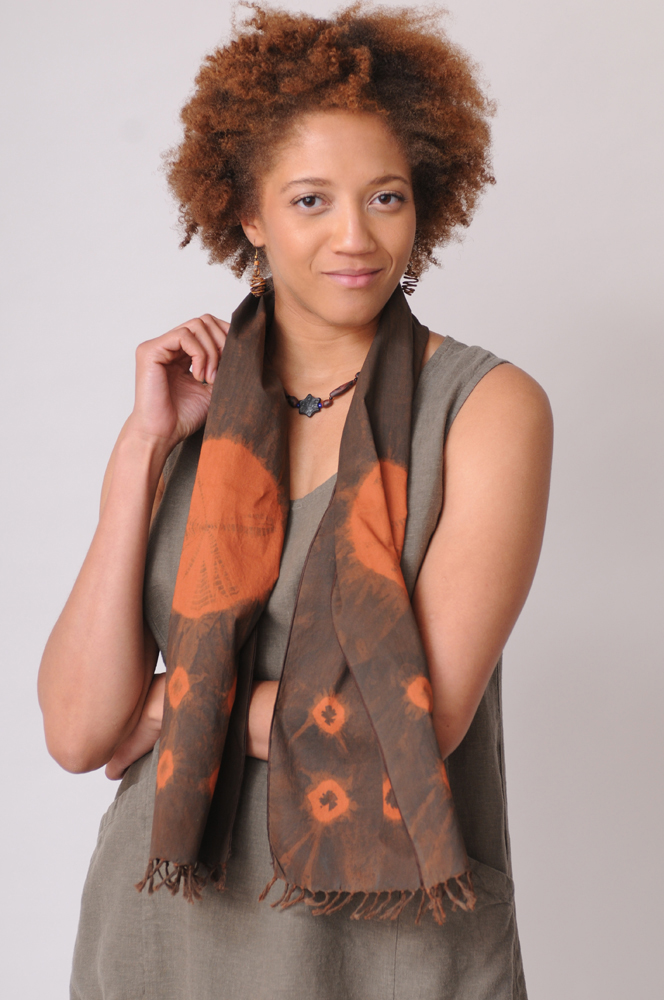 Shibori patterns using mahogany, then indigo organic dyes by Batik Jolawe in a one-of-a-kind scarf.
Among the more memorable artisans I met were Dedi Purwadi and Wineng Winami. They've spent a lifetime studying natural dyes, fabrics and batik techniques—knowledge that makes their workshop, Batik Jolawe, an essential visit. They also teach batik and about plants that can be used for dyestuffs, some of which they grow in their garden. On our visit, we sampled blue tea, infused with a plant that's also used in textile dyeing.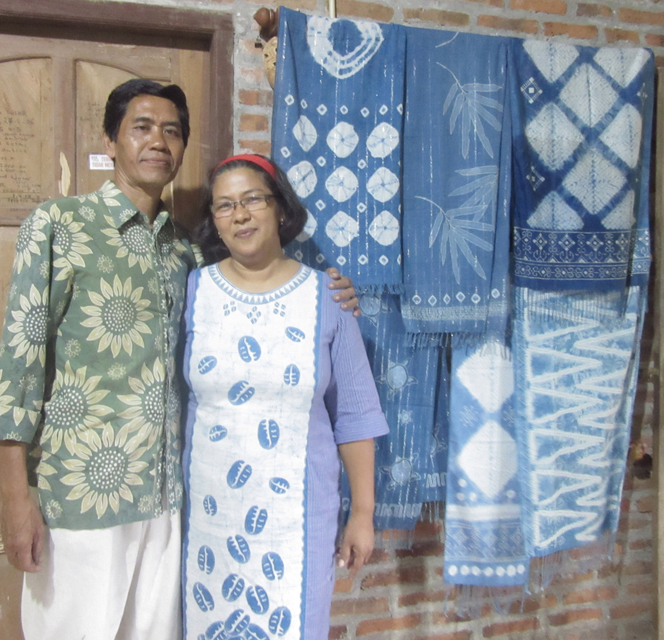 Artisans Dedi Purwadi and Wineng Winami explore contemporary designs and work with non-traditional palettes. Visiting their studio, Batik Jolawe, was a high point of my stay in Jogja.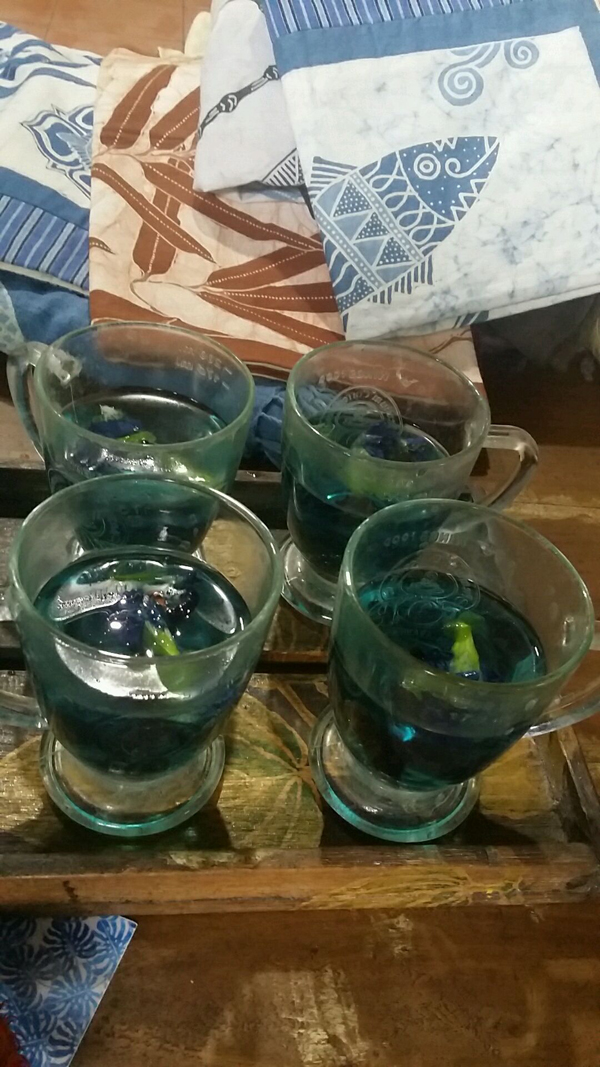 The artisans of Batik Jolawe treated us to a blue tea that's infused with a plant also used in dyeing. It was pretty good!
Plunging ahead, I visited Jogja's vast batik market, a nearly overwhelming sensory experience, given the huge variety of work on display. There's something for everyone. Batik motifs run the gamut from centuries-old traditional designs and museum-quality antique sarongs to contemporary treatments and colors. Mix in equatorial temperatures and humidity and a visit to the market can become dizzying in its intensity.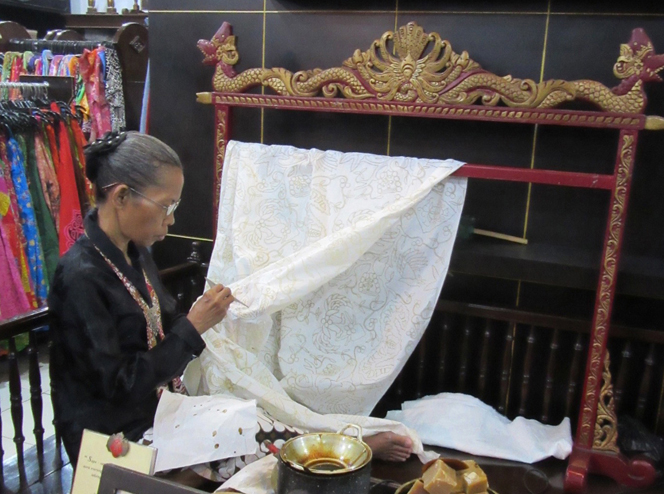 Wax resist is applied to fabric by hand, using a traditional tjanting tool. When the fabric is dipped in successive dye baths, those areas painted with wax prevent dye from penetrating, allowing the artisan's design to emerge.
Included in the trove of scarves I brought back from Jogja are several made from vintage fabrics. (They're identified as such in their product names on the Sympatico scarf page.) Deliciously soft from years of careful laundering, the batik patterns and colors have also softened over time, producing a beautiful patina. I have laundered and hemmed these artisan-made pieces so they'll serve for many years to come in their new incarnation. Talk about sustainable clothing! These repurposed textiles are both a celebration of artistry and point the way to a future in which recycled and repurposed goods are the norm.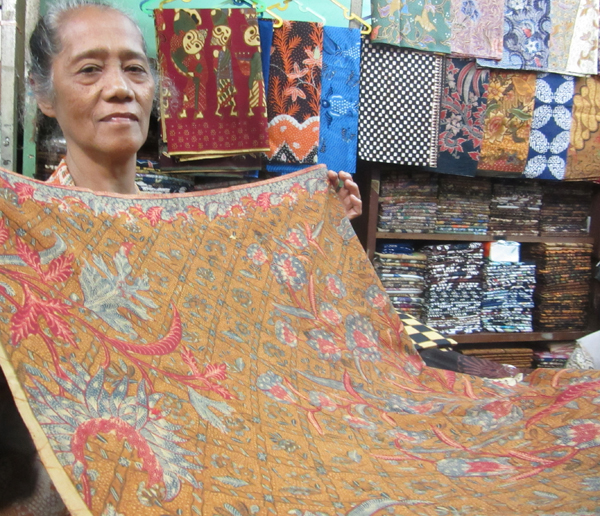 This vendor specializes in vintage batiks and shows us a design that uses more traditional motifs and colors, among her many treasures.
Some styles are limited to just one or two scarves, so if one appeals to you, I recommend ordering soon.