How to care for hemp clothing
Posted by Rose on 13th Aug 2021
11 ways to save time and energy when you wash hemp clothing
---
Rose Gerstner is the founder of Sympatico, an artisanal hemp clothing maker headquartered in Oregon. She regularly blogs about developments in sustainable fashion as well as offering eco-friendly style tips.
---
In addition to offering the Sympatico line of hemp/Tencel tops, skirts, and pants online, I also sell them at local artisanal markets. Probably the question I'm asked most is, "How do you care for this?"
I love answering that question because my response is all good news. The hemp/Tencel blend I work with exclusively is remarkably unfussy. That's why I use it. With a minimum of cost and time, you can keep your Sympatico wardrobe looking good and feeling fresh.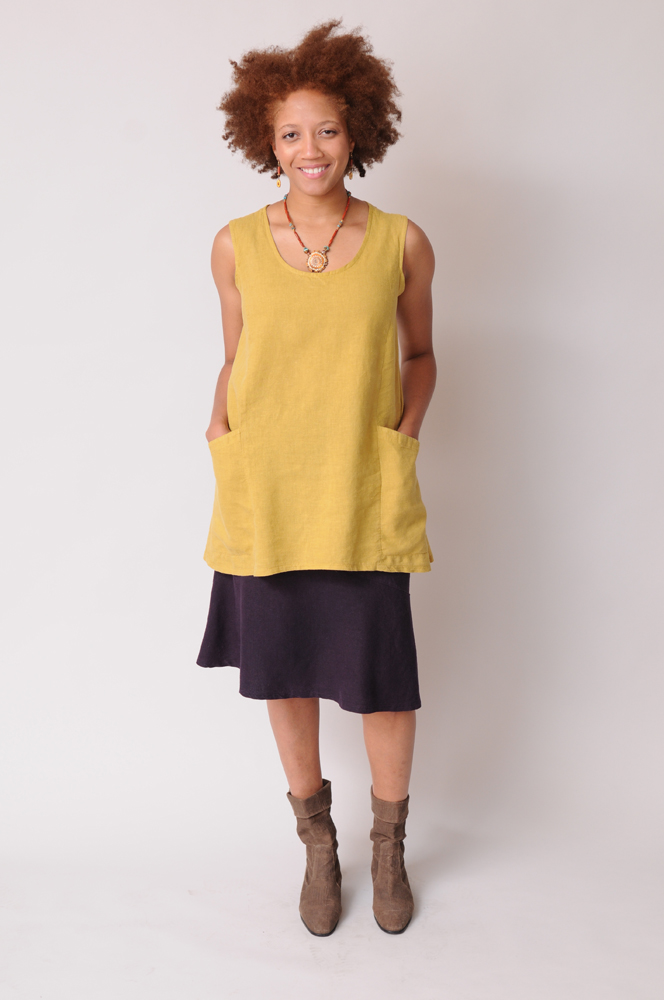 The hemp content in the Trapeze Tunic and Flip Skirt is easy care and very durable.
Actually, most of my customers know pretty much what to do if they are already natural fiber converts. With easy-care natural fibers like Sympatico's blend of hemp and Tencel, the usual advice applies:
Wash cold unless stained. Hemp is durable and does not require hand washing.
For stains, use detergent directly or presoak, and use warmer water.
Don't expose clothing to dryer heat or iron until you're sure the stain's gone.
Dry cleaning is ineffective. The hemp in my fabric responds better to washing.
Keep darks separate.
Avoid setting wrinkles by removing promptly from the washer/dryer. Over-drying actually increases and sets wrinkles in hemp.
If you air dry, arrange the garment on a hanger, smoothing the collar, pockets and hems, as needed.
Heat and moisture remove wrinkles, so spritz or dampen in the shower or throw in the dryer for a few minutes to relax wrinkles.
If you iron, use fairly high heat. Test on the reverse side to prevent shine, especially on darker shades.
Hemp is tough: it wears in, not out and grows softer with use. A couple of dryer balls or tennis balls in a cool dryer hasten the process. That goes double for undyed Natural items.
Avoid chlorine bleaches on hemp. Oxy bleach products work better and are more Earth-friendly.
The 55% hemp content in Sympatico's fabrics dries faster with fewer wrinkles thanks to the Tencel content. It's the hemp that gives the fabric its remarkable durability and odor-resistance. You can usually get several wearings from one cleaning. A third of a garment's environmental footprint comes from its care. Here's more about caring for clothing in general in eco-friendly ways.
Explore: Ways to minimize laundering