Diving into Java's art and textile scene
Posted by Rose on 27th Feb 2023
What I did on my winter vacation—exploring Javanese art and fabric dyeing while staying comfortable in Java's heat.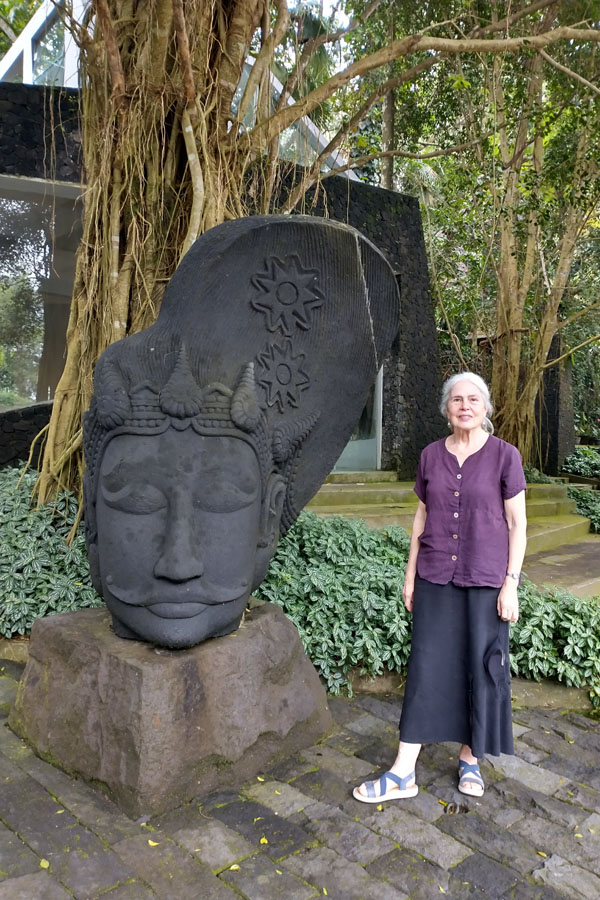 I arrived in Java during the rainy season—very hot and humid. So I layered for the plane and then wore my Sympatico wardrobe, sometimes mixing it with other comfy pieces that breathe really well in that climate. Swallowtail Top in Plum, Angled Skirt in Black.
After a couple of pandemic years spent close to home, I was more than eager to recently revisit one of my favorite destinations, Java, and in particular, Yogyakarta, where a vibrant art and textile scene flourishes. My daughter, Willow, also lives there—a major impetus to visit.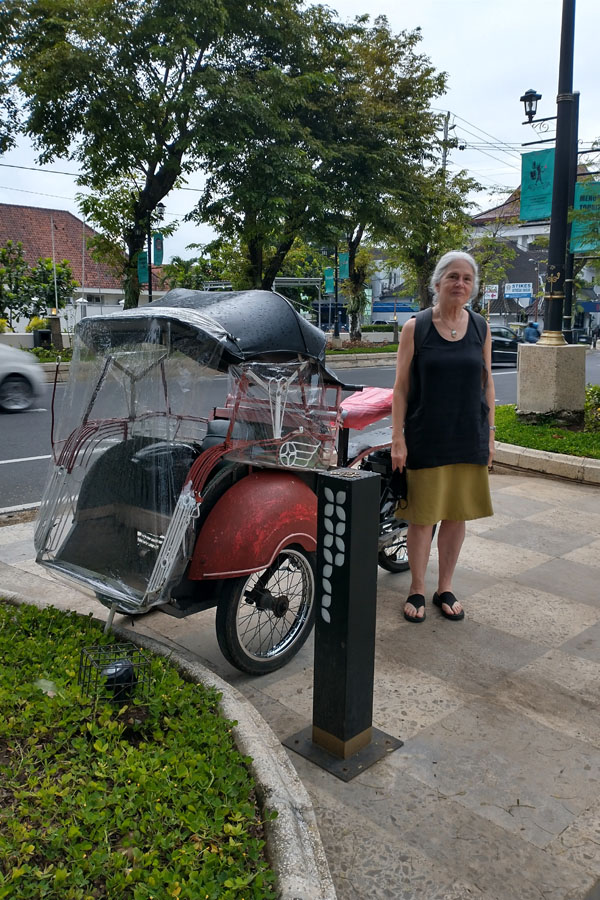 Pedicabs, called betchaks locally, can accomplish shorter hops around "Jogja." After a week acclimatizing,I began to appreciate the patterns of traffic on the narrow roads. No one ever stops (hardly ever anyway) but somehow it all works. Crossing a busy intersection seemed a daring act until I begin to understand the traffic flow. Trapeze Tunic in Black with Flip Skirt 24".
Although exploring batik galleries and taking classes with a master batik artist and natural dyer were high on my agenda, I first immersed myself in the vibrant street-art scene. It's hard not to notice that "Jogja," as locals pronounce their city's name, thrums with artistry in a dizzying array of media and styles. Wherever you go in the city, murals are ever present and often stunning. Even in the poorest neighborhoods art is a priority and many walls are decorated with imagery ranging from graffiti to more elaborate subjects.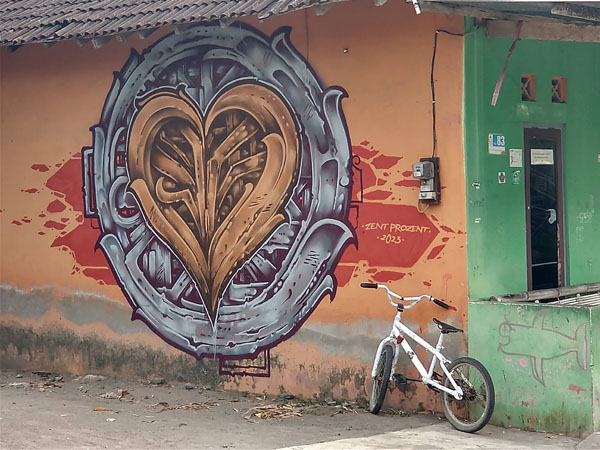 Street art is everywhere in Yogyakarta. This work is by Zent Prozent (@zentprozent on Instagram) whose work is found all around Yogya. He enjoyed meals provided by the proprietor of the tiny restaurant on whose wall he created this mural. The neighborhood project was bankrolled by a local businessman.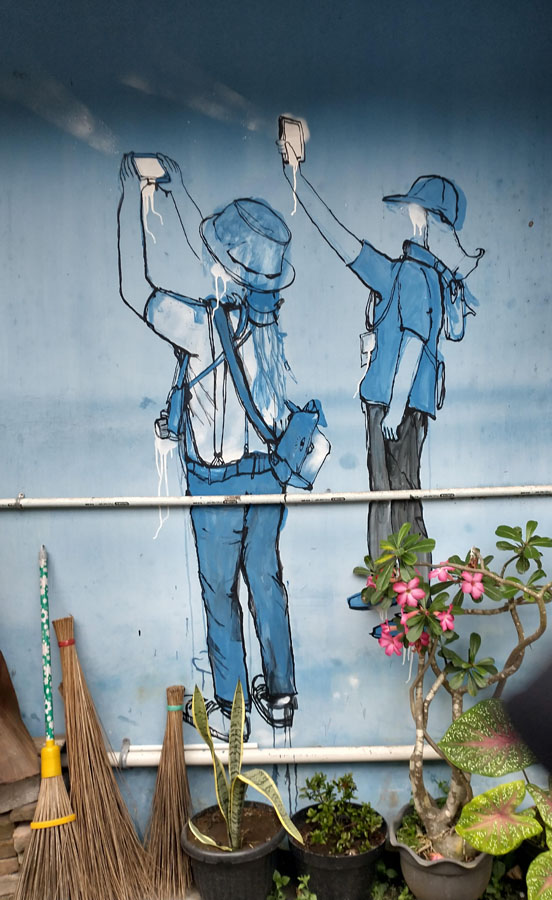 Tourists figure large in this example of street art.
I arrived in the rainy season, and Java's intense humidity felled me for a bit. But after some serious sleep following my marathon plane rides, I was excited to begin exploring the neighborhoods around my daughter's home. I was thankful for a slimmed-down travel wardrobe, largely consisting of Sympatico wear that once again proved its mettle in coping with equatorial weather.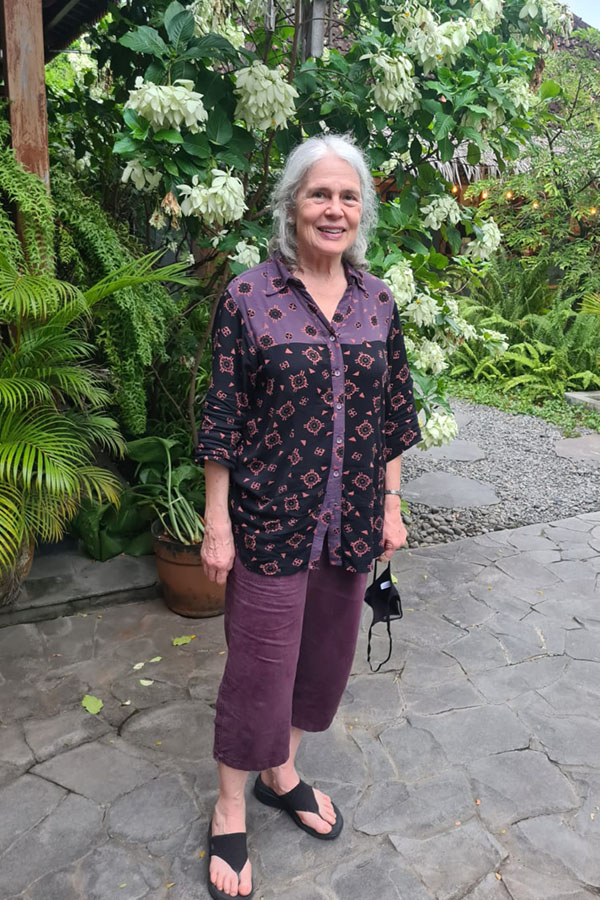 The Cropped Pants were a good choice for roaming the city.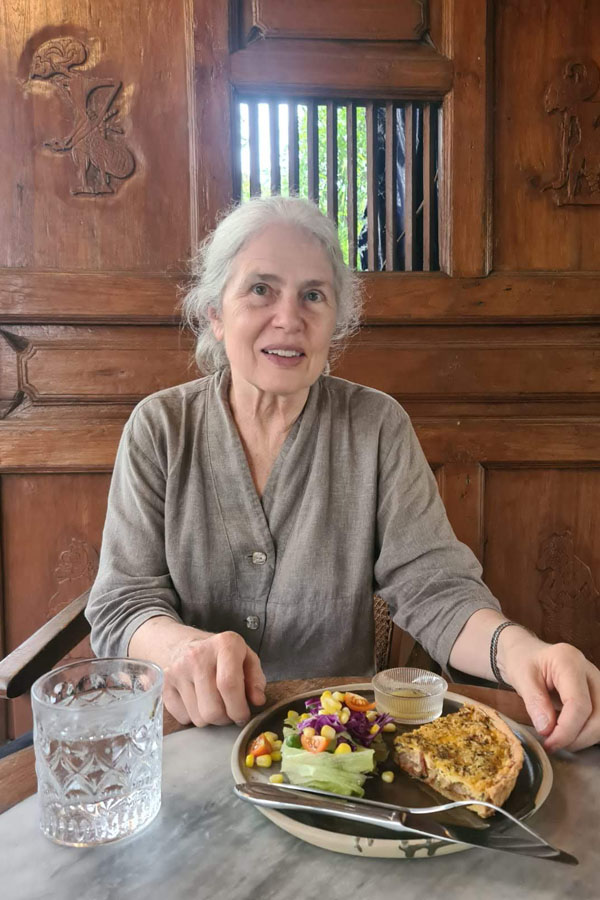 At a favorite restaurant run by a French expat and his Indonesian wife. Tuxedo Top in Grey Fog.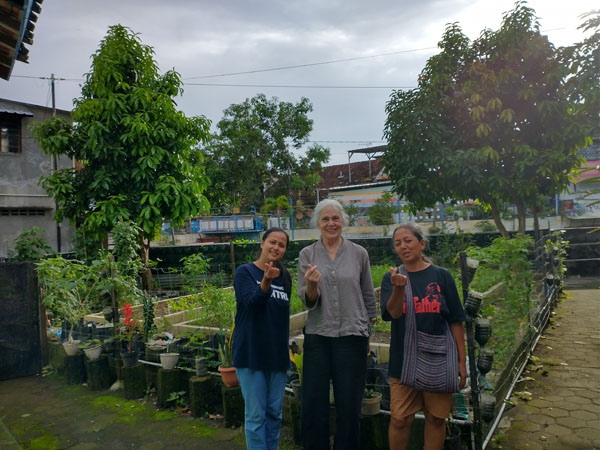 The woman to my left is Ara Maiani Yani, or Ani for short. She teaches in Germany and the US and mentors young Javanese. Her work focuses on themes of love and that is the hand symbol for love we're making. Fitri, on my right is the brains behind the community garden we are pictured in. Many crops are grown vertically since space is at a premium. Mostly Fitri and her fellow gardeners eat the produce and share it among themselves. They plan to form a market where they will sell extra produce and also the menstrual pads that the group is sewing to reduce paper waste.
My return journey was long and went well except for missing my last flight home from Seattle, when, after 28 hours of flying, I fell asleep in the terminal and missed boarding my flight by minutes. Oops! But travel isn't an adventure without a few mishaps. Watch for a future post in which I'll cover the batik scene in Yogyakarta as well as some examples from my deep dive into organic dyeing and Javanese batik methods and materials.