Eco-friendly fashion brands factor in earth-smart packaging
Posted by Rose on 13th Aug 2020
Less is more when it comes to the right packaging for eco-friendly fashion brands
Do you remember the so-called clamshell packaging made of hard transparent plastic that lots of things used to come in? It was maddeningly hard to open and produced lots of non-recyclable trash.
Thankfully that sort of packaging has mostly disappeared, replaced by simpler to open and lighter packaging that typically involves a smaller carbon footprint, both when manufactured and transported. But things are still far from sustainable. There are still way too many plastic bags and films and other non-recyclable materials in today's product packaging. With China no longer accepting our trash for recycling, our waste streams and landfills are showing further strains as they overflow.
Figuring out what packaging makes sense from an environmental standpoint involves a carbon footprint calculation. The Tyvek-branded shipping bags that the post office supplies for smaller orders is made of a type of polyethylene, not great from a recycling point of view. But due to its lightness, its carbon footprint in shipping is pretty minimal. The benefits to both consumers and producers of "lightweighting," as this packaging manufacturer calls it, are the focus of the company's blog post here.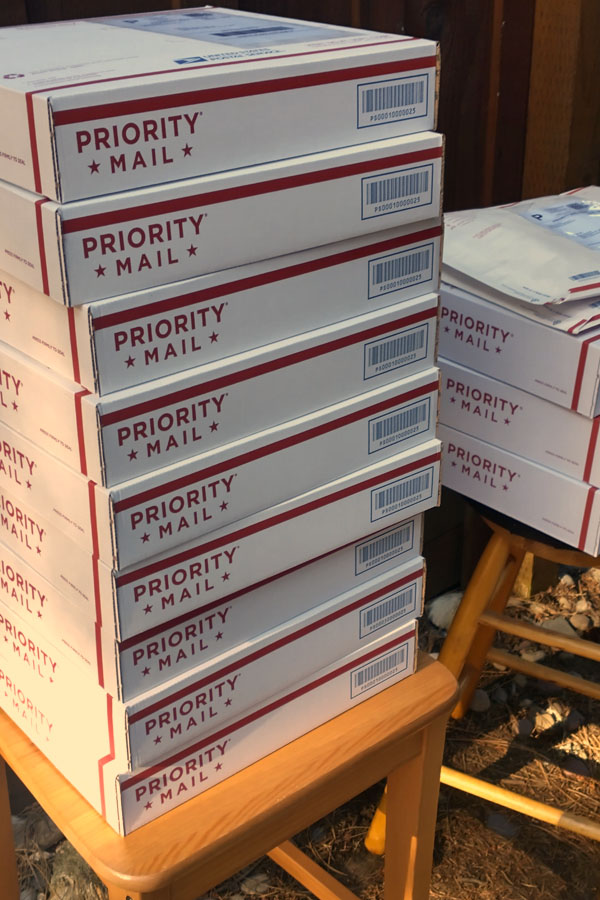 Most of the packaging Sympatico uses is USPS-supplied, corrugated cardboard shipping boxes that are still being recycled as post-consumer waste in many places in the US. According to the post office, "Our packaging meets Sustainable Forestry Initiative or Forest Stewardship Council certification standards. We also encourage our packaging manufacturers to also embrace a life cycle assessment process for their products. Using recycled content materials helps extend the life of the earth's precious natural resources thereby reducing impacts to the environment."
It's unclear exactly how much recycled materials actually go into the boxes the post office provides. However, the USPS embraces the principles of Cradle to Cradle manufacturing—an approach that considers the environmental impact of goods from conception to post-waste. Cradle to Cradle is a design framework created and certified by MBDC who certifies goods as meeting their standards Areas of the USPS business that MBDC looked at include, "alternative fuels for transportation, greener production facilities, recycling or 'upcycling' processes for waste. But the predominate focus was on the USPS range of envelopes and packages."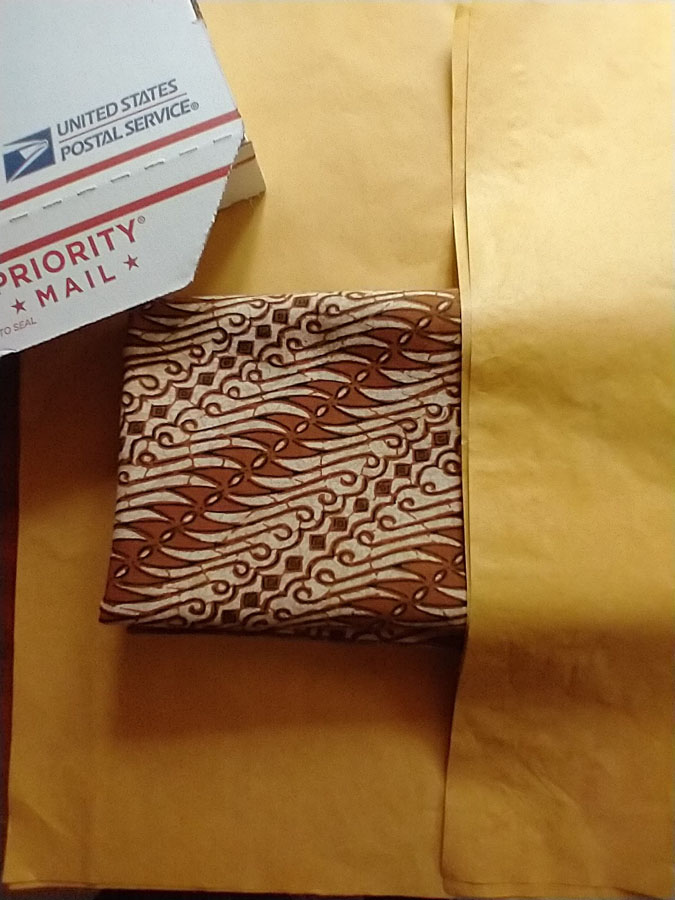 Though Sympatico keeps shipping materials minimal, popping this Batik Scarf in a box cries out for a little tissue paper that I hope you'll recycle.
To further minimize Sympatico's footprint, I dispense with the usual internal plastic bags when shipping. I pay attention to the small stuff too, because it all counts. Hang tags are made from recycled paper and I use hemp cord to attach the tag to the garment. (I do use tissue paper with jewelry items and scarves, because they would otherwise seem "naked" in their cardboard boxes.)
Our local rural mail carrier is kind enough to to cram Sympatico's outgoing boxes into her subcompact hybrid car every day unless I'm headed into town—a 12-mile round trip and that many carbon emissions saved! As a micro business, it's all those little acts that add up to minimizing my impact on our world.