Fine batik scarves amid endless cultural surprises
Posted by Rose on 29th Aug 2023
My last foray into buying artisan-made batik scarves came with unexpected entertainment.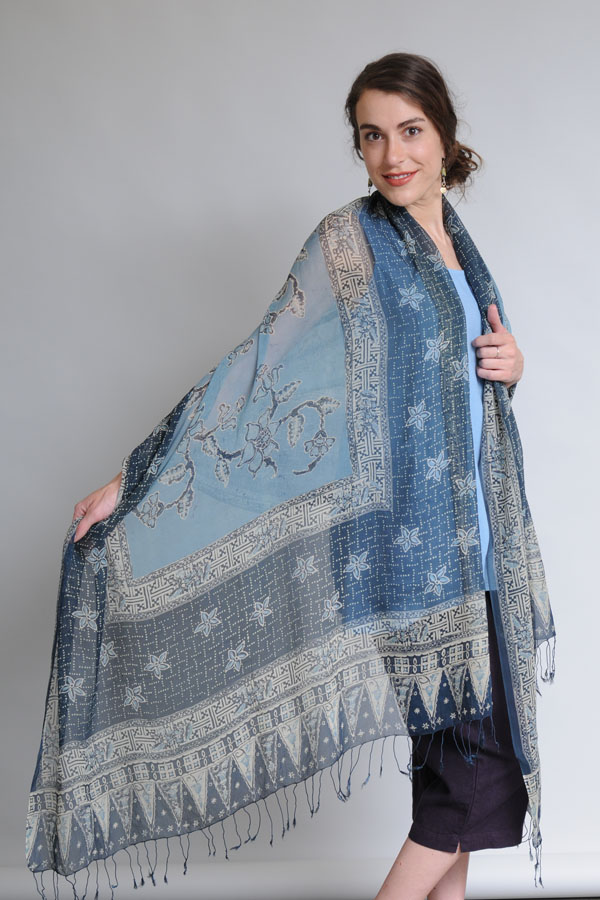 It's the element of surprise (along with my love of textiles) that keeps drawing me back to Java, and especially its art center, the city of Yogyakarta—or "Jogja" as the locals call it. While Java is generally a conservative place with strong religious convictions, it never fails to defy my expectations. As a case in point, take my last visit there.
I seldom go to Jogja without at least one visit to Hamzah Batik. Located on the edge of the tourist section, it specializes in artisan-made batik creations crafted by Indonesian artists and art collectives. It's always fun to immerse myself in the shop, first browsing the batik scarves and clothes and then branching out to the other two floors of exotic goods.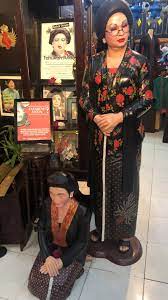 In Hamzah's entrance stands an imposing statue of a large woman wrapped in beautiful batik clothing, her hair, twisted into a French roll, giving the statue a decidedly traditional Javanese look. On my last visit to the shop, I learned that the statue depicts the owner of Hamzah Batik, who by day is a man. He sponsors a drag show in the upstairs restaurant every week. Upon exiting, we discovered what turned out to be Hamzah's bamboo-percussion house band accompanying a troupe of trans women from a nearby city in their dancing and singing. The crowd was animated and enthusiastic, and the tip jar was overflowing.
I love surprises, especially when they involve the kinds of juxtapositions that Javanese society seems to relish, and which crop up much more often in Indonesia than elsewhere.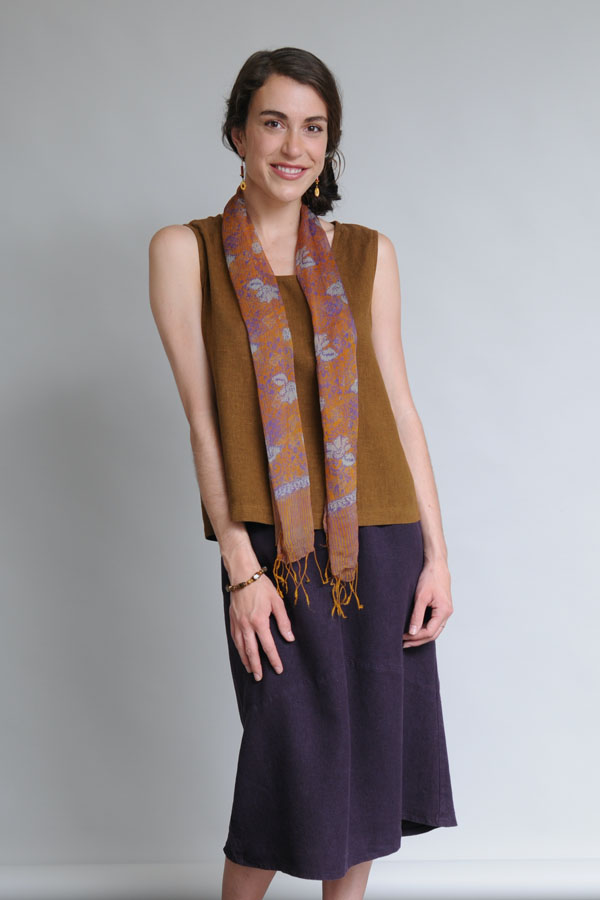 The Rust, Purple & Grey Silk Scarf accessorizes beautifully with earth tones.
On that same visit to Hamzah, I picked out some fine examples of batik and botanical print scarves and brought them back to offer to Sympatico fans. Keep in mind I only buy enough to fit in my suitcase, so I only have one of each creation. You'll find the remaining Jogja Collection here.