How crafting can help us during the pandemic, or any other challenging time
Posted by Rose on 20th Nov 2020
With travel off the table, I turned to traditional dyeing for Sympatico's scarf collection.
Rose Gerstner is the founder of Sympatico, an artisan-made clothing company. An advocate for sustainably made natural fiber clothing, she blogs about fashion from an earth-friendly perspective.
When the coronavirus pandemic flared in spring 2020, one of the earliest responses came from crafters who tackled the urgent shortages of personal protective gear, especially masks. Both long-time stitchers and quilters as well as newbies joined in the effort, designing and making those sorely needed masks. Not all those efforts worked out perfectly, but most of them provided something the crafters came to recognize and appreciate.
Clinical psychologists and other mental health practitioners have long advocated for crafts and hobbies as a way of coping with anxiety and depression. As the Washington Post recently reported, there's plenty of behavioral science that supports the notion reviving an old hobby or craft, or perhaps taking up a new one, can bring calmness and happiness, even in the midst of unsettling news.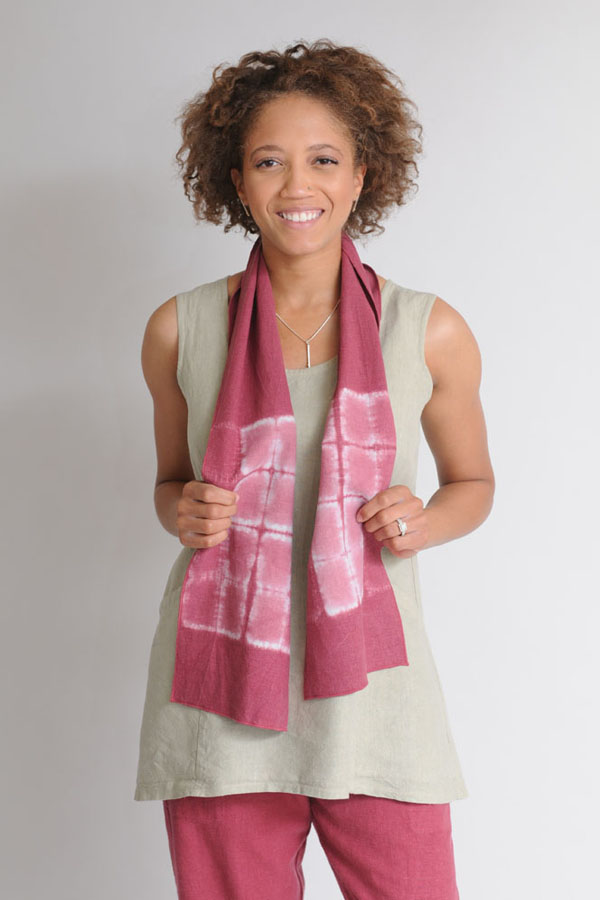 I included this hemp/Tencel remnant scarf in a recent dye lot of Sympatico's newest shade, Garnet.
I've certainly found that true in operating my home-based natural fiber clothing business, Sympatico. Especially now as I write this in the autumn of 2020, with the Covid 19 virus resurging throughout the world, things that put me in touch with my immediate world can help. Whether it's working in my area of expertise as a clothing designer/maker or turning over the garden compost, I find such work helps as a counterbalance and grounding influence in responding to the alarming events that have made 2020 such a difficult year.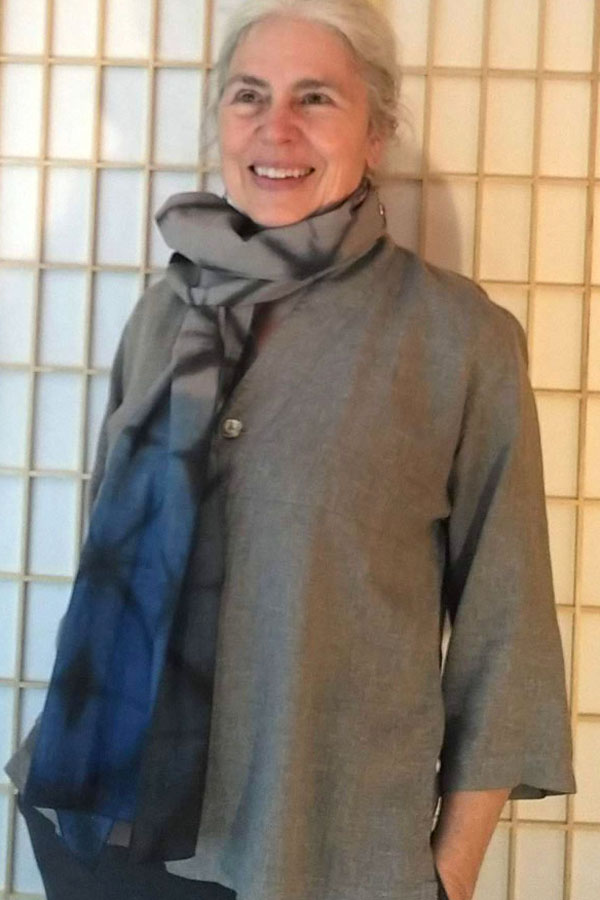 This hemp/Tencel remnant scarf started as aLight Weight Grey Fog, and I added the indigo blue and black detail.
Exploring traditional dyeing has helped
Cut off from the travel I usually do at this time of year, I've recently turned to dyeing. It serves two purposes. Delving into a craft I've never explored deeply before has been a wonderful learning experience. And my most successful experiments have become a part of Sympatico's scarf collection!
Which is a good thing in this year when I no longer have access to the artisanal markets around the world that I've counted on for Sympatico's scarf collection in the past. To replace those overseas shopping trips for scarves, I've been experimenting with various dyeing materials and techniques on a range of natural fibers. It's been a fulfilling learning experience.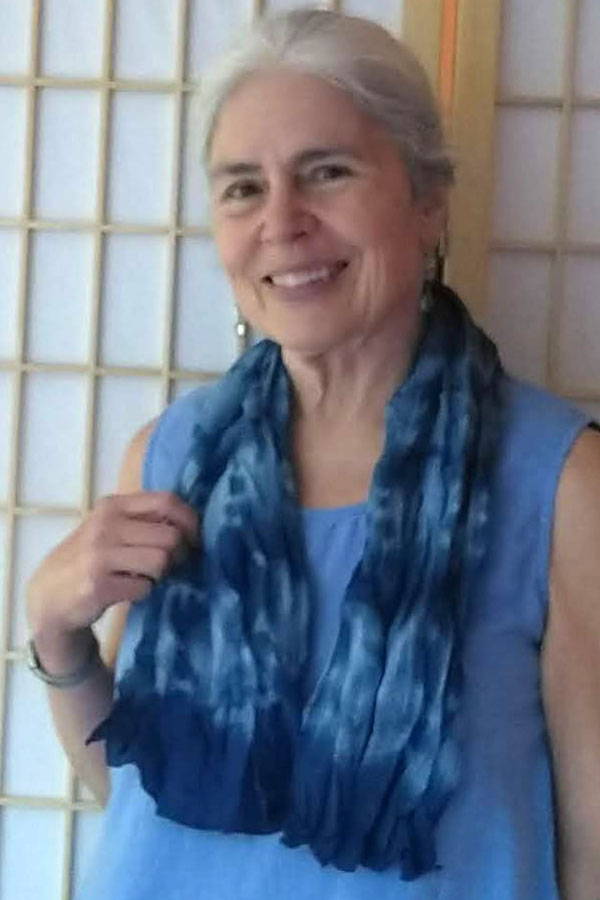 Indigo is an endlessly fascinating dyestuff that produces a wide range of blue tones. Here it brings the silk-linen scarf to life.
Most recently, I've been trying my hand with indigo, one of our oldest dyestuffs. Working with it has been a revelation in so many ways. For example, did you know that when textiles first emerge from an indigo dye bath, they look green? It's only through exposure to oxygen that the cloth begins to take on the shades of blue we associate with indigo. Controlling that exposure and doing multiple dips opens up a wide range of tonal possibilities, as does applying indigo to a variety of fabrics.
I've had a lot of fun trying various indigo treatments on an assortment of cottons, linens, and silks of different weights and textures. Taken from my stash of natural fabrics accumulated over the decades, I'm always in suspense when they first emerge from the dye pot and then later, eager to see each dip fully dried. Because I'm very much in an experimental mode and lack long-term experience, the results are often a surprise.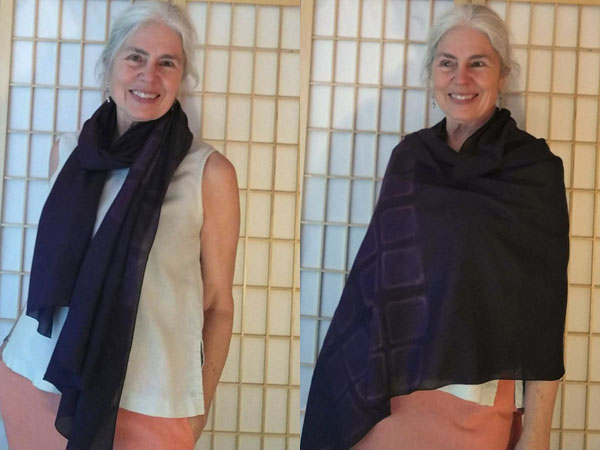 This organic cotton voile from my stash compresses nicely for warmth but also doubles as a summer wrap.
The same is true with the shibori experiments I've made lately. Shibori is essentially Japan's traditional way of tie dyeing materials using all kinds of stitching, clamping, knotting, and binding techniques to achieve interesting patterns and shading effects. Although I have a general idea of the pattern I'm seeking while doing the tying, there's a magical moment as the design reveals itself fully, when all the ties have been released and the fabric is opened up.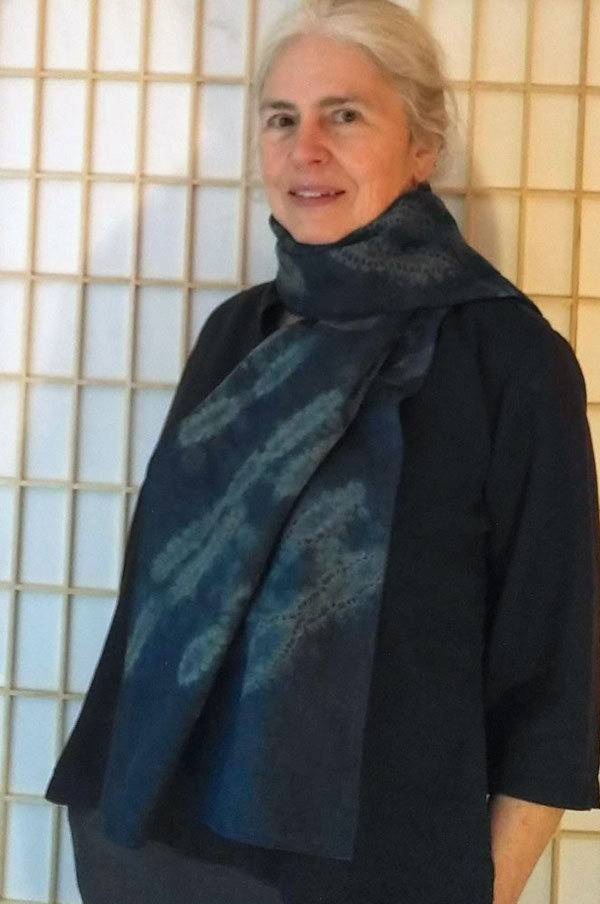 Although I've been stymied by the pandemic where shopping for new scarves overseas is concerned, I still have a substantial inventory of earlier acquisitions. They run the gamut from beautiful Asian batiks and ikats on cotton and silk to others created on cottons, silks and wools. In the course of exploring dyeing techniques I've rekindled a deep appreciation for the myriad ways in which humans embellish fabrics.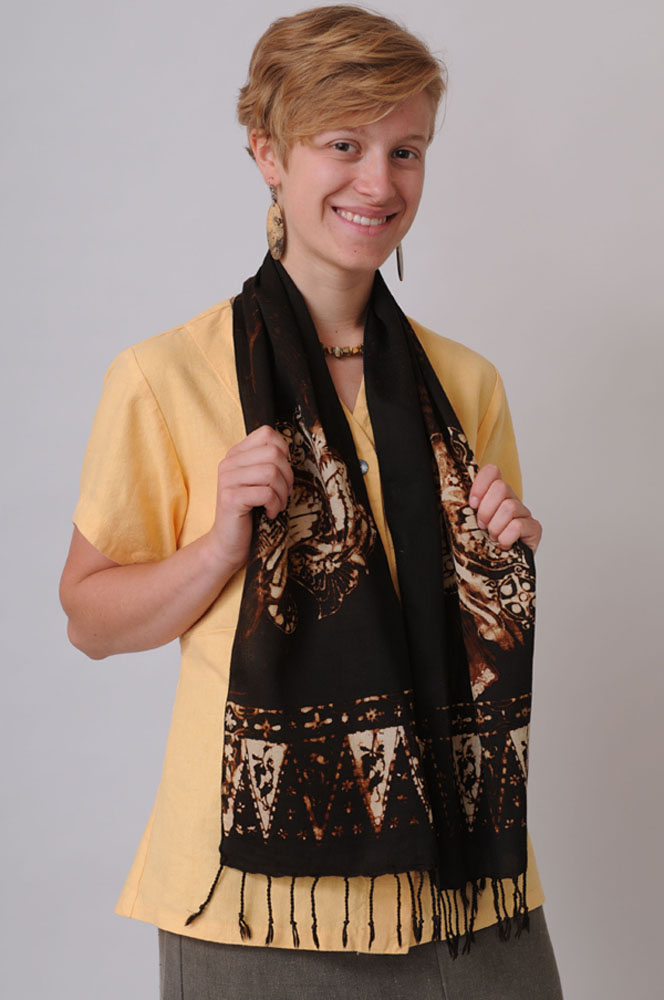 From the Jogja Collection, this cotton challis batik is soft and has a modern design.
And as a special bonus this year, my renewed interest in dyeing has been paying off in the form of a calmer more relaxed mind in the face of all the daunting news. I hope you have found hobbies and crafts during the pandemic that work similar healing in your life.