My artisan-made scarves make wonderful gifts
Posted by Rose on 14th Dec 2022
Working with silk, linen, ramie, and cotton as well as indigo dyestuffs, I use traditional stitching and clamping techniques to produce designs and effects.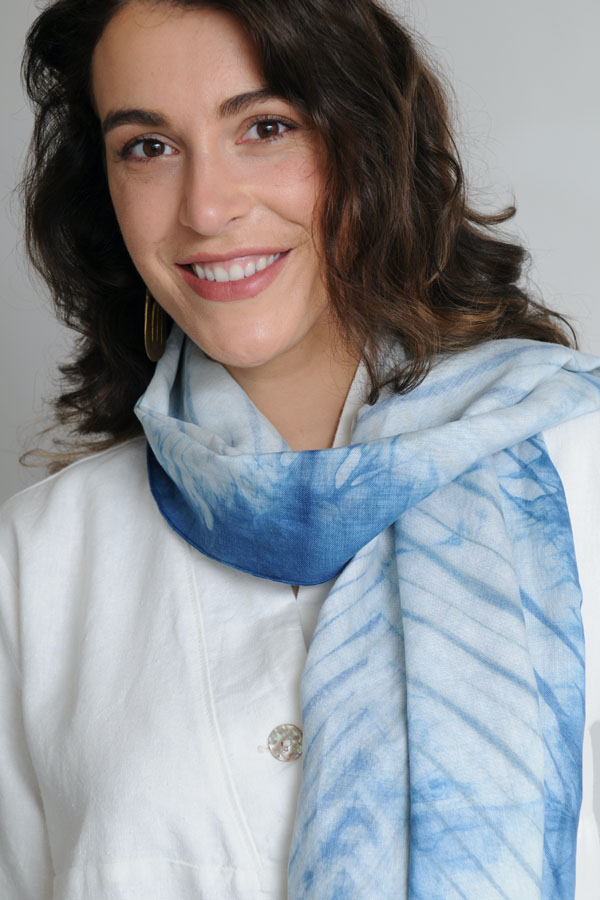 Tilting Rain Scarf of fine linen.
From sauerkraut, kombucha and homemade apple cider vinegar, my life is full of fermentation these days. So when I started delving into indigo dyeing it came as little surprise that an indigo dye bath depends in part on fermentation to produce its signature range of shades. Like a bread baker who keeps her sourdough starter going, dyers who work with indigo keep their dye pots going through a combination of heat, sugars, and time. Because my work area tends to be on the chilly side, I often keep the dye bath active by using a hotplate set on low.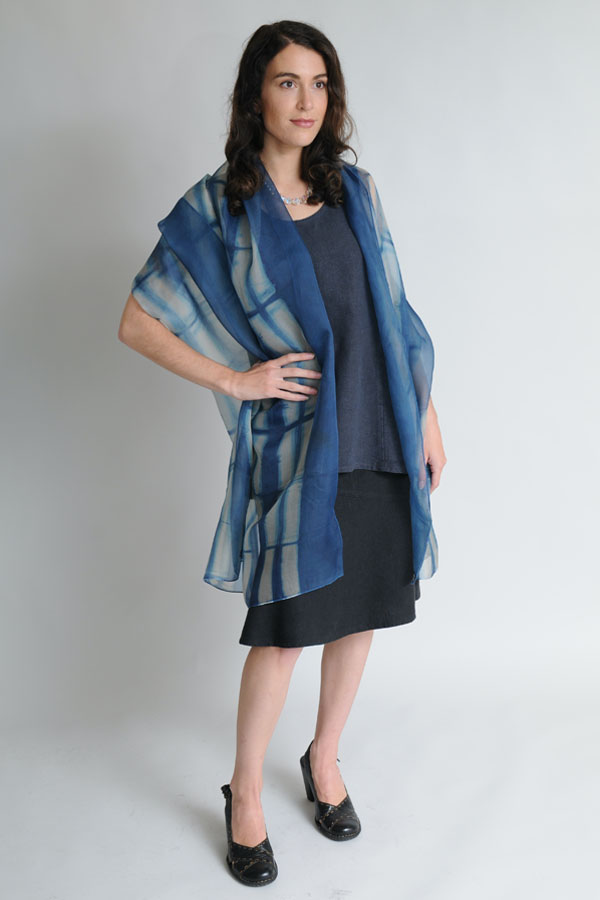 The Indigo Silk Organza Wrap is an elegant, filmy coverup.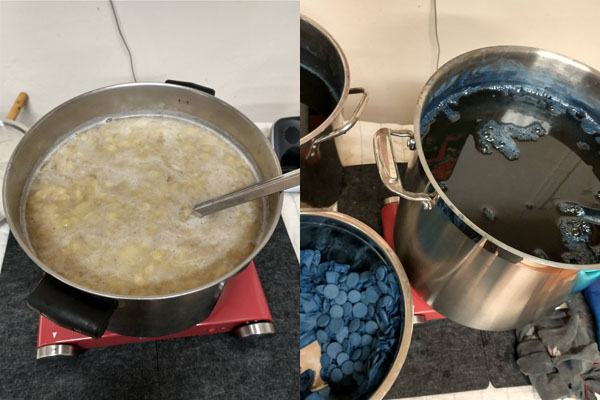 Reducing indigo using mashed overripe bananas not only did the job, it filled the air with a wonderfully fruity fragrance. Bubble, bubble, toil and delight. You never quite know what will emerge from the dye bath!
I've been experimenting with various reducing agents that help the indigo pigment to break down chemically and become useful as a dye. One example is a batch of overripe bananas that not only helped produce a potent dye bath, it also filled the air with an intensely fragrant smell. I've also tried henna and fructose, and I plan to try a ferrous bath next.
It took several dye baths to achieve the effects in the Purple Prism Shibori Scarf.
Signing up for online classes with a Japanese shibori master has been very enlightening. His demonstrations help me better envision finished designs based on various stitching and clamping techniques as well as execute two-dimensional diagrams on fabric. Still, there is always lots of variability. Everything from how tightly I pull the stitching to the penetrative qualities of the dye bath and fabric I choose all influence the finished results, often in unexpected–and if I'm lucky—delightful ways.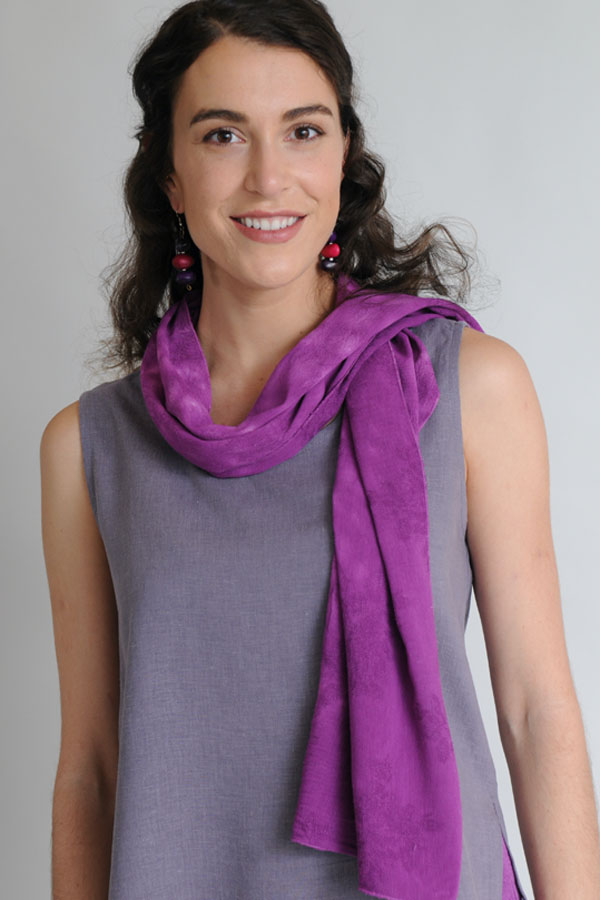 The Fuchsia Silk Scarf generates a burst of floral color.
As well as working with Sympatico's hemp and Tencel blend, I've also been using linen, silk, cotton, and ramie fabrics. Although my emphasis lately has been on indigo, I've also been working with other shades and dyestuffs and have just posted a new collection on Sympatico's scarf page. You'll also see a sprinkling of scarves I've found while traveling overseas, including some wonderfully complex Javanese batiks.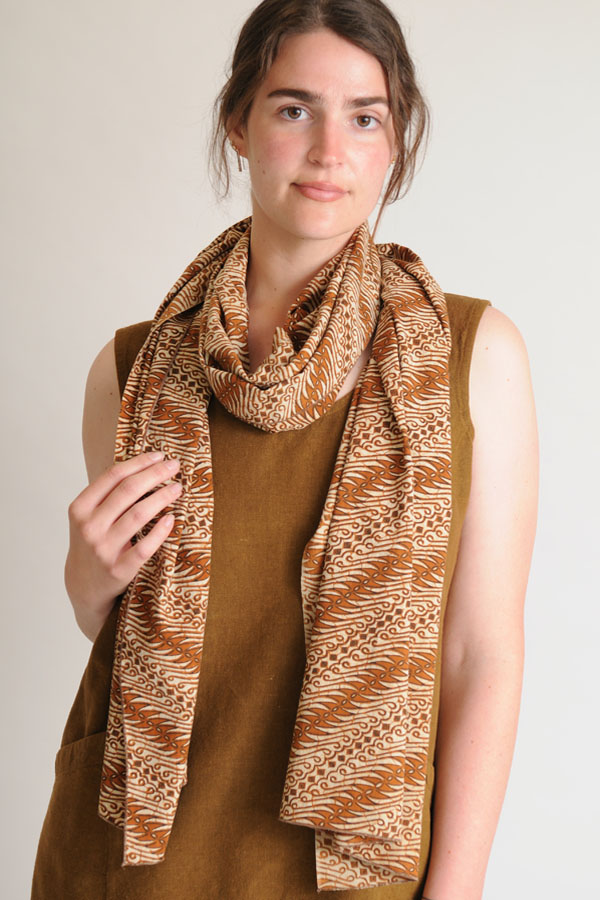 The collection includes pieces I discovered while traveling, including the Cocoa/Cream/Black Batik Cotton Scarf/Wrap.
I recently came upon the idea that all philosophy and religious thought is ultimately about coming to terms with death's mystery and being ready to die. Learning about dyeing with natural dyes and fabrics and learning something about dying seem to go hand in hand. No matter what we might expect, our actual experience will undoubtedly be different!