​Wash less and care more
Posted by Rose on 28th Mar 2016
Natural fabric care of your sustainable clothing will extend its life and help protect the environment.
Speaking at the Copenhagen Fashion Summit, designer Stella McCartney offered some advice about clothing care that I think most of us know, but sometimes don't practice. "The less you wash your clothes, the better," McCartney said. "I was told that by the tailors on Savile Row when I worked there, and it's true, clothes last longer if you wash them less and care for them more. And less washing saves water and energy."
McCartney's got that right. According to estimates I've seen, about one-third of a garment's climate footprint happens after it's sold as a result of laundering or dry cleaning. By minimizing the amount of laundering we do and taking an eco-friendly tack when we wash and dry our clothes, we can substantially reduce that impact. For lots of smart clothing care ideas as well as Sympatico clothing-specific advice, see my washing tips here.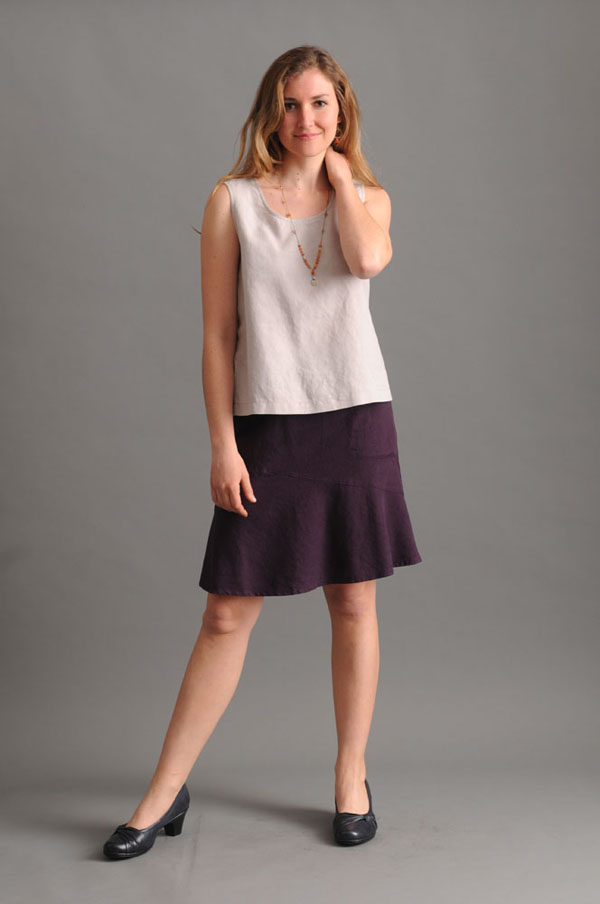 I'm happy to see that major brands are getting on board with Earth-smart strategies. Even fast-fashion purveyor H&M is backing this movement with what they call Clevercare advice. Some of their recommendations include:
Care symbols on clothing labels show the maximum treatment. Washing at lower temperatures can help the environment by using less energy and may also reduce shrinkage. But washing at a lower temperature may affect the cleansing performance. Read the instructions on your detergent pack.
Do not use the prewash program, unless the clothing is very dirty.
Fabrics made of synthetic fibers should not be washed with firmly textured textiles such as linen and hemp that may cause pilling.
If wet laundry is to be washed, only half-fill the drum.
Make sure that you mix small and large items. This allows clothes to move more freely, resulting in better washing.
Spin-dry laundry at the highest possible speed in the washing machine, because the less water the laundry contains, the less energy and time is needed for drying. But keep in mind that spinning can result in heavier creasing.
Only place articles which require the same drying time together in the dryer. Natural fibers and synthetics, for example, may have very different drying times.
Some articles should preferably not be tumble dried e.g., cotton knitwear because of shrinkage, wool because of felt formation, silk and polyacrylic articles because of heat damage, and curtains because of the risk of creasing.
Whenever possible, dry laundry outdoors in fresh air. Otherwise, dry laundry in an unheated room or in a tumble dryer, because in heated rooms more energy is consumed for drying than in dryer
Dry white and light items in the sun and bright or dark items in the shade or on indoor drying racks.
Use towels to blot excess moisture from sweaters, stockings, delicate underwear. Hang these items to dry only if the weight of the water will not stretch them out of shape; otherwise, dry them with a towel on a flat surface.
Always dry silk in the shade.
Iron only if necessary, and iron at the appropriate temperature. You can avoid ceases, for example by using fabric conditioner, removing items from the washing machine or dryer as soon as it stops, and/or drying it on a hanger.
The maximum ironing temperature should be selected only on the basis of the care label and not according to the fiber content of a textile article.
I'd add a qualifier that some fabric conditioners and softeners contain chemicals that have been shown to be endocrine disruptors. Instead, use white vinegar for its softening and deodorizing properties. Speaking of which, the hemp in Sympatico clothing is naturally resistant to microbes and mildew—another reason you can extend the time between launderings.
To the Clevercare list, I'd add these suggestions from my clothing care primer:
Just because you've worn a garment once or twice, it may not need laundering. If you tend to toss lightly worn clothes in the hamper out of habit, stop, sniff and decide if they can be worn again. Sometimes just a little touch-up care is needed.
Use a lint roller or adhesive tape to remove fuzz and pet hair on otherwise clean clothing.
Deal with spills and stains promptly so you don't have to get heavy-handed with detergents and bleaching agents on washday.
Hang up clothes that should reside on hangers between wearings. Fold items such as sweaters and knits that are prone to lose their shapes on hangers.
Dress for a mess. Take the time to change out of your good clothes before engaging in cooking, a little impromptu gardening, or some roughhousing with the kids.