Beyond hemp clothing: It's the latest buzz, bees LOVE hemp!
Posted by Rose on 13th Dec 2022
Another reason eco-friendly hemp clothing is good for Mother Earth
As most of you know, aside from making women's hemp clothing, I'm a strong advocate for hemp cultivation in general. And that, as it turns out, is good news for our bees, both the natives as well as honeybees.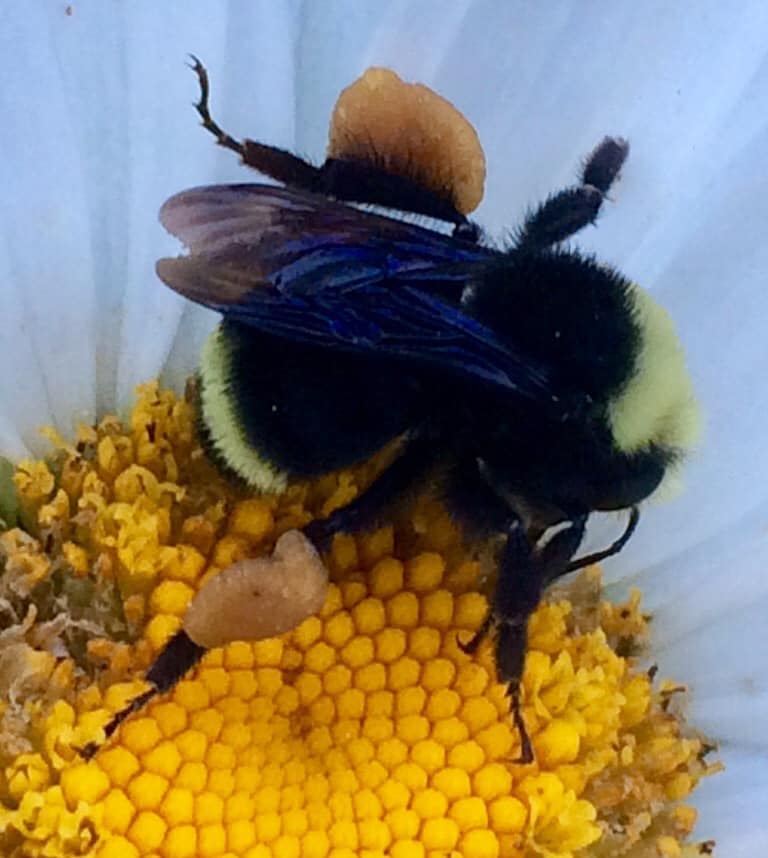 A yellow-faced bumblebee collecting pollen from a flower in our yard (but not hemp). Photo by Braden Paule.
As reported in Science News recently, in a Colorado study, a trapping experiment revealed 23 different genera of bees visiting two experimental hemp crops there. Although hemp does not supply the nectar of earlier-flowering crops, what it has in abundance is pollen in the male plants. That's the attraction for the bees who feed hemp pollen to their larvae. Because hemp goes into its flowering stage much later than most other crops, it serves as an important source of nutrition late in the season.
An interesting side note in that same Science News story points to our still developing knowledge about hemp. Though it is typically grown without the use of chemical pesticides, hemp pest management knowledge in the US is minimal. Basic questions such as what insects are actual pests in hemp fields remain to be answered. In the meanwhile, thanks to hemp's natural resistance to most pests and diseases, much of America's hemp crop is grown organically. That's further good news for bees whose populations have been decimated by conventional pesticides.
With the complete federal legalization of hemp at the end of 2018, our knowledge of hemp cultivation will likely grow quickly. Research projects around the country are now focusing on the many different aspects of hemp cultivation and use. Of course, the burgeoning interest in CBD-based products is also helping spur that research. But it goes far beyond hemp's use in medicine, oil, or clothing for that matter. Due to its fast growth, even in marginal soil, hemp cellulose can serve as the basis of building materials and is even used in automotive sound-deadening panels.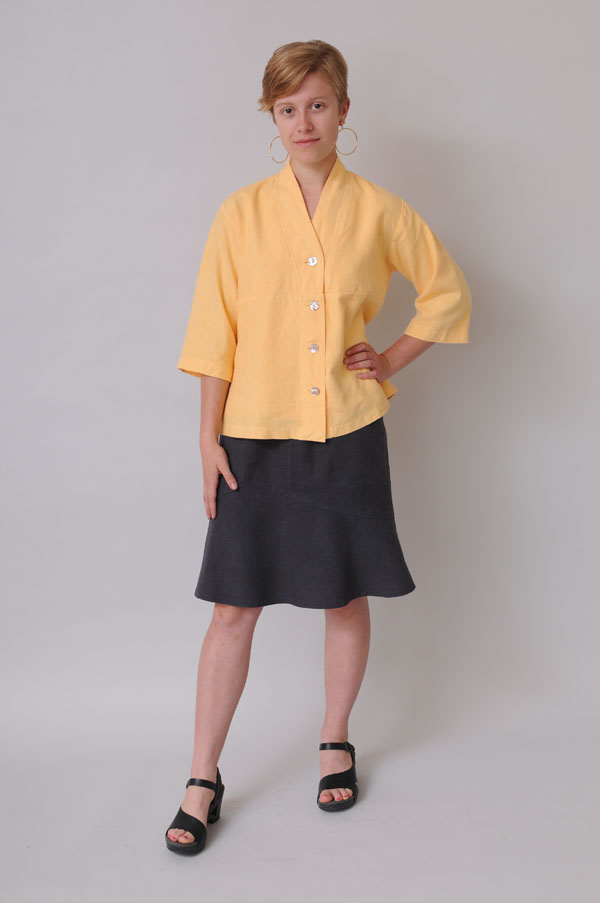 Stylish clothing and, in the process of growing, possibly food for bees: our hemp/Tencel Mid Weight Tuxedo Top in Buttercup and a Flip 20" Skirt in Graphite.
When it comes to clothes, hemp offers iron-like durability and strength. Its natural antimicrobial properties help deal with perspiration. And it takes dyes beautifully. At Sympatico, we blend 55 percent hemp with 45 percent Tencel fibers to achieve a beautifully drapey fabric that looks and feels like a more supple version of linen. The Tencel, from farmed eucalyptus trees, is sustainably made in a closed loop system. Unlike rayon and bamboo fabrics whose manufacture releases toxins into rivers and groundwater, Tencel is made with organic solvents that are neutralized using an algae-based process. Blended with hemp, it makes for easy-care fabric. With Sympatico hemp/Tencel tops, pants,
and skirts, many wrinkles relax on the hanger overnight. A quick spritz of water will often deal with more serious creases. Many Sympatico fans are also travelers; they love the way the clothes can be rolled up in a suitcase then hung out overnight. A steamy bathroom is an ideal spot for hanging out wrinkles.
For hemp advocates, this is an exciting time. After years being lumped in with its psychoactive cousin, marijuana, industrial hemp is finally getting respect. That should translate into lots more use of hemp as our infrastructure for growing and processing this valuable crop grows.