Clothing Style Tip: Dressing down can be a downer in the midst of covid
Posted by Rose on 5th Mar 2021
The styles and colors you wear can profoundly change your outlook for the better.
We've all read about and laughed over tales of down-dressing in the time of covid. I'm sure you've seen the stories and video clips featuring participants suddenly exposed during Zoom meetings while wearing a presentable top with jammies (or less) below. There's plenty of laughter to be had from such stories, but they also point to a somewhat darker reality.
---

Rose Gerstner is the founder of Sympatico Clothing, an artisanal maker of sustainable hemp and Tencel fashions for women. She blogs on style tips for mature figures and focuses on creating clothes for real-world figures offering designs that easy to wear and move in.
---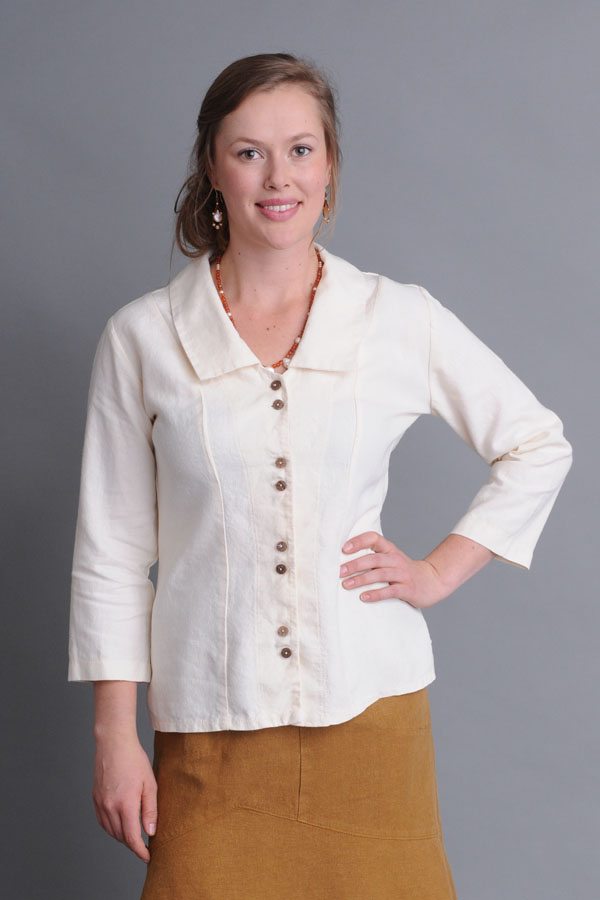 A Princess Top in undyed hemp/Tencel over a Flip Skirt in Toffee draws on earthier tones. What shades brighten your day?
Don't get me wrong, dressing down is well and fine a lot of the time. I'll be working on our compost piles later on today, and ratty old jeans will be just the ticket (though a more presentable top is right for my Zoom meeting later in the day). But there are times when the lockdown look gets old and we need an emotional boost. The colors and styles we choose can play a role in that.
Alyson Walsh authors the That's Not My Age, one of my fave blogs, and she agrees. In the midst of lockdown she has written about the need to keep renewing ourselves both inside and out. In a November 2020 post she quotes the German designer Jil Sander: "I think that radical down dressing is a drainer…it will slow down your day. If we want to change the world, we have to keep renewing ourselves." She says that includes continually refreshing our surroundings too. Moving loved colorful objects around can offer new perspectives as do cut flowers or a splash of new paint somewhere in your environs.
Walsh goes on to quote the fashion psychologist Professor Carolyn Mair who says that during the winter and its reduced light, we can experience hormonal changes in the form of reduced melatonin and the neurotransmitter, serotonin. Mair maintains that colorful clothing in shades that are meaningful to the wearer and her culture can make a substantial difference in our outlook.
What are you doing to stay fresh and solid in the midst of covid? Has how you dress played a part in that? I'd love to hear your experiences.