Finding a happy medium: a spartan capsule wardrobe vs. a bulging closet
Posted by Rose on 27th Oct 2022
In forming a capsule wardrobe it makes sense to take a relaxed approach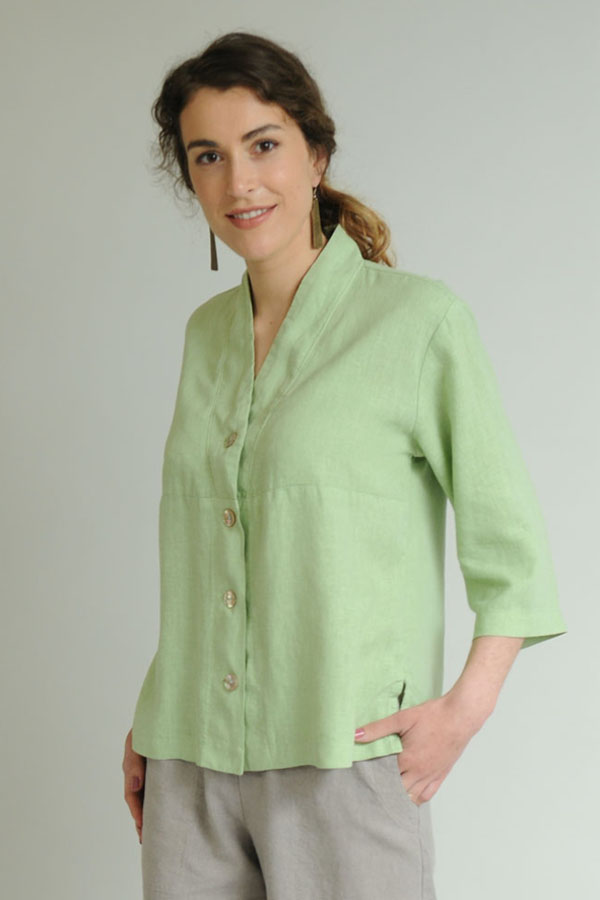 The Tuxedo Top in this season's popular Green Tea shade has the versatility to qualify as a capsule wardrobe element.
While a capsule wardrobe may be presented as an ideal in a world glutted with fast-fashion excess, I think we can also go overboard trying to hit some sort of spartan standard in the process. I have a velvet dress I made twelve ago for a special event. I love that dress, and I've trotted it out a few times since for more formal parties and weddings. I don't consider it, strictly speaking, part of my core capsule wardrobe. Nonetheless I wouldn't dream of parting with it as long as it continues to fit well and look good.
There are plenty of other garments like that we all own. Some we cherish with a sort of nostalgia that no Maria Kondo can cause us to abandon, such as raggedy old tees reserved for painting and similar work. Those really are pretty essential when you think about it. (Unless of course you can hire someone to do that dirty work!)
As New York Times reporter Melissa Kirsch explains in a recent piece for "The Morning," she had her Maria Kondo moment back during the height of the pandemic. After disposing of lots of unloved fashions as well as some easier decisions, she now finds herself with the Northeast's chilly autumn coming on. It's a climate in which daytime temperatures can easily vary by 20 degrees and the watchword is layering. That combined with a return to the office after working at home has suddenly revealed the inadequacy of the writer's scaled-down wardrobe for the changing seasons. In the end, Kirsch is unable to answer the question, "how many clothes should a person own."
In a funny aside, Kirsch talks about Times fashion advisor Vanessa Friedman's response to the same question—how many garments does a person really need. Friedman warns against going "…all Jack Reacher on your wardrobe, imitating the Lee Child hero who wears one outfit at a time until it gives out, then disposes of it and gets another so that he never has any clothing baggage."
For the moment Kirsch has decided she's comfortable with owning clothes that both serve a purpose as well as those that support a vibe. While she recognizes the value of downsizing and simplicity, she also is willing to make room for her emotional life. That seems pretty rational to me.
I've often counseled that layering is the key to staying comfortable in these 'tween seasons. As such, layering elements are absolutely essential in a well thought-out capsule wardrobe that adapts with the seasons.
So I try to take a relaxed approach in building my capsule wardrobe—one that leaves room for those garments for which we feel a genuine affinity and may have a need, if not this year, then next.