Layering makes the Sympatico capsule wardrobe 4-season appropriate
Posted by Rose on 23rd Mar 2023
A capsule wardrobe's versatility includes the ability to keep women comfortably dressed in hemp clothing throughout the year.
The Sympatico collection of hemp/Tencel casual skirts, pants and tops offers four-season versatility so long as you do a little planning. From the Angled Skirt with its substantial coverage to the jaunty Flip Skirt, these U.S.-crafted hemp skirts are blended with Tencel, a sustainably produced fiber that gives these designs great breathability and drape.
Thanks to the hollow shape fo the fibers in Sympatico's blended fabric, it is able to harbor body warmth, and styles such as the Tuxedo Top make a great intermediate layer in colder weather. Worn over a camisole or tank top and beneath an outer coat or jacket, the Tuxedo Top makes a great element in your layering strategy.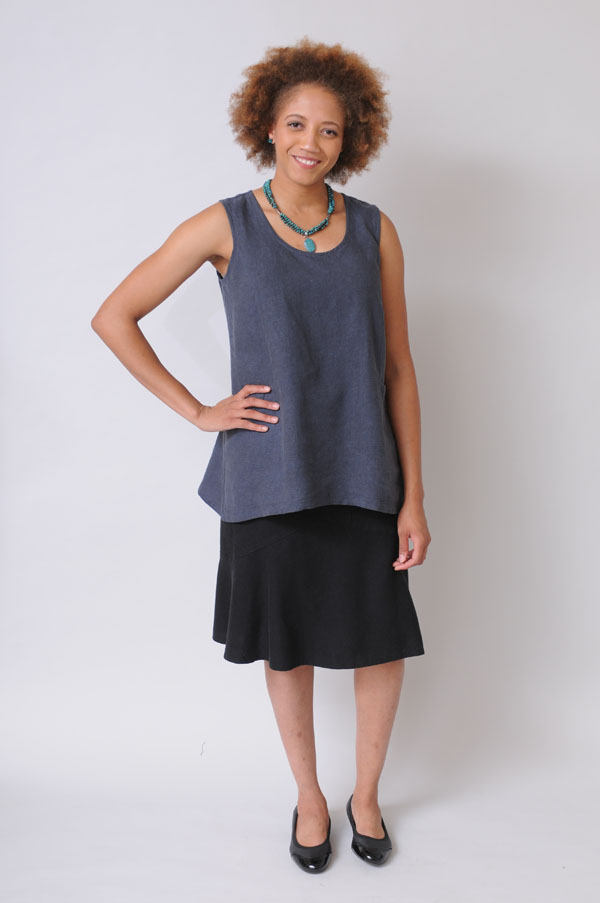 A hemp Trapeze Tunic in Graphite paired with a Flip Skirt in Black, while cool in summer's heat, easily adapts to chillier conditions making it a perfect capsule wardrobe ingredient.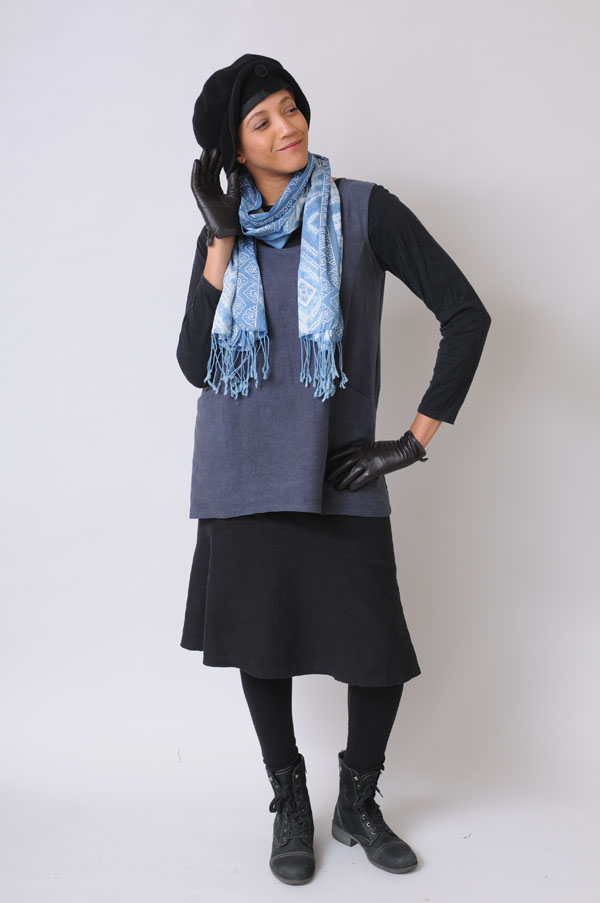 As you might guess if you haven't stopped by the Sympatico craft fair booth, I wear Sympatico's designs when presenting the collection at shows. On weekends in autumn and early spring that calls for a layering strategy. Often, heading out to the Lithia Artisans Market in Ashland Oregon, temperatures here at Sympatico headquarters, at nearly 3000 feet, are in the low forties. But later in the day, in more temperate Ashland, the thermometer can reach up into the eighties or even nineties, and off come those layers. Later, packing out of the marketplace, while long shadows fall, I slip those same layers back on.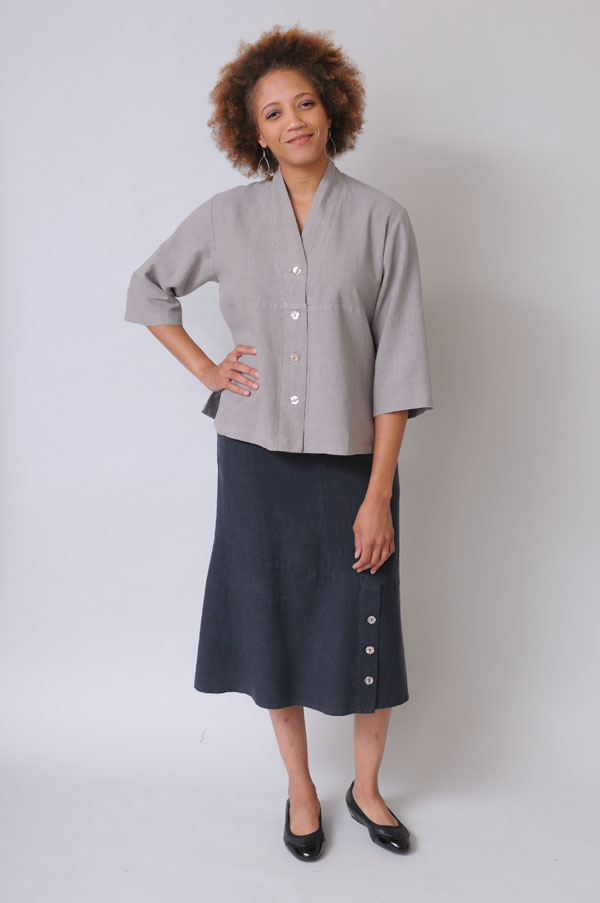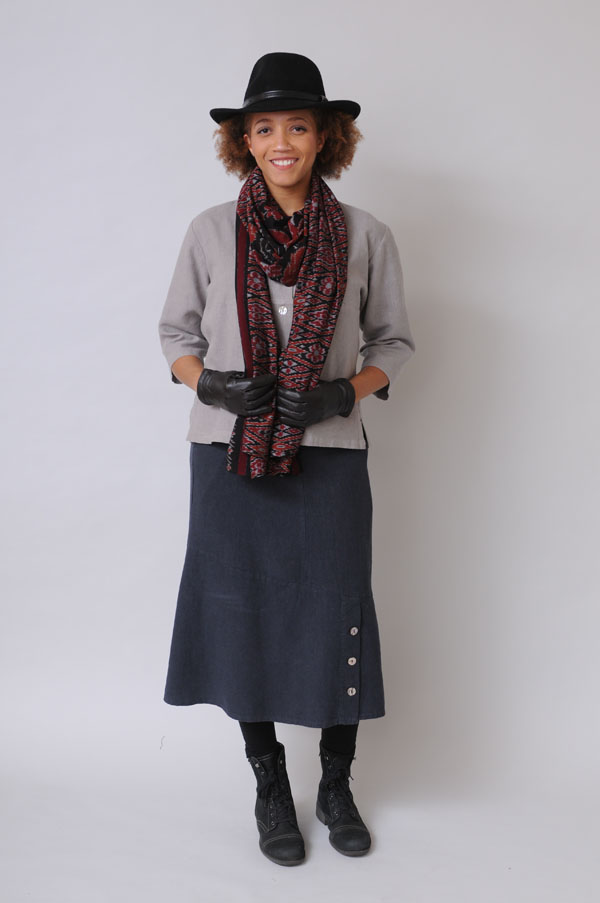 Slip on an Ikat Scarf, gloves, a hat, tights, and boots for an outfit to take you through a three-season day. Tuxedo Top in Grey Fog with Angled Skirt in Graphite.
In the past I've done shows in places like San Francisco and Seattle where people tend to routinely dress for three or even four seasons. This is another instance where the hemp/Tencel fabrics I use exclusively have proved their mettle, keeping me snug without resorting to so-called "technical" fabrics. (An outer coat may be necessary in colder climes as well things like tights, headwear, and multiple under layers that might even include long underwear when things are ultra-frigid.) With just a bit of planning, we can enjoy the benefits of natural fibers and sustainable fashions without sacrificing a thing where comfort's concerned.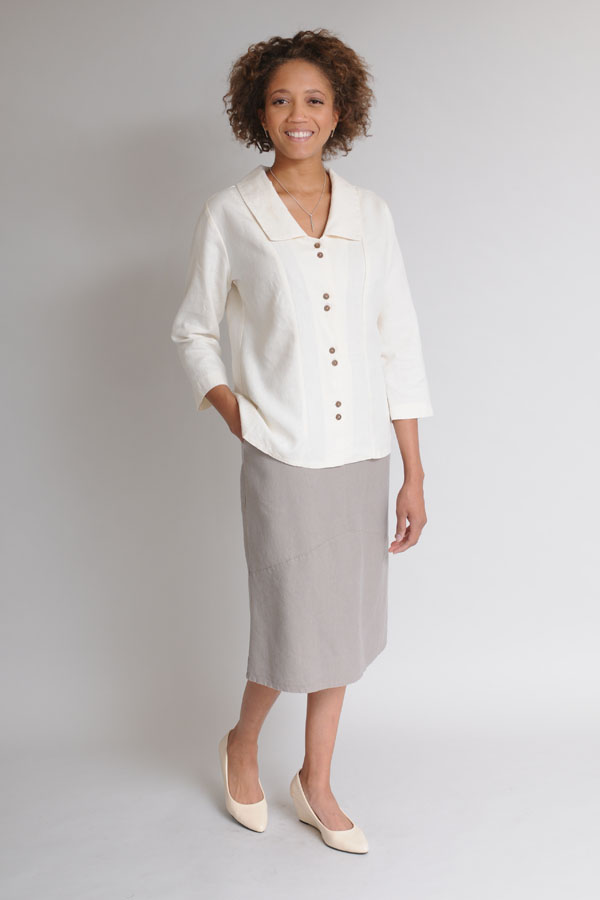 In designing my line of casual skirts, comfort and practicality are key. Elastic waistbands offer an easy fit—both before and after lunch. Some designs focus on stashability by including practical pockets. Freedom of movement, especially in a travel skirt, is another important design aim. As a traveler myself, I regularly put my collection to the test. Clambering up into the back of an Indonesian group taxi with its converted pickup-bed passenger compartment will quickly reveal clothes that don't move with you.
It's no wonder that so many Sympatico fans have made our womens hemp clothing collection the core of their travel capsule wardrobes.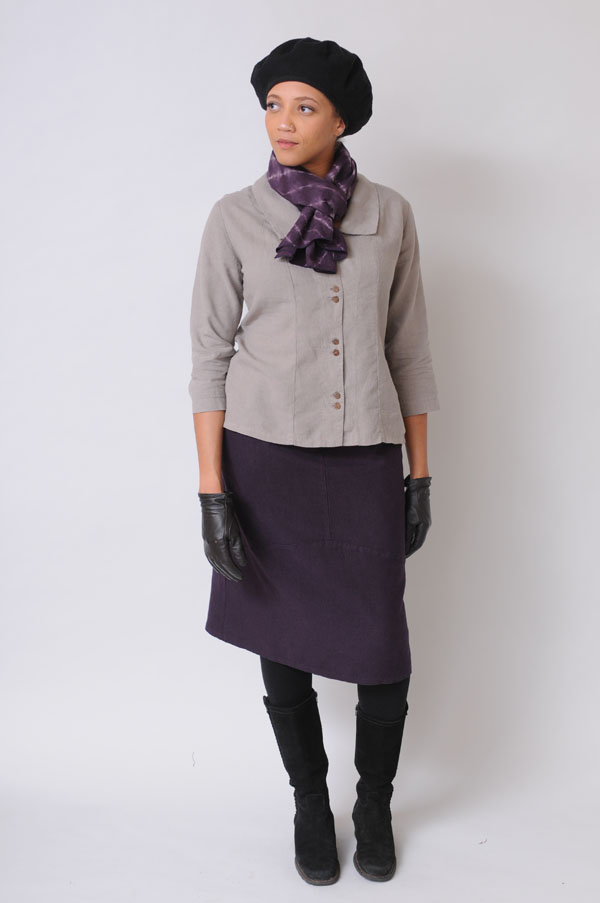 As Mom cautioned, always protect your throat in the cold! Princess Tops in Natural and Grey Fog with and without an artisanal scarf and other cold-weather accouterments worn with Curved Skirts in Grey Fog and Plum.
Speaking of travel, if you take your Sympatico wear on the road, I'd love to share your experiences and photos in Sympatico's recurring Travel Tales features. You'll find tips for creating your entry here. And if I publish your account and pictures, you'll receive a Sympatico $100 store credit.