Fixing the system that supports our plastic problem
Posted by Rose on 26th Aug 2022
Making eco-friendly clothing is fine, but that won't get us out of our systemic use of plastic worldwide.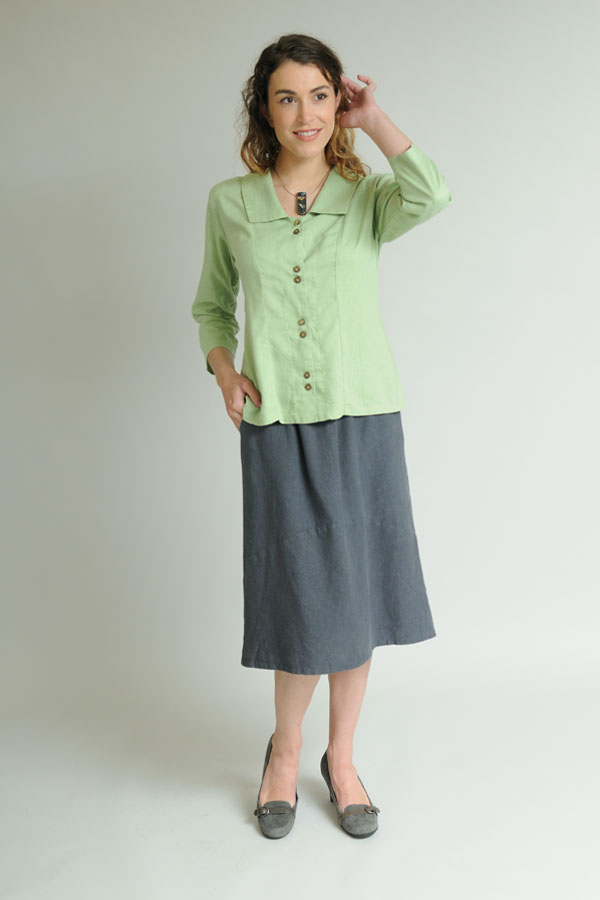 In crafting and shipping the Sympatico collection, I try to avoid the use of plastic wherever possible. Hemp/Tencel Princess Top in Green Tea; Curved Skirt in Graphite.
In a perceptive recent post, author and entrepreneur Seth Godin argues that plastic was the inevitable result of an economic system focused on profit, convenience, productivity and markets. Last year, he reports, humankind produced and used a trillion plastic bags. Attempting to deal with and dispose of such a gargantuan mountain of plastic has dire consequences for all of us.
In our own lives many of us try to use less plastic. But the alternatives are sometimes dubious. The supermarkets here in Oregon no longer offer plastic shopping bags, but the shoddily made woven plastic bags they sell as reusable usually come apart at the seams within months. Shoppers still stuff these "reusable" outer bags with those clear polyethylene bags that still abound in markets, holding produce, bulk foods, and meats. And then there's all the plastics contained in the food packaging itself.
Single-use plastic is everywhere and unavoidable. Fly in a plane, get some food to go or visit a healthcare provider and you'll find a prodigious amount of plastic-wrapped stuff involved. Our trail of plastic litter feels inevitable.
Even manufacturers with the best of intentions fall victim to the system. Godin uses the green-products producer Gaiam as an example. The company, which makes household goods, cleaners, and yoga gear, is run by people who genuinely care about the environment. But they find themselves enmeshed in shipping and retailing systems that require its otherwise relatively benign products to be packaged and shrink-wrapped in plastic. Godin goes on to say that these systems rarely change on their own; they only transform when conditions change. If we assess the actual costs of plastic's disposal and its impact on climate change on its manufacturers, Godin says, the system will notice and it will change.
In a TED talk, researcher Patricia Villarubia Gómez comes to a similar conclusion: we must begin building the entire cost of plastic's lifecycle into the goods we produce with it. Doing so will drive the economic impetus to find alternative, more sustainable materials. The statistics she recites are alarming. Humankind has produced 10 billion metric tons of plastic, half of that number in the last 20 years alone. Like Godin, Villarubia Gómez makes the case that plastics are ultimately a climate-change issue. Produced using coal, oil, and gas, they are a prime contributor to the petrochemical industry's status as the world's leading carbon dioxide polluter.
But it doesn't stop there. As plastics break down slowly over time, they emit toxic gases that contain ethylene, carbon dioxide, and methane. We're now learning that the micro- and nano-particle pollution that results from plastic degradation is disrupting the oceans' food web with dire consequences for all living things. Plastic is found virtually everywhere on Earth from the Himalayan peaks to the depths of the oceans. All of us are accumulating plastics in our bodies at a cost yet to be understood.
As much as we'd like to think that by being careful recyclers and consumers, we're having an impact, by the numbers, that's not significantly true. Both Godin and Villarubia Gómez conclude that the only way to address the systemic threats posed by plastic is by taking systemic action, building plastics environmental impact into its cost.
All that said, even knowing that the Earth-friendly efforts we make as consumers or as microeconomic enterprises are infinitesimally small, I still think that they're steps worth taking when we can. In my case, I remain committed to shipping orders using the least possible non-biodegradable materials. That's why I usually use the USPS's "Cradle to Cradle" shipping boxes and avoid the use of plastic bags inside them. Though I accept that it will take serious systemic change to wean us away from plastic, I also believe that, like the grains of sand and molecules of water that over time carved the Grand Canyon, such actions will matter.