Free shipping isn't free, but Sympatico is offering it anyway
Posted by Rose on 26th Mar 2020
Free shipping
Free shipping may not really be free, but shoppers have come to expect it. With the craft fair season on hold, Sympatico's joining the free-shipping club, at least for now.
After lots of deliberation and taking into account the extraordinary turn all our lives have taken recently, I've decided to offer free shipping on US orders over $50 until further notice. My decision could be seen as a case of "If you can't beat them, join them," but it's a bit more complicated than that.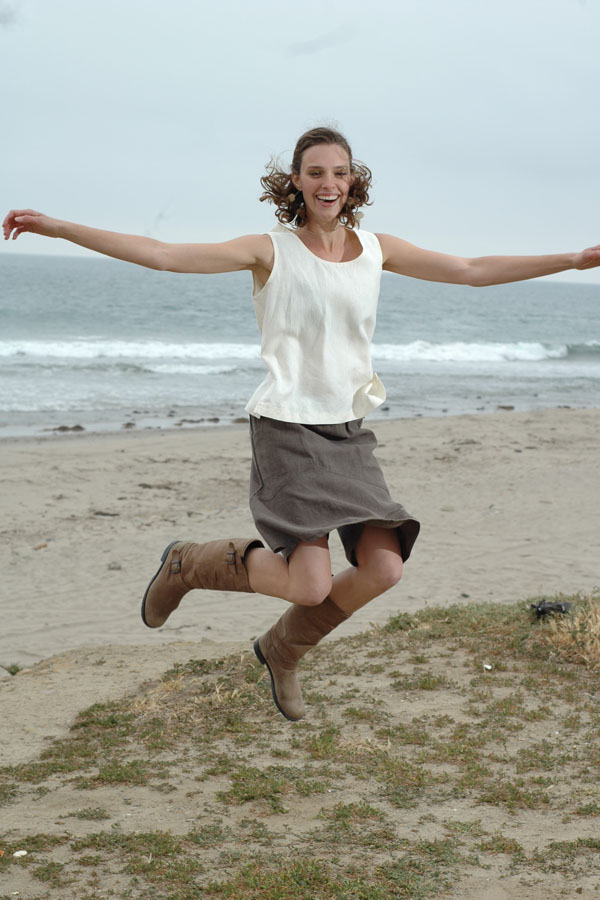 Lauren jumps for joy over free shipping in her Tank Top and Flip Skirt.
Due to the outsized influence of Amazon Prime, we consumers have come to expect free shipping as the norm when shopping online. Of course, none of us believes that shipping is truly free. Somebody's got to pay the freight. Retailers make free shipping financially sustainable in three ways. Mega-shippers like Amazon negotiate to get rate concessions with carriers that are far below those paid by small businesses. They are also using their enormous scale to build their own delivery networks and truck fleets. Other retailers simply disguise their shipping cost by building it into their selling price.
These retailers are keenly aware that shipping costs are the single biggest reason shoppers abandon their virtual carts. By making the shipping part essentially invisible, pulling the trigger on a pending order is that much more enticing to the customer.
Smaller retailers are at a great disadvantage in this landscape. A recent Atlantic story recounts the case of earring maker Ann Miceli who sells her wares on Etsy, the online craft market. By failing to offer free shipping as Etsy was subtly pressuring her to do, the jeweler's listings were buried below sellers in her category offering free shipping, causing her sales to drop by 40%. As the article notes, though Etsy advises sellers to price their products to factor in shipping, Miceli found that most of her competitors seemed to be eating the cost of shipping.
Free shipping carries other costs too. There's the carbon footprint every shipment involves as well as more subtle costs brought on by the seeming largesse of retailers who offer free return shipping. Free shipping generates a whole lot of returns, compounding the environmental impact of every transaction. A 2019 article in Fast Company describes the author's former habit of "bracketing" her purchases. That's the practice of buying several variations of the same product with the intent of returning most if not all of the items. If there's a sunny side to this situation, it may encourage retailers to do a better job in describing product details such as sizing.
So it's issues like these that have been buzzing around my bonnet as I contemplate a spring and perhaps summer without a craft-fair season. The net result: though I'm still conflicted, you get free USPS shipping on all Sympatico orders over $50* for the foreseeable future!
As we all adapt to the new realities of our world caught in a pandemic, I hope you'll find ways to support local businesses and artisans while also receiving the care and support you need as well.
*Just to the USA, doesn't apply to shipping for international orders.