Posted by Rose on 3rd Apr 2019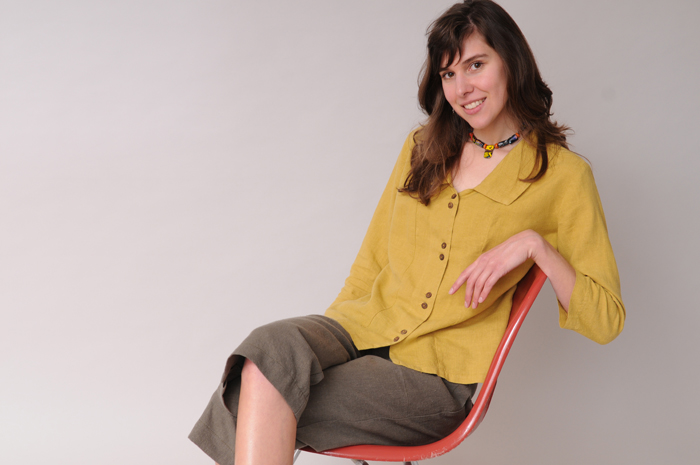 I use an earth-friendly hemp and Tencel fabric and low-impact dyes to create the Princess Top in Turmeric and Cropped Pants in Bayleaf.
The question still comes up regularly: exactly what's involved in the creation of ethical clothes? And that's a fair question—so many "green" terms are bandied about in the name of marketing and, worse, greenwashing. For the conscious consumer, trying to make ethical choices can be challenging. But knowing that apparel manufacturing accounts for about 20% of all water pollution and dying alone consumes 1.3 trillion gallons of water, can be a powerful motive to learn more.
Though the production specifics may vary based on the scale of the ethical fashion maker, there are a few things to look for in judging how ethical clothing businesses operate.
Is everybody involved fairly paid?
Beyond artisan-made clothing, complete transparency is tough to find, especially if the brand relies on overseas contractors. It's difficult if not impossible to tell if conditions and compensation are safe and fair in many cases. A handful of ethical clothing companies are relatively more open about pay and are worth seeking out.
Are the manufacturing processes earth-friendly?
Here again, conscious consumers may be stymied. Finding out how much energy was consumed and what toxins were released in the production of, say, an "ethical" pair of microfiber yoga pants is a question unlikely to be answered. And that doesn't account for post-manufacturing impacts such as the explosive growth of microfiber pollution of our oceans and waterways due to petrochemical-derived fabrics. Look for natural fibers, produced without synthetic pesticides or fertilizers, that are manufactured in closed-loop systems. These include hemp, organic cotton, wool, ramie, linen, alpaca and more as well as Tencel, a manufactured fiber that shares the same qualities. Try to avoid styles that have been distressed using caustic chemicals and seek out brands that offer low-impact or natural dye colors.
Are they made for the long run?
Ethical clothes are durable; they're made for many years of service. They're the polar opposite of fast fashion — designed not around faddish looks, but instead classic shapes that will look current for years to come. And when they finally have grown threadbare, they're ready to recycle or repurpose.
Here are some more ways to assess whether it's from an ethical clothing brand:
Low-impact fabrications: Is it made of non-toxic, sustainably produced or recycled fibers that require little energy to process?
Energy efficiency: Does the clothing manufacturer use processes that minimize the energy used to make it?
How well made is it?: Is it long-lasting and thus, replaced less? To be considered ethical clothing, it should reduce the impacts of producing new garments.
Reuse and recycling built into the garment: Is it designed to offer either a commercial "afterlife" or to biodegrade?
Design impact: Does the manufacturer consider the product's entire carbon footprint?
Biomimicry: Do the systems used to make it reuse materials in continuous closed cycles?
Renewability: Does the clothing maker use materials from renewable, sustainably managed sources?
Robust eco-design: Is it made in a manner that controls and limits pollution?
If it meets all or most of these criteria, the clothing is eco friendly and ethical. At Sympatico, we take these principles of ethical manufacturing seriously. Learn more here.