More than just comfort: 4 compelling reasons to choose natural fibers
Posted by Rose on 5th Nov 2021
It's a given that natural fibers make for more for comfortable clothing, but the benefits of eco-friendly fashion don't stop there.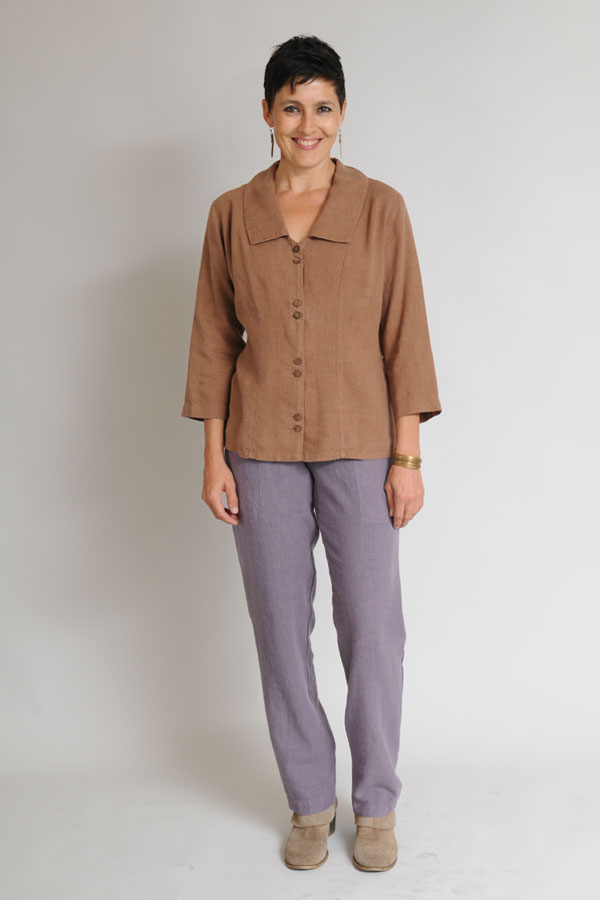 The hemp and Tencel blend I use exclusively is earth- and human-friendly. [Princess Top in Caramel; Stovepipe Pants in Mulberry]
Although for nearly everyone, comfort is a paramount concern, you can also take comfort in knowing by choosing natural fibers you're minimizing your impact on the planet. How much depends on some variables we'll look at in a moment.
1. Microfiber pollution is fast becoming an existential threat
Every time we wash synthetic-fiber clothing it releases millions of tiny plastic particles into the environment, especially into our waterways, and ultimately the oceans. Alarmingly, these particles are turning up not just in aquatic and marine animals, but in humans too. Every one of our bodies plays host to a couple of grams of these microfibers. They're even turning up in agricultural crops and baby food.
While the environmental impacts of the various natural fibers vary considerably, (conventional cotton is a disaster—more on that in a bit) one good thing can be said of all of them: they're not responsible for microfiber pollution. You can learn more in a previous Sympatico post. The US Environmental Protection Agency also offers lots of information and advice on minimizing microfiber pollution. It's estimated that eight million tons of microfibers enter our oceans every year, and the harms caused by that are just beginning to become clear.
2. Polyester, acrylic, nylon clothing: it's all from petroleum
All "plastic clothes" are ultimately derived from oil. Although climate disruption is probably the most profound threat humankind has faced, we continue to churn out millions of tons of fast fashion annually. The industry is one of the biggest drivers of our continued reliance on fossil fuels and thus second only to the petrochemical industry itself as a source of global pollution. Adding to the impacts of fast fashion are the toxic array of chemicals used for static-, stain-, and water-resistance. While the toxicity and effects of these compounds are still being studied, there are very troubling signs for those who routinely wear products that use these fibers and treatments. For example, a Canadian study found women working in acrylic textile production are seven times more likely to have breast cancer than the normal population. Nylon workers experienced double the rate of breast cancer compared to the rest of the female population.
3. Some natural fibers actually benefit the earth
Crops like hemp, linen, and flax, when grown using sustainable farming methods, return nutrients to the soil and also help to aerate it. These same crops typically require less water, and if grown organically, are not subjected to being doused in synthetic herbicides and pesticides. It's important to note that conventionally grown cotton receives vast quantities of water and highly toxic pesticides that put workers at risk. Similarly, the production of most rayon and other cellulose-based fibers such as bamboo can be sources of water and soil pollution. While the Tencel I use is also a cellulosic textile, it is produced in a closed-loop system that recaptures and neutralizes all potential pollutants.
4. Natural fiber clothing is a better investment over the long run
Have you noticed how your natural-fiber clothing and linens seem to wear like iron? And conversely, have you seen how quickly cheaply made fast fashion falls apart? In their race to the bottom while seeking the lowest possible retail price, mass apparel makers cut corners in textile quality as well as casting a blind eye toward the exploitive labor practices that make their business model possible.
Truly sustainable clothing calls for both earth-friendly materials and methods. A future in which we treat our planet and the people who make our clothes with respect is a vision that is within our reach. I'm convinced of that and thank you for helping us move toward that reality.