This artisan made clothing event funds domestic violence programs
Posted by Rose on 11th Mar 2021
For 2021, the RAGS Wearable Arts Sale moves online with an inspiring collection of artisanal clothing, jewelry, and accessories.
I first became acquainted with the RAGS Wearable Art Sale a few years ago while I was still plying my trade up and down the West Coast. Exhibiting at my first RAGS show, the Sympatico booth was hopping, and I was happy to connect with a number of customers who subsequently became loyal Sympatico fans.
---
Rose Gerstner is the founder of Sympatico Clothing in Oregon. She regularly writes about sustainable fashion and natural fiber clothing.
---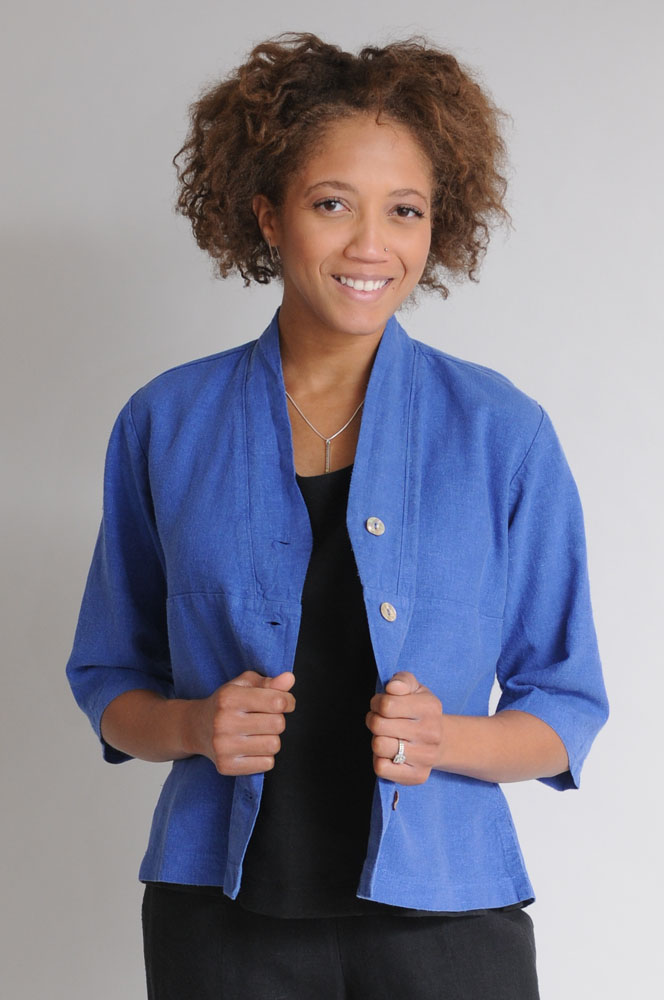 The Tuxedo Top in Sapphire will be among the items on offer during the online RAGS Wearable Art Sale.
Getting juried into that first show was gratifying as there were some world-class exhibitors on hand. I was also inspired by the show's mission: funding a local YWCA's longstanding domestic violence intervention program.
The 27th annual RAGS Wearable Art Sale and gallery competition will take place online March 14-21, 2021. An exclusive presale will be available to donors March 12–13. My show customers, especially, may enjoy browsing the clothing and accessories at RAGS. It's usually an in-person show only so this is an opportunity to visit a crafts show despite covid.
In addition to the "Marketplace" sale that Sympatico will be participating in, RAGS also features a juried gallery of one-of-a-kind items, with winners in several categories earning cash awards.
In turn, artists donate one third of their sales to RAGS to benefit the YWCA's life-saving domestic violence intervention programs. YWCA Pierce County (Washington) has been a community leader in domestic violence services for more than 40 years. After founding the state's first domestic violence shelter in 1976, the YWCA has steadily expanded and enhanced a comprehensive menu of services, offering clients real tools to change their lives through safety, healing, and empowerment. For more about YWCA Pierce County's domestic violence intervention programs, visit YWCApiercecounty.org.
The RAGS sale is produced by an all-volunteer guild and is supported by local businesses and individuals; 100 percent of RAGS proceeds go directly to the YWCA. By taking the show virtual this year, I hope this very worthy event will expand its reach.
For more information about the 27th annual RAGS Wearable Art Show, visit RAGSWearableArt.org,