Artisanal hemp clothing maker recommends gift certificates this year
Posted by Rose on 29th Dec 2020
Shopping for gifts for mature women? The USPS is slammed this year making gift certificates a no-brainer.
Rose Gerstner is the founder of Sympatico Clothing in Oregon. Working with sustainable hemp and Tencel, she chooses her materials and methods carefully in crafting the Sympatico collection of Tops, Pants, and Skirts. Designed for unfussy comfort, they offer elegantly simple style on real-world figures.
As you've likely noticed, the mail is running slow this year. Along with UPS, Fedex, and other carriers, the USPS has been struggling with both vastly increased package volume while also operating shorthanded due to the pandemic. The post office is especially burdened as the The Washington Post reports.
As the Post story explains, the other shipping companies lean on the USPS to deliver so-called "last mile" service. That's the most labor intensive and logistically challenged part of the package delivery process. Through deals in which the the big package delivery services fly and truck shipments to post offices near the delivery address, the USPS is charged with getting it to your door. (Like many American, my door is pretty far from the nearest postal facility, making that so-called "last-mile" service actually about eight miles of twisty mountain roads). With the pandemic, web commerce is up about one-third in 2020, and even first class mail is seeing slowdowns.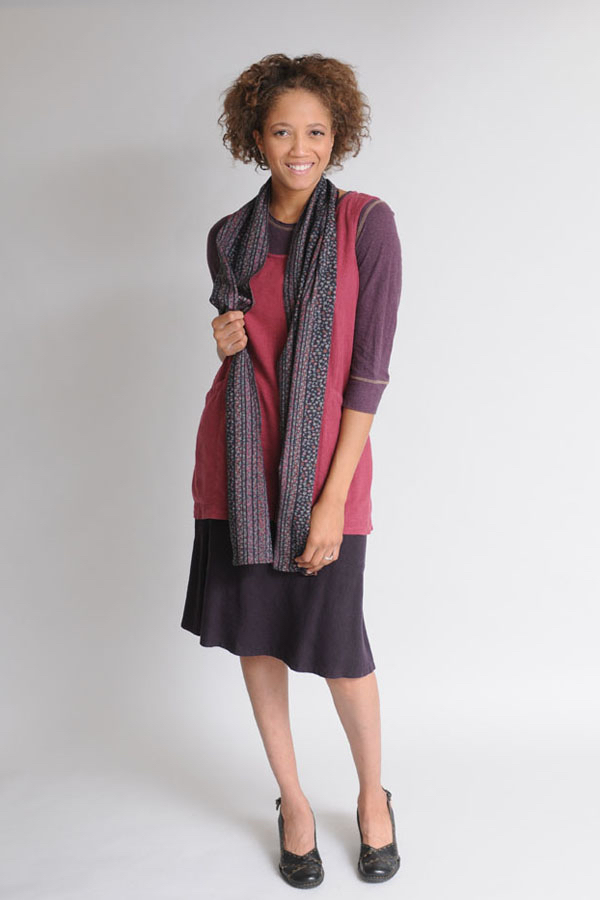 Wool floral scarf, Garnet Trapeze Tunic and Plum Flip Skirt
A couple of months ago USPS sent a notice saying it would deliver packages mailed by December 18 in time for the holidays. That seems somewhat unlikely now. But then again, receiving a present a little late is nice too. After the glut of the holidays, sometimes a late-arriving gift gets a little more attention. Because of being focused on year-end things I was caught flatfooted by the USPS crush also. So I decided to be philosophic and relaxed about the fact my gifts would arrive a little late and pleasantly surprised when some of them did not.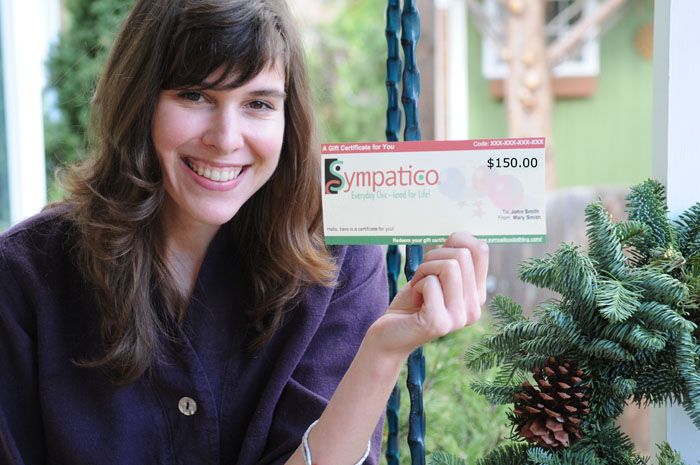 Sent automatically and practically instantly, gift certificates eliminate any guesswork.
Of course, a Sympatico gift certificate solves the timing issue neatly. Sent automatically and practically instantly, they also eliminate any guesswork, which in uncertain times might be a comfort in itself!
At one time, I used to avoid gift certificates; they struck me as a bit mercenary. But with friends and family living overseas, as well as now with the pandemic to contend with, purchasing gift certificates and gift cards is a viable option. And if you end up going that route, consider sending a personally penned letter by snail mail —even if it's after the holidays. With the pervasiveness of email and digital greetings, receiving an actual, hand-written letter is bound to be appreciated by loved ones.