Clothes shopping for the long run
Posted by Rose on 9th Sep 2022
One way to assess how sustainable clothing may be is by posing the question, "will I wear this in 20 years?"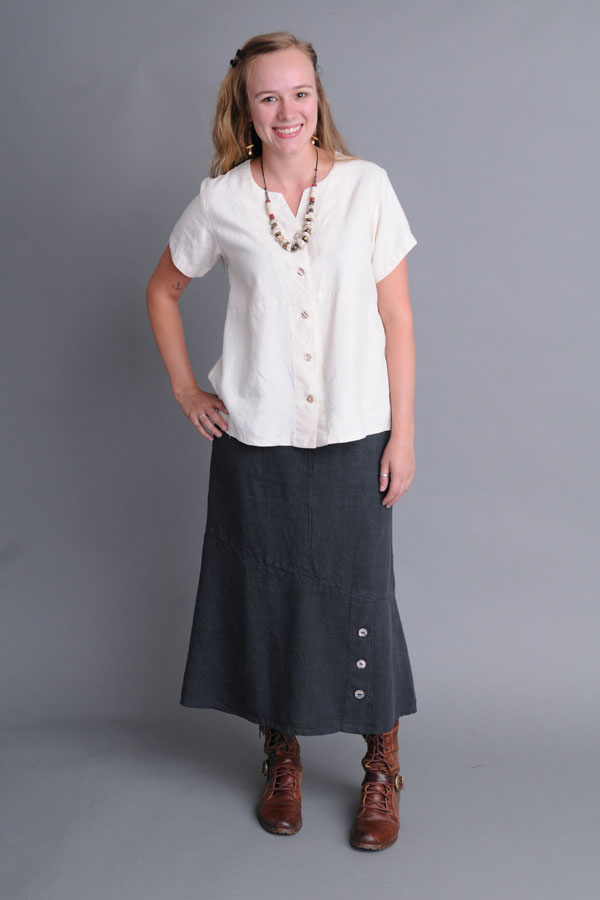 A look that's good for the long run: Swallowtail Top in undyed hemp/Tencel over an Angled Skirt in Graphite.
An article in The Guardian teases an idea I advocate often. The story's headline promises that "The most desirable clothes now are those that will still look desirable in five years' time," While the article addresses circularity as a technical issue in which clothing needs to be readily recyclable and/or biodegradable, it also advocates for a more fundamental way of looking at the process of shopping for clothes. Writer Jess Cartner-Morley sums up that idea neatly: "…the most radical statement you can make with your outfit is to signal that you have chosen it not according to the whim of the fashion moment, but rather with a view to ensuring it will have a long and hardworking life, in your wardrobe or someone else's."
Coincidentally, after reading that Guardian piece last week, I had a 20-something shopper at my Lithia Artisan's Market booth last weekend who clearly was of a similar mind. She told me she was looking for something she could see herself still wearing 20 years from now—a garment she would associate with a rewarding year spent in Ashland. After much deliberation, she settled on an Angled Skirt. I loved that she had upped the the Guardian's longevity test by 400 percent!
Still, I could see my customer easily agreeing with the Guardian story's conclusion: "The most ahead-of-the-curve fashion of the moment does not look radical at all. Establishment classics are the new avant garde, because the aspirational image most aligned with the zeitgeist is the one that doesn't follow a trend cycle. From jeans and sturdy biker boots to striped cotton shirts and simple tailoring, from cotton sundresses to gabardine raincoats, the timeless is back in the hot seat. The new look? Old-school classics, played on repeat."
And I couldn't agree more.