Could this NY law drive a new era of sustainable fashion?
Posted by Rose on 6th Sep 2022
If it becomes law, the New York Fashion Sustainability Act will profoundly effect the fashion industry throughout the world.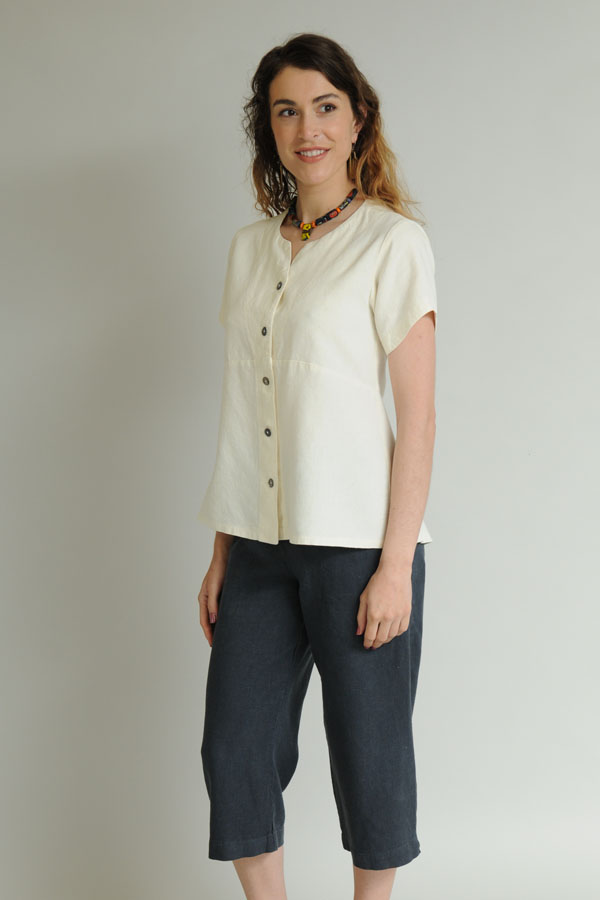 Even for a tiny player like Sympatico, complete supply-chain transparency is challenging. Fabric, thread, elastic - all are sold domestically but often manufactured internationally. (Swallowtail Top in Natural; Cropped Pants in Graphite.)
It seems fitting that New York, which historically was the center of fashion for most of the last century, is now poised to curb some of the worst aspects of fast fashion. Introduced earlier this year, the Fashion Sustainability and Social Accountability Act (or just Fashion Act), if passed, would make New York the first state in the country that demands major players in fashion need to come clean about their role in climate change and social justice.
A powerful group of nonprofits focused on sustainable fashion, including the New Standard Institute, the Natural Resources Defense Council, and the New York City Environmental Justice Alliance are behind the bill. Sustainable fashion brands such as Stella McCartney are also on board. The law would apply to all clothing manufacturers with $100 million or more in annual sales that do business in New York state. That would apply to pretty much all the large multinational fashion brands from the luxury market of Prada and Armani all the way down to fast-fashion outlets like H&M, Shein, and Boohoo.
At a minimum, manufacturers will be required to reveal details about at least 50 percent of their supply chain, including the farms and factories where fabric and other raw materials are produced. Transparency would be required throughout the manufacturer's process including all production stages and shipping. Producers will also be required to reveal where in the company's production chain the greatest social and environmental impacts happen. These include greenhouse gas emissions, fair wages and working conditions, energy consumption as well as water and chemical management policies.
Although many of the brands that would be impacted by the new law have expressed concern about their global impacts in the past, there have been no real teeth behind the limited voluntary efforts we've seen up to now. While the Act would have significant legal consequences for violators through robust enforcement, it also aims to be non-punitive, recognizing the complexity of international supply chains. A garment may be made from of dozens of components sourced from all corners of the world.
The Fashion Act will undoubtedly face some political headwinds in Albany as multinationals hesitant to change will seek to weaken its provisions. But as with the auto industry's original opposition to fuel efficiency standards, that's likely to change. Smaller sustainable fashion brands are adding their support to the Act, and I feel that, like the auto industry, the bigger players will come around in time.