Globetrotter Reveals Why She Shops Eco-Friendly Travel Wear
Posted by Rose on 29th Sep 2022
Seeking out ethical clothing is a big part of the process.
Over the last decade Europe has been experiencing record summer temperatures. So when Poldi Binder got in touch about her approach to dealing with the heat, and more importantly, why she shops ethical clothing brands, I knew we had our next Travel Tales winner. For her recent journey in Austria, Germany, and Eastern Europe, Poldi built a versatile capsule wardrobe with Sympatico garments at the core.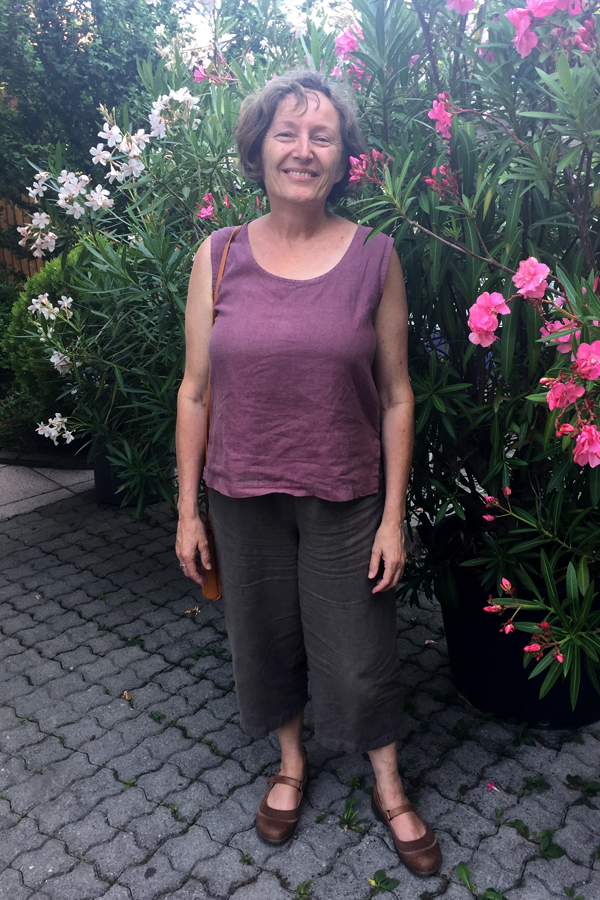 Confronted with searing temperatures, Poldi's capsule wardrobe helped defuse the swelter factor. Here she wears Bayleaf Cropped Pants and a Vintage Rose Tank Top.
As Poldi writes: "The only clothing that made it into my suitcase was my Sympatico Collection: pants, one skirt, 3 T-shirts and a few other items. I loved the Sympatico pieces — they held up well, especially in the heat (often in the 90's) and washed and dried easily. My friends, whom I hadn't seen in years, thought I looked wonderful and they loved the fact that the clothes were environmentally friendly and made in the US by a woman! Thank you! (...and I just ordered another skirt…)
On her return, Poldi expanded on why she shops Sympatico and why transparent ethical clothing brands matter: "I no longer buy from regular clothing companies. After the disaster in Bangladesh a few years ago [where workers died in a factory due to gross safety neglect], I contacted a few providers to find out if and how they checked their supply lines: only one sent me a substantive answer. I then made a commitment to myself to never buy clothing again unless I know where it is made and whether the workers get paid a fair wage. I'm even thinking of making my own clothes (I come from a long line of tailors) but that's a bit labor intensive."
If you have a potential Travel Tale to share with other Sympatico fans, I'd love to hear from you. You'll find tips for submitting your entry here.
Finding out exactly what goes into your clothes, how they're made and under what conditions, can be a daunting task. Many fast fashion clothing companies offer little to no transparency about the materials and methods used in their clothing. Still, as a concerned consumer, you can help change that. I recently blogged about ways to spot "greenwashing" — marketing that trades on terms like "natural" that have little real meaning. In my blog post I offer some concrete ways to separate such marketing hype from truly ethical clothing companies. Using those tips can help you discover eco-friendly clothing companies that engage in sustainable manufacturing practices and that are transparent about their sourcing of materials and labor.
You can find out more about Sympatico's sourcing that's based on sustainability and planet-friendly principles here.