How constraints fire up our creativity
Posted by Rose on 24th Oct 2022
What I first perceived as obstacles led me to crafting artisan-made clothes
I knew I wanted to operate my own business and it needed to be about apparel. Beyond that, though, I was less sure. Though an empty canvas or blank page may theoretically be an enticing invitation to creativity, for many of us, the reality is quite different. Faced with a blank slate can be paralyzing.
Having limitless possibilities is a recipe for inaction. Think of that Netflix wall of movies to stream—it's overwhelming—I often just read instead. Frank Gehry was once awarded a home-building project by a client who gave him total carte blanche on every aspect of the design. Zero constraints proved to be a hurdle for the celebrated architect. "I had a horrible time with it," he recalled. "I had to look in the mirror a lot. Who am I? Why am I doing this? What is this all about? It's better to have some problem to work on. I think we turn those constraints into action."
Like many creatives, Gehry was accustomed to starting with the constraints; they formed the foundation of his work. But instead of seeing these limitations as barriers, he was able to look beyond the architectural rules and norms to see what was actually possible. Whether it's a missing ingredient in a recipe or a foundational challenge to a project, improvisation and innovation can get us all unstuck. That's why I've learned to embrace the constraints.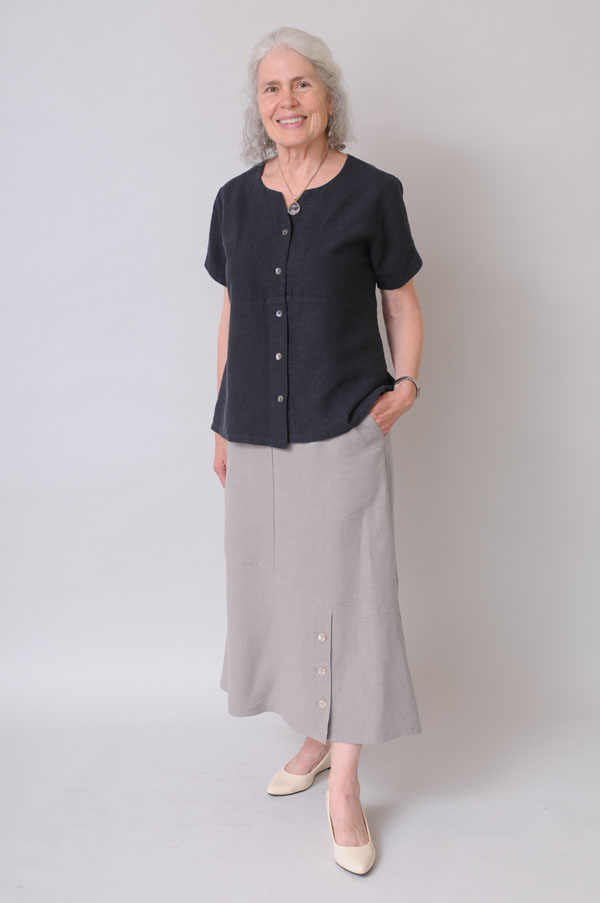 I found the hemp/Tencel fabric used in Sympatico styles by constraining my search to genuinely sustainable fibers. Here I'm wearing a Swallowtail Top in Graphite with a Grey Fog Angled Skirt.
In planning to create the Sympatico line of clothing for mature women, I soon developed a daunting list of limitations and constraints. But looking back, I can now see how that list led me to innovate, frequently pushing me toward outside-the-box thinking. The items on that list were puzzles waiting to be solved.
Some of my constraints were self-imposed: My enterprise needed to be based in earth- and people-friendly practices. I wanted it to cater to mature women and their need for comfortable, easy-care, yet stylish clothes. Both aims raised challenges.
Other limitations were dictated by reality and circumstance: As a one-woman business starting out, there were impossible demands on my time to deal with the countless details of getting a new business up and running. As a micro-business startup with a tiny budget to match, sourcing sustainable materials was a big challenge in a global marketplace dominated by fast fashion. The aptness of the old saying, "necessity is the mother of invention" kept being driven home. But again, in retrospect, I'm grateful to those constraints for pushing me to innovate and improvise. I am a more resilient entrepreneur and artisan for it.