Mature women led the way to Mother's Day
Posted by Rose on 6th May 2021
The celebration they envisioned was a very personal one, directly connected to their own mothers.
Although it's easy to assume that Mother's Day was the invention of marketers searching for new ways to sell more greeting cards and candy, fittingly, it enjoys a much more heartfelt history.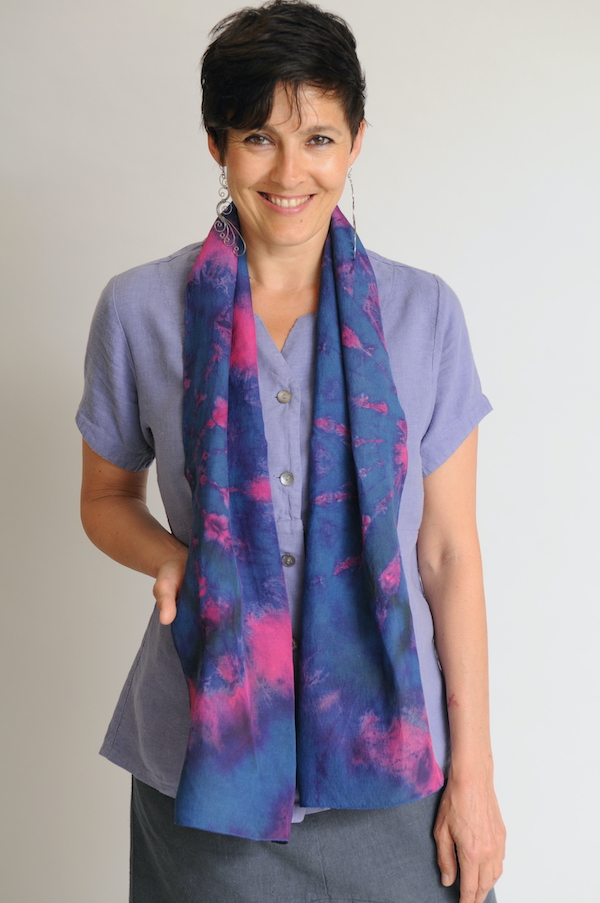 Zoe wears hand-dyed scarf in silk and linen fabric over a Periwinkle Swallowtail Top.
Where the apostrophe goes is telling
Several women in the US lobbied for a national holiday celebrating mothers in the early days of the last century. But it was Anna Jarvis of West Virginia who was perhaps the most ardent and visible promoter of the cause. In 1905, the year her mother died, Anna began a campaign to celebrate motherhood on a widespread basis. Her mother, popularly known as Mama Jarvis, was legendary for her care of the wounded on both sides during the US Civil War. Later, Mama Jarvis organized a "Mother's Friendship Day" aimed at healing the divisions of the recently ended war.
Writing to state and federal officials, Anna Jarvis promoted her vision of a holiday that would consist of very personal, family-centered tributes. The apostrophe in "Mother's" was placed intentionally to keep the word singular-possessive, so as to help express Jarvis's vision. In 1908, Anna Jarvis organized a public memorial for her late mother in her hometown of Grafton, West Virginia and encouraged citizens to celebrate their own mothers, living or dead. It was this highly personalized approach to the celebration that was the key in Jarvis's mind.
Roughly around the same time, the abolitionist and suffragette Julia Ward Howe had a more political celebration in mind. She was was working on getting June 2 to be declared as "Mother's Peace Day."
It would take another six years of campaigning before President Woodrow Wilson in 1908 signed a proclamation declaring the second Sunday of May Mother's Day, making it a national holiday.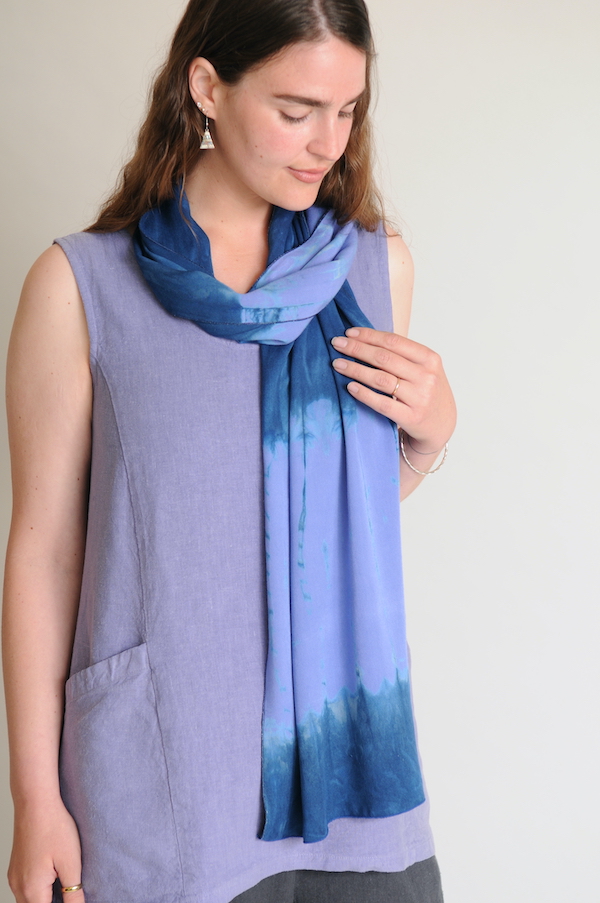 Hand dipped in shades of Indigo blue and lavender, Hannah models a scarf of soft Tencel fabric and wears a Periwinkle Trapeze Tunic.
In more recent years, Mother's Day has marked the launch of political and social-action efforts. In 1968, Coretta Scott King chose the day to march for underprivileged women and children. Efforts to adopt the Equal Rights Amendment as well as issues surrounding childcare were regularly raised on the holiday during the 1970s.
How do you celebrate Mother's Day? For those of us whose moms are no longer around, maybe just spending a few minutes in contemplation of the gifts our mothers gave us will prove a fulfilling celebration. And if your mom is still among the living, how about a conversation about how and why you appreciate her?