Sustainable clothing brands are upending fashion norms
Posted by Rose on 6th Oct 2021
With climate disruption threatening our future, sustainable fashion brands are leading the way to solutions.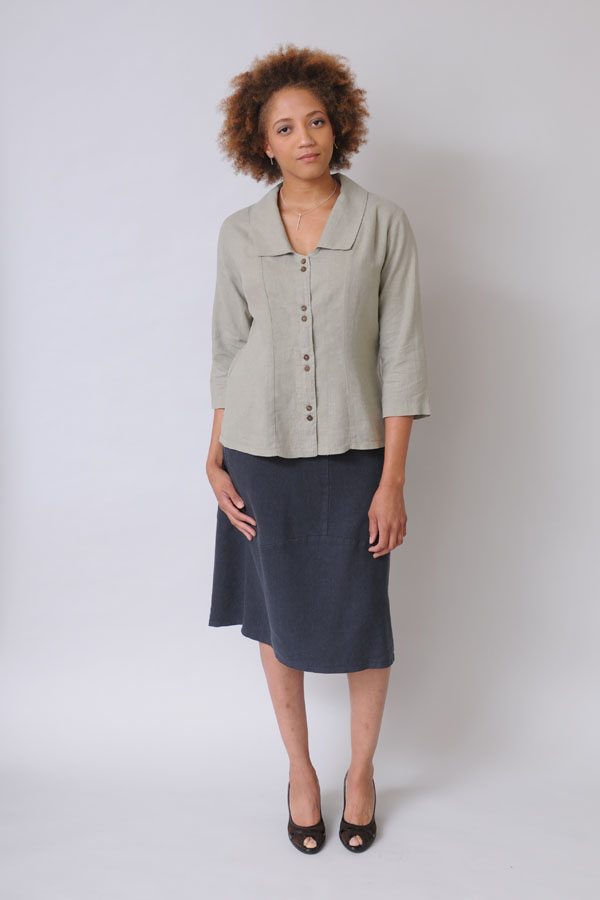 Hand crafted in the US, Sympatico's collection checks all the sustainability boxes. Princess Top in Sage; Curved Skirt in Graphite.
At the start of this year, Vogue UK ran a piece, 7 Major Sustainable Fashion Trends To Propel The Industry Forward In 2021. Nine months into the year, things are looking more positive as the apparel business begins to grapple in earnest with how it contributes to planetary pollution and climate disruption. We're just now starting to see approaches that run much deeper than marketing department fluff.
Some of the trends that Vogue holds out promise for are indeed paying off with real-world returns in terms of planetary health as well as human wellbeing. That said, other innovative initiatives may still not be ready for prime time when it comes to scaling up production. But the positive news is that a lot of very bright people are now engaged in figuring out how clothing brands can be a help rather than a hazard to the planet.
Sustainable clothes start with regenerative agriculture
Genuinely sustainable fibers are grown and harvested in ways that achieve little or no ecological disruption. At their best, natural fibers such as hemp and linen actually improve the soil in which they're cultivated. Many such fibers are grown using regenerative agricultural techniques that include no-till soil management and inputs that seek to enrich native soils with the microorganisms that restore soil health.
Climate positivity—more than a catchphrase
In tandem with dawning realizations about climate change, the sustainable fashion business is awakening to the prospect that it can actually help reverse our climate predicament. An example is the California startup Newlight, which transforms atmospheric CO2 and methane to create a carbon-negative synthetic leather. As futuristic as it might sound, Canadian-Iranian designer Roya Aghighi is exploring living algae as a clothing fiber capable of photosynthesis. Imagine taking a stroll in your garden while your outfit absorbs carbon dioxide from the atmosphere, right along with your veggies!
Reducing fashion's hit on biodiversity
Just a week ago, the US announced the extinction of 23 native animal and bird species. This latest news is part of a greater threat facing more than a million plant and animal species worldwide. The parent company of luxury nameplate Gucci has promised to help do better by our fellow planetary occupants. Kering announced a biodiversity strategy in mid-2020 that appears to be a model for industrial-scale apparel makers.
Addressing a garment's lifecycle calls for circular thinking
The idea of using fibers over and over is hardly new. But in practice there is much more that can be done to curb the inherent waste and environmental destruction imposed by fast fashion on the Earth. So it came as a bit of surprise when H&M announced it was partnering with Green Machine to develop technology that can separate blended fabrics back into their component fibers. Given the huge amount of poly-cotton blends consumed by fast fashion, this could be a significant way to offset some of the industry's negative impacts. A further outgrowth of circular thinking is the phenomenon of brands embracing consumers' reselling their wares. Sites such as The RealReal and Vestiaire Collective have sprung up to offer a selling space in which consumers can resell their luxury items online. Luxury brands are looking to get in on the action too; Gucci now partners with The RealReal.
Compassionate clothing means taking care of workers
Growing awareness by consumers has helped drive the demand for safer and healthier lives for the people engaged in making clothes. From agricultural fields to the dye plants and apparel factories, clothing shoppers are beginning to expect more transparency from clothing makers about the conditions under which apparel workers toil. French luxury house, Chloé has announced it is seeking B Corporation status in which the company's social and environmental performance is closely scrutinized by a certifying body.
There is lots more to do in order to transform the apparel industry. Those changes will depend on greater consumer education coupled with industry leaders who recognize the existential threat of continuing to do business as usual.