The upsides of running a tiny ethical-clothing company (and the challenges)
Posted by Rose on 26th Oct 2018
In a world where market share is the holy grail, running a tiny ethical clothing company can sometimes feel quixotic. The economies of scale and efficiencies that accompany a business growing bigger are a focus of many business plans. That's especially true for goods such as apparel that the global market sees as a commodity. In fast fashion, the race to the bottom price-wise is key. Getting there is all about scaling up in order to get to the lowest possible retail price, regardless of the human and environmental costs.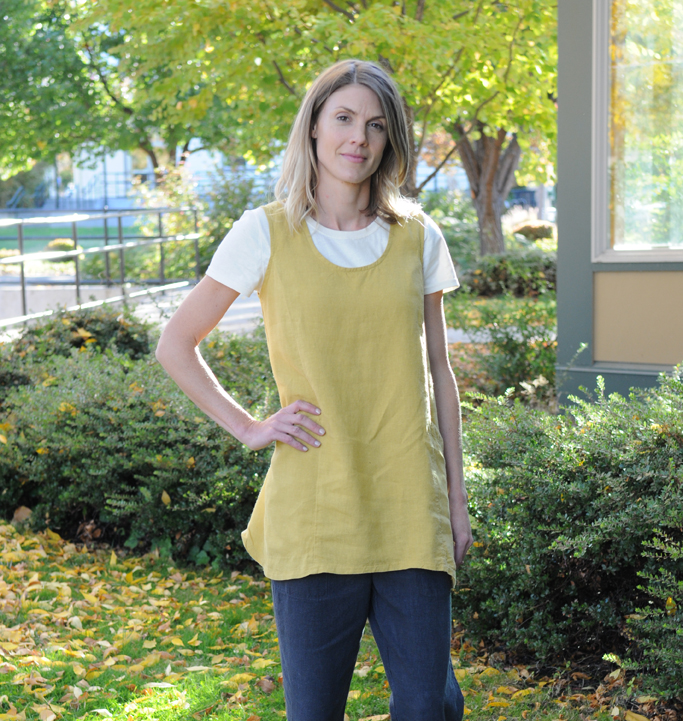 The Trapeze Tunic in Turmeric layers nicely over Graphite Stovepipe Pants.
Some business professionals I've talked to see Sympatico as anachronistic and at odds with this kind of marketplace. And they're right—strictly by the numbers, a sustainable clothing business like Sympatico makes no sense. As a micro-size entrepreneur, I continually juggle scale with the needs of my customers. As my slow season approaches, I have to make decisions about how much inventory I'm willing to have "winter over."
One response to that dilemma is to keep dyed fabric on hand so I can cut and sew items as customers need them. That's one of the benefits of staying small — I can be responsive to my customers on a very personal level, even if I can't offer the vast inventories of fast fashion.
But without a marketplace that values artisanal work, Sympatico wouldn't exist. And for that, I have you, my customers, to thank! I've blogged about the complicated choices we all make as consumers here.