Travel Tale: This archaeologist digs Sympatico
Posted by Rose on 18th Aug 2021
And a long travel skirt is an essential part of her wardrobe when she hits the road.
Like so many Sympatico customers, Rebecca Allen is a frequent traveler. In putting out my call for entries for our recurring feature, Travel Tales, Rebecca responded with the following account of a recent New Orleans trip.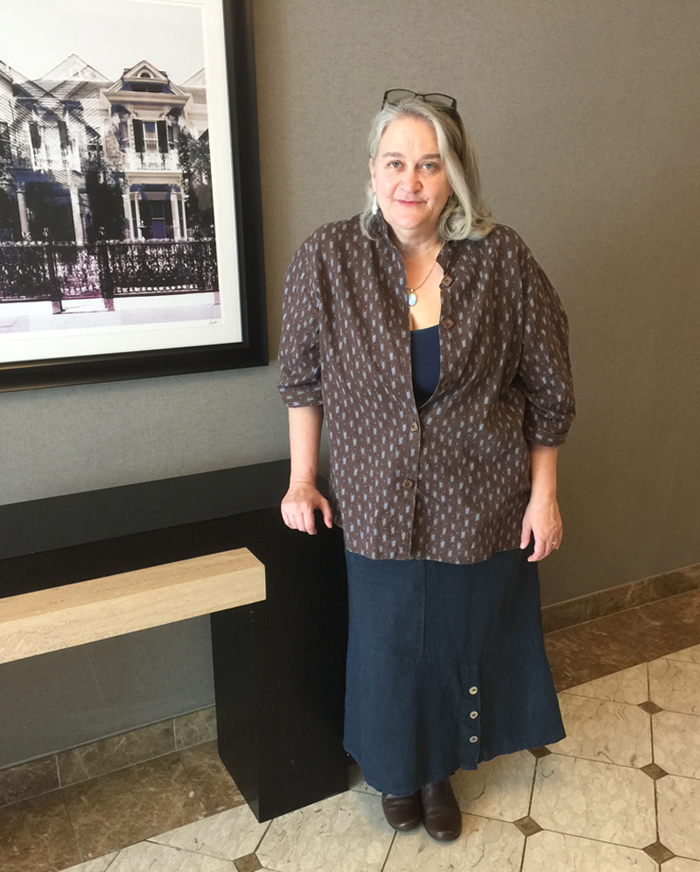 Rebecca A, ready for her trip, in her Angled Skirt.
I'm an archaeologist, which means that much of my wardrobe has to look okay with dirt on it. A few times a year, though, I travel to archaeology conferences and in those venues, I want to look professional while maintaining comfort. Paired with a long tunic, the Sympatico Angled Skirt fits the bill.
The journal editors are gathering at 7 am for the annual meeting for the Society for Historical Archaeology , and I flew in late to New Orleans the night before. Packing a skirt that can go from suitcase to wearing is a must.

When it's lunchtime, I need a skirt that will walk with me and not impede my progress. There's lots to see in New Orleans, and I have a long stride. Since muffuletta sandwiches (sesame-crusted bread stuffed with salami, cheese and olive salad) are one of my favorites in this city, I also want a skirt with a forgiving waist line. The elastic waist on this skirt is perfect, and allows for a relaxed sightseeing jaunt.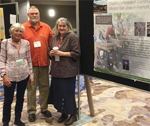 By late afternoon, I'm back at the conference, where I need to present a poster on our latest excavation finds at Mission San Jose in Fremont, California. My skirt still looks great, and because of the natural fibers (my skin reacts badly to synthetic fabrics), I'm comfortable in my outfit and ready to talk at length with my colleagues. Archaeologists usually have a lot to say, so the poster session spills over to the cocktail lounge. My skirt and I are still ready.
Whether your trip is a leisurely neighborhood stroll or a transcontinental trek, a long travel skirt is something the seasoned voyager considers essential.
Tell me your Travel Tale
I love hearing about, and better yet, seeing, customers' adventures—especially when Sympatico wear is involved! Send me your Travel Tale along with one or more pictures of you in your Sympatico items and I'll send you a $100 gift certificate if I use them. Email your entry here, and include the subject line, "Travel Tales."