Travel Tales: Adventures in exotic textiles shopping
Posted by Rose on 10th May 2021
An artisan-made clothing entrepreneur explores Southeast Asian markets
In early 2017, I visited the Batik Market in Jogjakarta, Indonesia, a city known for its art, especially its batiks. As someone focused on artisan made clothing, I was the proverbial kid in the candy store.
During my visit, I watched an artisan craft a batik fabric using wax as a resist. With repeated dips in dye baths, complex patterns emerge revealing the (typically) intricate designs. The quality of Indonesia batiks depends upon the type of fabric and how the batik design is applied.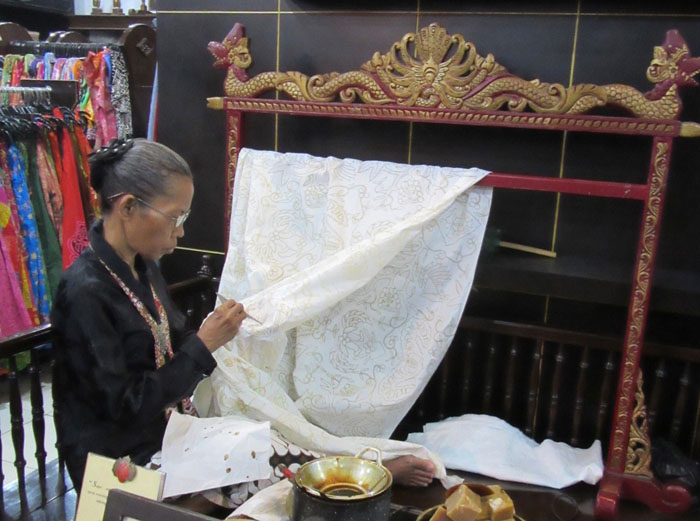 The most time-intensive batiks are made by hand using the tjanting, a narrow funnel-like tool used to apply hot wax directly to the fabric, guided by lightly penciled lines. A second method uses a wooden block on which the design has been carved. The block is dipped in wax, then applied to the fabric and (usually) repeated. A third method involves a more mechanized approach, similar to fabric printing, but using wax as a resist.
My interest in textiles goes back to my college days where I was drawn to natural fibers and traditionally made clothing. When I travel I enjoy discovering the textile methods unique to the region, and, when possible, bring home some examples. In an effort not to hoard these examples (I own a lot of fabric!), I often buy scarves that are affordable and beautiful and that I can offer to my customers.
Presented with an almost overwhelming array of fabrics at the Batik Market last January, I eventually narrowed my purchases down to a few very special scarves.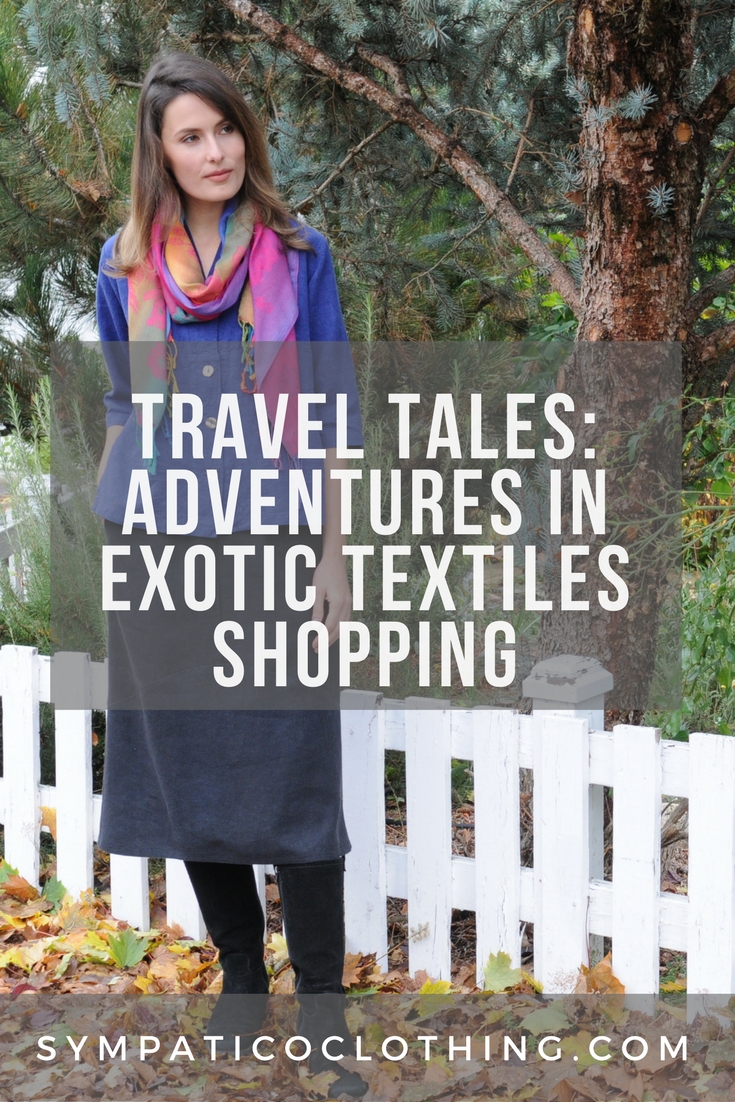 Anna's Pashmina scarf integrates well with her Tuxedo Top and Curved Skirt.
I also traveled to Thailand where we were busy helping with my daughter's wedding preparations, including the arduous job of auditioning chocolate cake to find the most delicious one for the big event.
While in Bangkok we reconnected with friends we hadn't seen in two decades. To our mutual delight we found we'd all gifted one another with wraps or scarves! I received a lovely Pashmina wrap of deliciously soft cashmere that has become a constant companion since the weather got chilly.
Despite our search for the ideal chocolate cake we were able to carve out a day at Bangkok's renowned Chatuchak Weekend Market, a sprawl of more than15,000 stalls. Our Thai friends had told stories of making purchases at Chatuchak, leaving them in the vendor's booth to be picked up later, but never finding their way back again. It's big!
Amidst all the clamor and initial shock of merging with the throngs, I found some wonderful Pashmina wraps just after entering the market. But I wasn't ready to buy, having just arrived.
Pashmina is a fine type of Kashmiri wool, known as cashmere. The textiles made from it were first woven in the Kashmir region of India and the name literally translates as "soft gold." Pashmina shawls are fine enough to pass entirely through a ring with half-inch diameter. The wool comes from the incredibly fine undercoat of goats who are combed during spring molt to gather the wool. The shawls traditionally are handwoven.
I wasn't entirely focused on Pashminas. In the middle of the market, I met the textile artist (below) who quilts with silk and collects antique Japanese kimonos. She sold me an ikat scarf and some indigo-dyed fabric.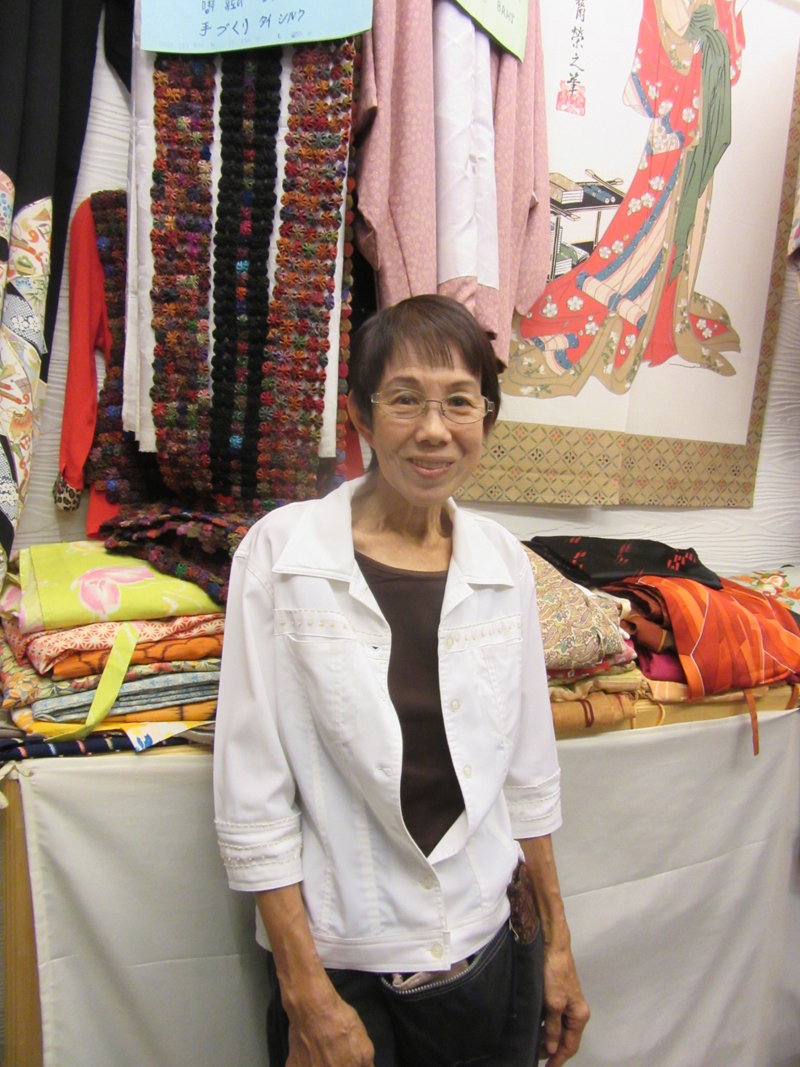 After about five hours of shopping and slurping down copious amounts of coconut water in the heat, I decided to go back and buy the Pashmina wraps. True to our friends' experience, we couldn't find the stall, nor could we find any similar wraps.
I reluctantly left the market disappointed, and then realized I might be able to find the Pashmina stall by retracing my original route when I first arrived at the market. Sure enough, by doing so, I stumbled upon the stall and made the purchase. The vendor was happy to see me back again. I, in turn, was convinced that finding the stall again was a sign that these were exactly the right wraps.
I hope these samples of textile art will find happy homes among Sympatico fans. Buying them proved to an adventure and a learning experience.