What are Classic Colors? Sympatico takes a holiday 
Posted by Rose on 1st Nov 2016
Sympatico's Classic Colors are perennial favorites
As the founder of the sustainable fashion brand Sympatico Clothing, I try to always take the long-range view when it comes to deciding on new designs and the shades I'll offer them in. These new additions to the Sympatico lineup should work in a lot of contexts, and above all, work seamlessly with other Sympatico styles to form a capsule wardrobe. The key is versatility. Sustainable clothing items you find yourself coming back to again and again are usually those styles and colors that will work year round and never seem to go out of fashion. They're likely elements that will wind up in your capsule wardrobe.
Those of you who regularly read my blog posts probably know that I'm a big proponent of capsule wardrobes. It's with such a wardrobe in mind that I've developed a palette of colors that work with a wide range of complexions, hair colors, and accessories.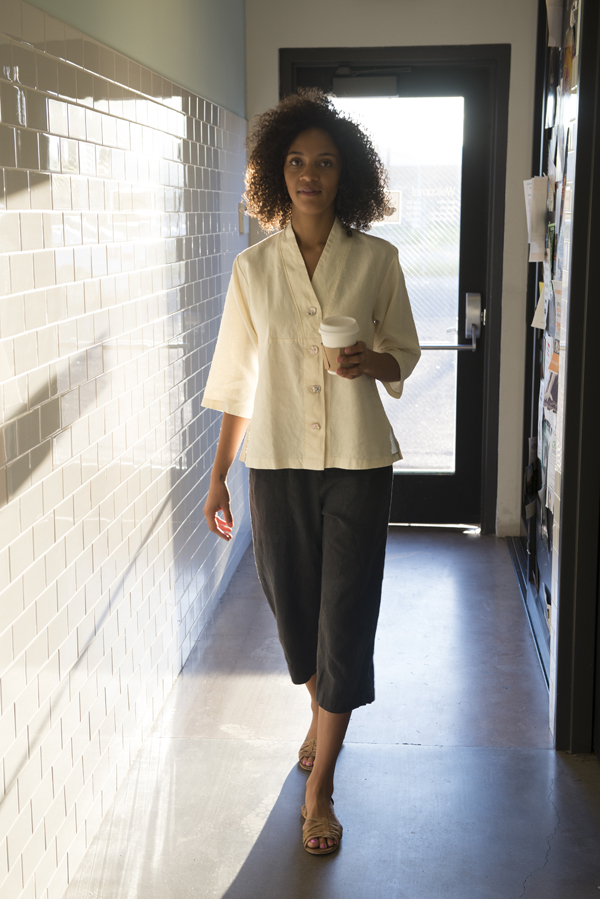 Beth models our Natural Tuxedo Top with Graphite Cropped Pants; both are Classic Colors that work well year round and complement many skin types.
As Sympatico fans may have noticed, I keep certain shades in my lineup year-round. These Classic Colors include Graphite, Plum, Grey Fog, Natural and Black. I've chosen them because they coordinate well, are good basic wardrobe mainstays and because customers tell me again and again that they like wearing these basics. (Note that not all styles are offered in all Classic Colors.)
I like to infuse the Sympatico hemp and Tencel clothing line with new colors seasonally. I try to ensure that most, if not all of those seasonal shades get along nicely with the Classic Colors. I usually don't repeat the seasonal colors because there are so many beautiful color possibilities. So when you see a seasonal color that you love, it's good to order soon before I sell the color out and move on to the next seasonal color. Such are both the limits of a micro-enterprise and the fun of getting limited-edition colors. It's always a good idea to check with me, however if I've sold out of a seasonal color that you like because I do keep small amounts of yardage on hand and sometimes can cut and sew to order. More information on our custom cuts here.
Sympatico takes a break in the winter
Although running a micro-business like Sympatico has its limitations, it also definitely has its perks. Every winter, in what is a slow season for my business, I close shop for a few weeks in order to take some personal time as well as explore the world. It's no accident that my travels more often than not take me to destinations with amazing textile traditions. Many of the artisan-made scarves you'll find here are the result of those travels.
As I write this in autumn 2020, travel to remote destinations in the midst of a pandemic doesn't seem wise. So I'll likely stick closer to home this winter. Thankfully, the web is still a reasonable if somewhat less satisfying way to keep up with the worlds of artisanal and sustainable fashion. But for the short term it may have to do. Meantime, I am grateful for the extensive fabric stash I have acquired from travel in past years.