Wouldn't it be great if we "grew" hemp clothing here in the US?
Posted by Rose on 25th Mar 2021
The early US rollout of versatile and sustainable industrial hemp for has been fraught, but things are looking up.
Although hemp has been grown and used by humans for thousands of years, its recent history here in the US has been clouded by the drama surrounding one form of the plant: marijuana. As I've previously written about, it was only in 2018 that the US government began distinguishing hemp from pot. But the legalization of industrial hemp for fiber was further clouded by the early focus on hemp for CBD.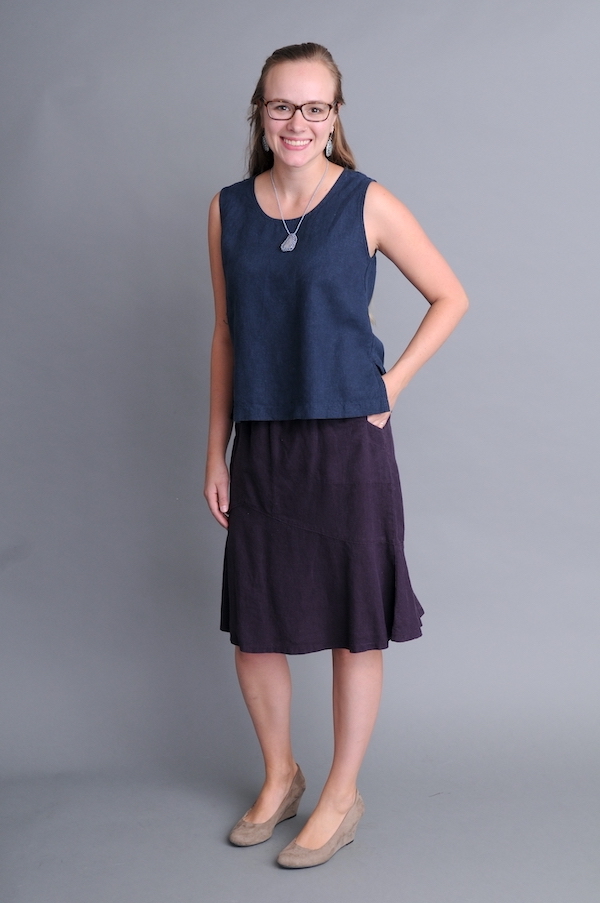 I look forward to the day Sympatico's Tank Top (in Graphite) and Flip Skirt (in Plum) are woven from fiber grown right here in America.
---

Rose Gerstner founded Sympatico, which artisan-crafts hemp clothing styled and sized for real-world figures. She blogs about sustainable fashion and ec-friendly fibers such as Tencel.
---
Thankfully, though, serious efforts are now taking shape to create the infrastructure that's essential to growing and processing hemp at commercially viable scales. But there are hurdles. Some states are still deeply suspicious of hemp as a potential cover for weed crops, and have enacted state legislation creating burdensome inspections and other roadblocks to resurrecting hemp as a staple crop across America's farmlands.
CBD is still the focus of most hemp news these days, but after the initial "greenrush" during the 2019 growing season, there was a brutal thinning of would-be entrepreneurs who had literally bet the farm, and then were sunk by plummeting CBD prices. The thoroughly saturated CBD market also struggled with a lack of infrastructure. Here in Southwest Oregon this was especially true. In 2020, there were thousands of acres of prime farmland locally that formerly grew hemp here but that are now either lying fallow or planted in other crops.
The good news is that there's a trend moving away from CBD acreage and toward farming hemp for its fiber. Farmers are recognizing fiber hemp's potential as a dual-use crop, and agricultural departments around the US are reporting renewed interest in growing industrial hemp. Fiber hemp yields two different potential sets of uses. When we speak of hemp fiber, we usually mean the bast, which is the growth on the outer stem of the hemp plant. It is from this layer that hemp fibers are processed. For those fibers that will ultimately become fabric, such as the hemp used in Sympatico's fabrics, there are several more processing steps. The fiber must be prepared for spinning in a series of processes and then is finally woven or knit into a fabric.
The bast surrounds the hemp stalk's core, which is called the hurd, a soft, woody substance. It can be formed into hempcrete and particle board for the construction trade, as I recently blogged about. The processing of these materials is generally simpler than the processing of bast fiber. Some farmers are beginning to see the potential to use pretty much every part of hemp's impressive amount of biomass. From animal feeds to automotive sound-deadening panels to nutritional oils and cosmetics, the potential seems unlimited for this crop that grows without need for synthetic fertilizers or pesticides while also improving and aerating soils.
The big issue still is the lack of the necessary supply chains and end markets for industrial hemp fiber. But there are hopeful signs in the form of farmers and hemp industry groups reaching out to one another, making the connections that are a prerequisite to developing a sustainable marketplaces for hemp in all its forms. Patagonia has a revelatory video out that explores hemp from the farmer's point of view by focusing on the drought-ravaged San Luis Valley in Colorado, where hemp is becoming a significant part of the agricultural mix. Farmers are drawn to the crop because of its relatively low water needs in a region where water costs can be a farmer's biggest ticket item. The video looks at the nascent hemp infrastructure that just now beginning to spring up, delivering a clear message that US grown and processed industrial hemp has a great future.