A long travel skirt makes sense in nearly any setting.
Posted by Rose on 3rd Jun 2022
This Travel Tale winner found her long travel skirt worked beautifully throughout Southeast Asia.
Mandalay. I love how the syllables tumble effortlessly from our lips. When I was a kid, it was the royal capital of the country then known as Burma that's usually now called Myanmar. It has always seemed an unimaginably exotic place. Today, Mandalay is still considered the cultural and academic hub of Upper Burma. It's yet another country in Southeast Asia I hope to visit one day (and I've been to quite a few). So I was excited when Sympatico customer Carol Caldwell-Ewart submitted her Travel Tales entry.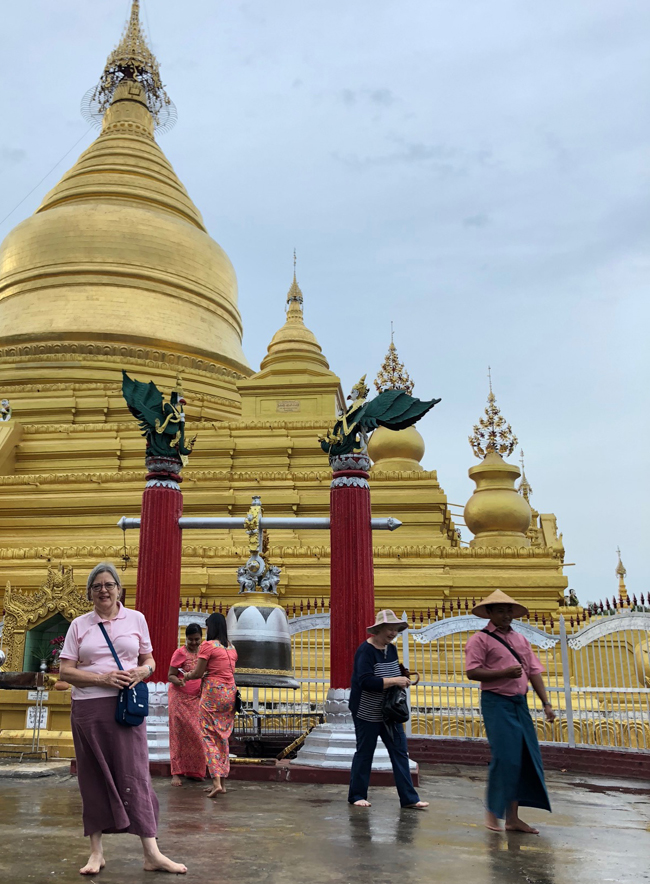 Carol's Angled Skirt worked nicely with temple dress codes and the sometimes oppressive humidity of Mandalay.
Carol's experience traveling in that region mirrors my own where it comes to wardrobe: a long travel skirt is a fantastic choice. As she notes, "My Sympatico [Angled] skirt fits right in here in Myanmar where most folks—men and women—are wearing skirts of beautiful fabrics and glorious colors." Referring to the photo she included, she writes, "Here we are at the Kuthodaw Inscription Shrines in Mandalay, where 792 marble slabs are inscribed with Buddha's teachings."
Carol also had Thailand, Cambodia, and Vietnam on her itinerary; an ideal testing ground for her Angled Skirt.
Beside offering an attractive yet modest appearance in all kinds of settings, the Angled Skirt's blend of hemp and Tencel is an easy travel companion. Wrinkles hang out overnight, especially in a steamy bathroom. Come to think of it, though, if you travel to Southeast Asia during monsoon season, that steamy environment will take care of itself anyplace that's not air conditioned!
One of the many attributes of the hemp/Tencel blend I work with at Sympatico, is how easily it packs. Whether you're packing Sympatico tops, skirts, or pants, I've found the simplest way to handle them is by simply rolling 'em up. When you get to your destination, put your clothes on hangers to relax any wrinkles formed during travel. For deeper creases, spritzing the garment with water will help.
Travel capsule wardrobes that include a long travel skirt simplify the question of what to take.
More about travel capsule wardrobes
If you have a Travel Tale that involves Sympatico clothes, I'd love to hear about your adventure and see your pictures. If I publish your Tale, you'll receive a $100 Sympatico gift certificate. Get some tips about submitting an entry here.