Got special fit needs? I may be able to help.
Posted by Rose on 19th May 2021
I can adapt my line of artisan made clothes to fit a variety needs from simple hemming to more complex requirements.
When customer Emily Estes shared the details of a trip she made to the Texas capitol in Austin, it prompted me to let others know about Sympatico's custom cuts and alteration services. Emily wanted me to make a modification to her Swallowtail Top sleeves, which I was happy to do in time for her Texas trip where she met up with her brother, a state senator.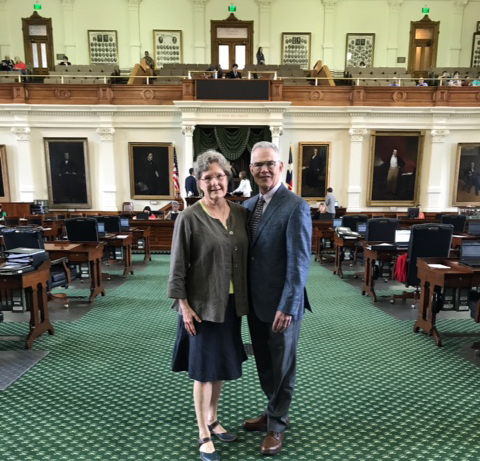 Emily wearing a 3/4 sleeve Swallowtail Top and Flip Skirt at the Texas statehouse.
Her outfit proved a good choice. As Emily notes:
I've been comfortable all day. in the air-conditioned State Capitol and in the warm and humid outdoors! Here we are on the floor of the Texas Senate Chamber today, where we spent time with my brother who serves as a Senator there. The day's session began a few moments after our photo, and we enjoyed being there for the action and meeting lots of cordial people.
---

Rose Gerstner is an advocate for artisan-made clothing and blogs about sustainable fashion. Her Sympatico Clothing collection of hemp and Tencel clothes for women offers consumers Earth-friendly, everyday chic looks.
---
Provided I have sufficient uncut fabric in your chosen shade, there is a range of alterations I can do to meet particular needs. Of course, doing custom cuts long distance requires good communication between us. It also calls for careful measurements in order to avoid disappointment.
You'll find all the details about custom cuts and alterations here along with illustrated tips on how to take accurate measurements.
Types of modifications that I offer include shorter or longer sleeves, pants inseams, skirt and top lengths, and modified elastic lengths. I'm also happy to collaborate on specific needs such as extra room to accommodate under-clothing braces or similar medical needs. We will ask some very specific questions about measurements and then (usually) create a pattern that we will keep on file for reorders.
Because Sympatico is a microbusiness, I typically only stock one or two items in a given style, size, and shade. If you have your heart set on a particular item that is out of stock, so long as I have sufficient fabric on hand in your shade, I can cut and sew your item to order. There's no extra charge for this service, but you should allow up to three weeks for delivery.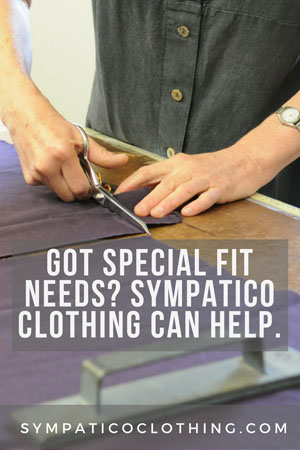 I love hearing about customers' travels, especially when Sympatico is along for the ride. Send me your Travel Tale and photos, and if I use them, I'll send you a Sympatico gift certificate. Send me your travel story as an email here with the subject line, Travel Tales.