Buttoned, the Princess Top shapes, open it's an airy jacket.
Posted by Rose on 31st Mar 2021
I originally designed the Princess Top for a more shaped look when buttoned up, but customers convinced me wearing it unbuttoned was totally a thing.
Like all Sympatico styles, in designing the Princess Top, I was going for maximum versatility and comfort. But with the Princess, I was also looking for a little more midriff shaping than with other Sympatico styles. Even though the buttoned-up Princess Top offers a nice amount of shaping around the waist, it still offers the freedom of movement that as a designer I consider essential. I also built in the ample ease specified in the Sympatico Generous Fit size chart so it works on real-word figures.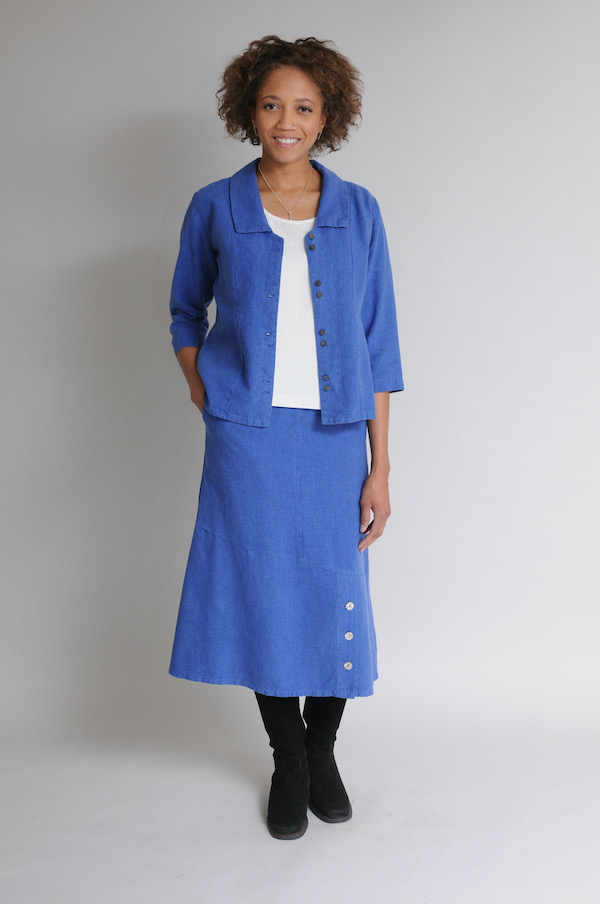 Worn unbuttoned over a Tank Top, the Princess Top in Sapphire makes a very breathable top layer crafted in hemp and Tencel.
---

Rose Gerstner founded Sympatico clothing as an artisanal source for hemp and Tencel tops, pants, and skirts for women. She blogs weekly about sustainable fashion topics as well as offering fashion tips aimed at environmentally concerned consumers.
---
I usually cut and sew the Princess Top in both of my hemp Tencel fabrics weights: Light Weight and Mid Weight. Worn open as a top layer like a jacket, the Mid Weight fabric offers more body, while the Light Weight version makes for a nice top layer over bare shoulders on summer nights.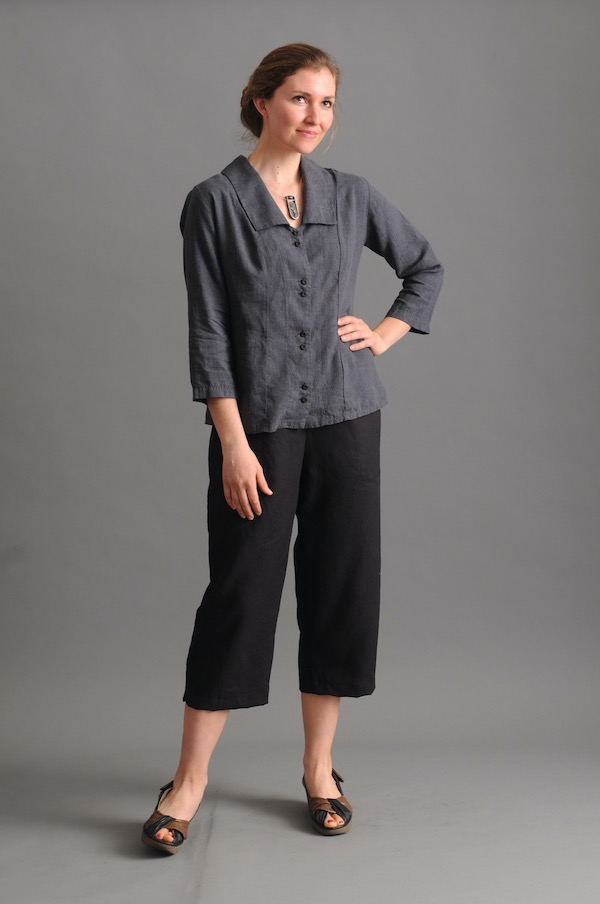 Acacia wears her Princess Top in Graphite buttoned up for a more fitted look.
Here are some reactions from Sympatico customers who've helped make the Princess a perennial favorite:
This top is lovely. The quality of the fabric is excellent. I'm a stitcher and I respect the construction. The styling is flattering and luckily it fits perfectly. I will buy from Sympatico again.
I love the shape of the blouse and the button detail. I also appreciate the companies commitment to the environment.
Princess seams are flattering on everyone. Great fabric weight, beautiful cut and color. I haven't even worn it yet and I just bought another one. Quick delivery too.
So great to have such a well-styled and comfortable (Midweight) top with so many outfit options. Goes so very well with pieces purchased earlier, too…seems to be the "code" of Sympatico! I am delighted with this top and other pieces I have. Love that these are designed and made in the USA. The service is personal and efficient!
Sympatico clothes are my go-to staples. I love the easy-going but put-together style. The company is environmentally conscious and hemp is an excellent renewable fiber source. The material breathes well and is comfortable to wear.
This well-constructed jacket is what I want to wear everyday. It looks great with shorts with or without a tank or with a long skirt. I enjoyed learning from Rose about the sustainability of the fibers at the Bellevue Arts and Crafts Fair.
I am thrilled with my new top. I ordered the Midweight Princess Top and received it in a couple of days. It is exactly as described. Even in the summer heat of North Carolina I find it to be so comfortable, I imagine I'll be wearing it year round.
Good quality garment construction. I ordered the Princess top. It looks good alone or as a light weight jacket over a tee shirt. Sizing is accurate. Customer service was excellent. I decided to return the first top I ordered for a different color. It was taken care of quickly. I received the replacement top within a week. Personal, hand written thank you from Rose was very nice.
What do you say? Buttoned, unbuttoned or both?