The difference between Sympatico's Light Weight and Mid Weight hemp - Tencel clothing
Posted by Rose on 24th Feb 2021
They both have their specific advantages, but they a share a lot of advantages too.
Shopping Sympatico's website, you've probably come across styles offered in both Light Weight and Mid Weight hemp/Tencel fabric. In this week's blog I'll break down the differences and similarities between the two weights.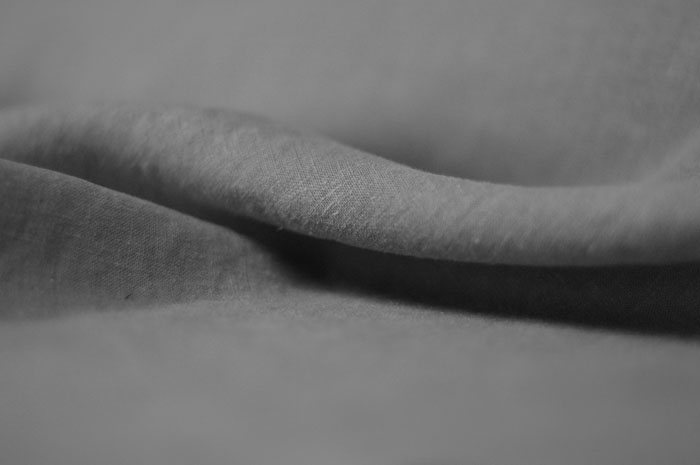 The Tencel content in both Sympatico fabric weights imparts an attractive drape and pleasant sheen while hemp delivers outstanding durability.
Light Weight Sympatico fabric is woven in a 4-oz. square weave using hemp/Tencel yarns that are notably lighter than those used in the Mid Weight fabric. I use Light Weight fabric exclusively on Sympatico tops where its drapier, cooler construction is just the ticket in hot and humid weather. Light Weight is slightly more wrinkle-prone than Mid Weight, but the good news is both weights relax their wrinkles readily when spritzed with a little water or hung overnight in a steamy bathroom. Light Weight dries somewhat quicker, making it an apt choice for travel wear. And thanks to hemp's natural antimicrobial qualities, you can usually get away with wearing your Sympatico wardrobe longer between launderings. In fact, I've blogged on the subject of laundering less in general in the past. But the Sympatico wardrobe is especially well suited to that premise thanks to hemp's ability to ward off the funk factor.
---

Rose Gerstner is the founder of Sympatico Clothing. Committed to reducing Sympatico's impact on the Earth, she regularly blogs with sustainable clothing style tips.
---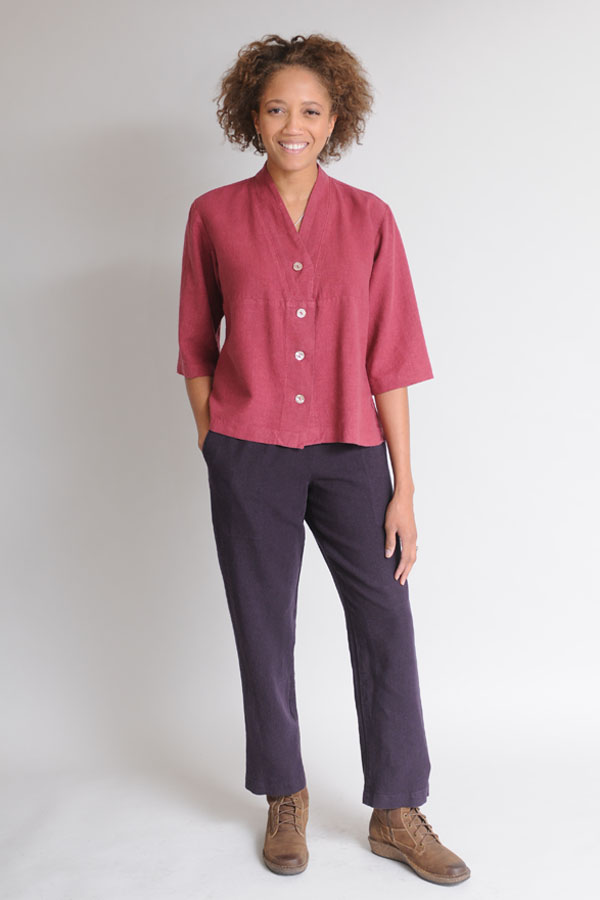 I craft the Tuxedo Top in both Light Weight and Mid Weight, while Stovepipe Pants are only made with the Mid Weight material.
Mid Weight Sympatico fabric is a 6.2-oz. square weave, giving it a somewhat more body than our Light Weight fabric. I sew Sympatico's skirts and pants collections exclusively from Mid Weight as well as offering most tops in that fabric. As with the lighter fabric, Tencel imparts a lovely sheen to the fabric as well as a very smooth touch that's comfortable on the skin. Naturally, the Mid Weight is usually the preferred choice in the cooler seasons. Both weights launder easily, and by removing Sympatico wear damp from the washer after a spin cycle, a little hand-shaping before hanging will usually eliminate the need for an iron.
Whichever weight you choose, you can take comfort in knowing Sympatico's fabric is highly sustainable. The hemp is grown without synthetic fertilizers or pesticides as is the Tencel, which is produced from sustainably grown eucalyptus. The resulting Tencel fiber is processed in an Earth-friendly, closed-loop system that returns clean water back into the environment.
If you have any questions about the Sympatico collection, be it sizing or something else, I'm happy to help via email or by phone at 541-899-3988.