Heading East: This Travel Tale faces the rising sun
Posted by Rose on 21st Dec 2018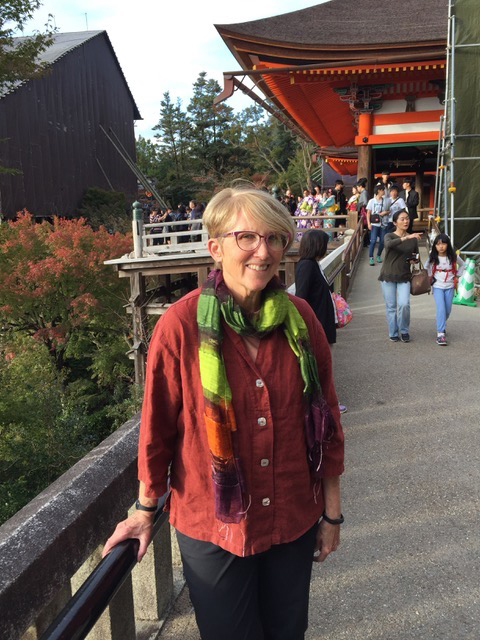 Jane's Paprika Tuxedo Top accessorized with some well-chosen scarves served her well on a recent Japanese trip.
Our latest Travel Tale focuses on a creatively simple packing plan. When Jane Averill packed for her recent trip to Japan, simplicity was key. As she writes, "The (Tuxedo) top was one of the few things I took with me, as I was trying to travel light and I layered it in cooler weather and added several different scarves, so I felt as if I had quite a few outfits."
Travelers like Jane know that building a travel wardrobe around a few fundamental pieces (and comfy walking shoes) keeps things simple yet versatile. I love what Diane von Furstenburg had to say: "I get ideas about what's essential when packing my suitcase."
More: Easy care travel wear without synthetics
Sympatico will be on semi-hiatus in January
I'll also be headed East in January to explore Indonesian textiles and catch up with my daughter who lives there. During that month, Sympatico will still fill orders for in-stock items. I'll fill special-cut and hemming needs on my return in February. In the meanwhile, I'm well stocked in most shades and sizes in Tops, Skirts, and Pants.
Tell us your Travel Tale!
If you have a Travel Tale (and photos) that include Sympatico wear, I'd love to hear from you. If I use your Travel Tale in a future newsletter, I'll send you a $100 Sympatico gift certificate.