Easy care travel wear without synthetics
Posted by Rose on 29th Sep 2021
"I get ideas about what's essential when packing my suitcase."
Diane von Furstenburg
Is it possible to travel with an all-natural, sustainably-made wardrobe? The answer to that question is, of course, it depends on where you're going and what you'll be doing. Sometimes those realities impose solutions that involve so-called technical fibers. Given airline weight limits, it may not be feasible to bring along that woolen overcoat. Doing things like backpacking also impose their own weight and bulk limits.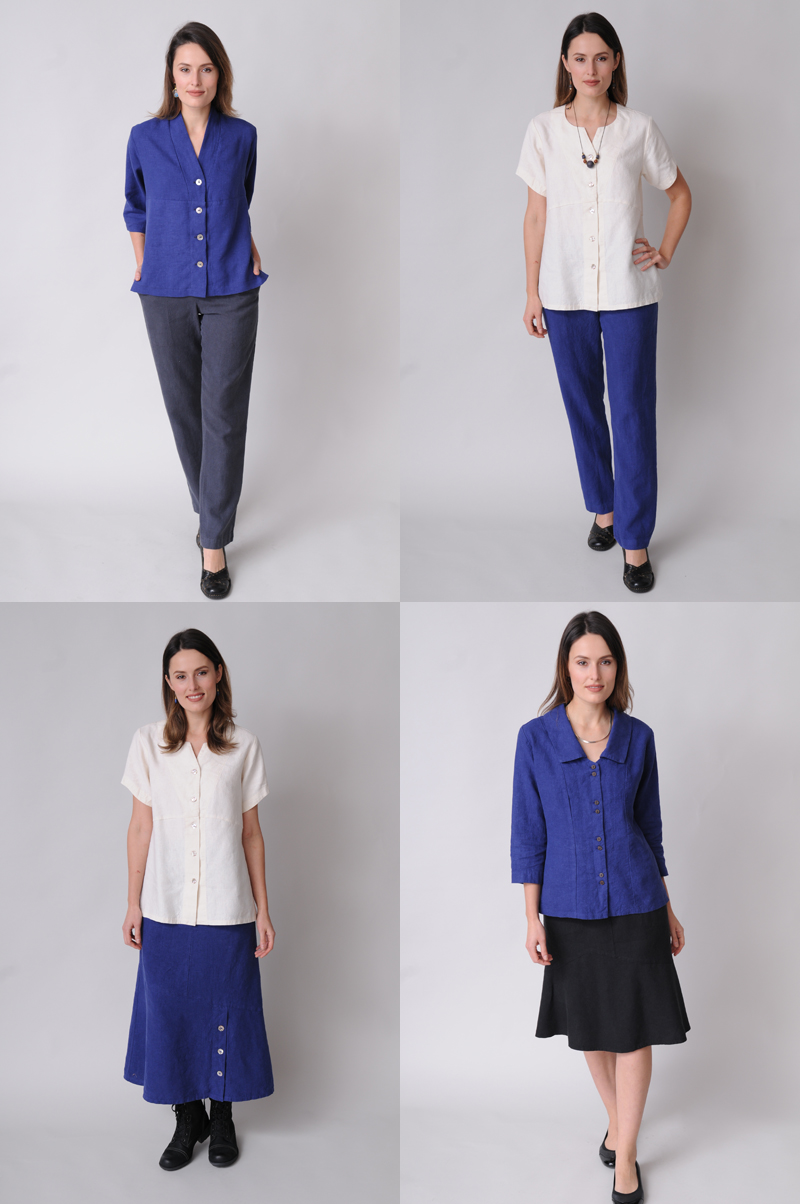 Clockwise from upper left: Anna is ready for a jaunt round town in a Tuxedo Top, Stovepipe Pants, and walk-worthy shoes. Stovepipe Pants paired with a Swallowtail Top make a fine fair-weather outfit. The same Swallowtail with an Angled Skirt offers a slightly dressier variation. The Princess Top and Flip Skirt pair nicely, and the Princess Top works well with the Stovepipe Pants and Angled Skirt too.
But well-chosen natural-fiber travel wear makes sense most of the time, even if you plan to bring along, for example, a down-filled synthetic vest for a planned stopover in a chillier climate. Travel friendly fibers such as the Sympatico hemp/Tencel blend are easy care yet help keep you looking and feeling your best. In settling on the travel wear that makes the most sense for your journey, here are a few considerations for the natural-fiber fan.
A travel wardrobe chosen for versatility can easily dress up or down according to the occasion with a little mix-and-match magic.
For versatility, choose comfortable favorites that coordinate and mix and match well.
Lay out your "short list" of contenders and weed out any with special needs like dry cleaning.
Is what's left easy to wash and dry on route? Culture- and temperature-appropriate?
Give new items a trial run before your trip to make sure they'll work well.
You can dig deeper with more smart packing tips and download my packing list here.
Where are you headed this year? I love traveling vicariously with Sympatico fans!
And if I use your Travel Tale in a future newsletter, I'll send you a $100 Sympatico store credit.