Hemp and Tencel cropped pants are an important part of Sympatico's capsule wardrobe concept.
Posted by Rose on 11th Aug 2022
Cropped pants have been around for decades. Does that mean they're no longer stylish?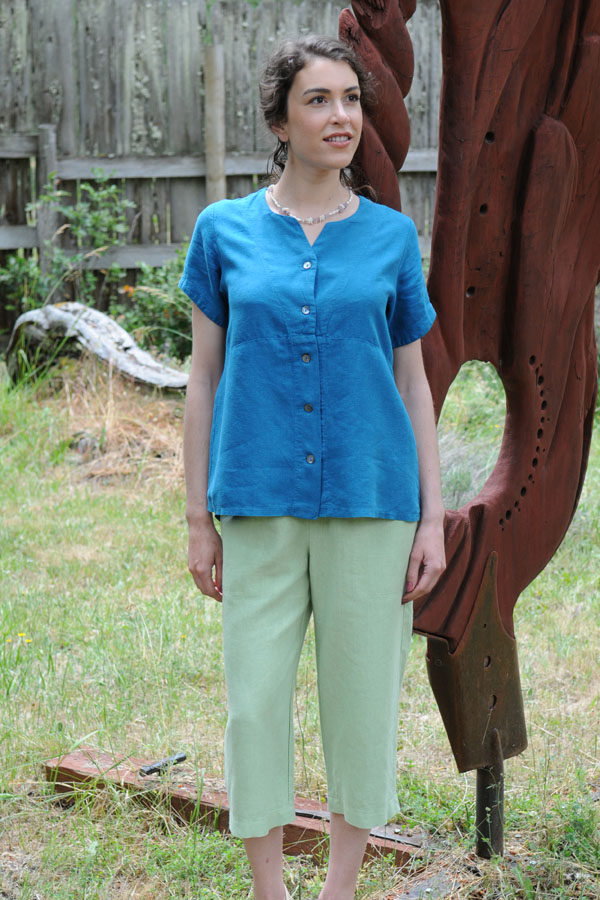 Paired with a Teal Swallowtail Top, Green Tea Cropped Pants help you cope with summer's swelter factor stylishly.
It's true that cropped pants have been a regular part of women's summer wear for what seems like forever. But that simply signifies they've become a staple of summer wardrobes. In fact, looking over fashion sites, cropped pants have never been more popular. There's a reason for that. They're easier to wear than shorts, skorts, capris or culottes.
They also dress up or down easily for maximum versatility while helping you keep your cool. The trick with getting a great look with crops is finding the length that best works with your legs and figure. Cropped Pants are ideal in hot weather.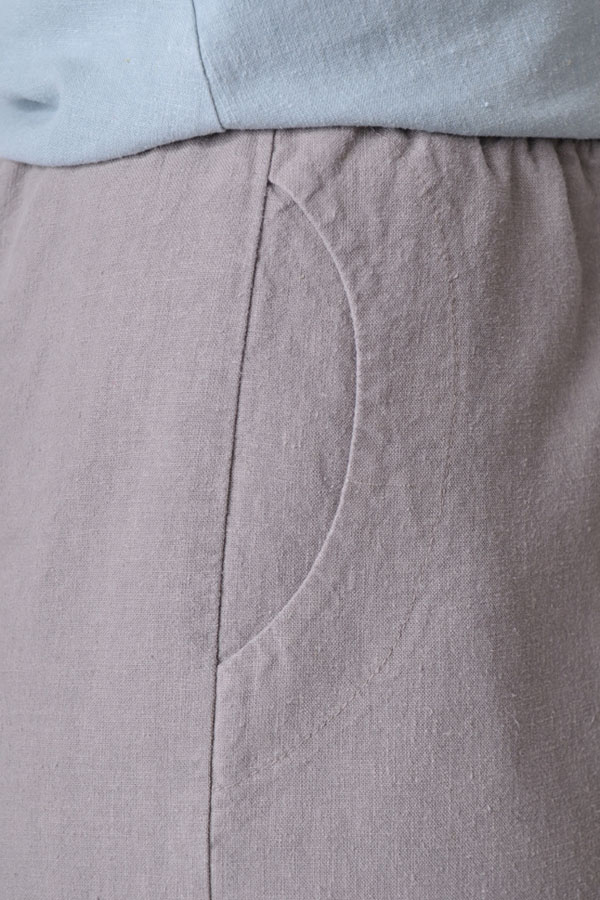 Side seam pockets and a comfy elasticized waist offer stashability and ease.
Here's what some customers have to say about their hemp and Tencel Cropped Pants from Sympatico:
I purchased these pants recently for a trip. This was my second pair. I ordered an XS, and I knew from experience that they fit beautifully, are extremely comfortable and a great weight for spring into summer. They also travel well. They are my weather is getting warmer go-to pants!
This is my third pair of Sympatico crops. They drape beautifully and fit perfectly. The graphite is a rich shade that mixes well with many colors. And the fabric is the best I've found. It lasts, and is so comfortable even in hot, humid Florida summer.
I have several pairs of these in different shades. They are great pants in the summer--long lasting and they have pockets! The pants are comfy without being sloppy. They do "give" a little after initial washing, so if you're on the fence about sizing, size down.
I ordered two pairs of the cropped pants in charcoal and plum. The fabric is beautiful, with a soft hand, but substantial weight. I am petite, so asked that the inseam be shortened; however, I neglected to include the additional charge for shortening on my order. Instead of holding up my order for the additional amount owed, Rose just included a note with my order, along with a self-addressed stamped envelope! I'm very impressed with both the personal service and quality clothing.
I love these crops. The straight, rather than tapered, leg is current and flattering and they hit right between my ankle and calf, which is also flattering. I'm not short, 5'8"", but long waisted, so they might be a bit shorter on a woman with longer legs. Either way, all of Sympatico's clothes are well made in beautiful fabric.