Tencel Trapeze Tunic's Design is Practical and Cool
Posted by Rose on 15th Sep 2022
Posing the question, what is a trapeze top, I hit on an easy-fitting, versatile answer.
Prior to designing the Trapeze Tunic, a lot of women told me they were looking for a light and comfortable top to wear over skinny jeans, tights, or yoga pants. Something I noticed was a lot of these women struggled with the lack of usable front pockets. The roomy, fun pockets on the Trapeze Tunic remedy that situation — times two! They offer plenty of stashability for your smart phone and the other essentials you want to keep close at hand. It pairs comfortably with pants or a skirt. And whether you choose a color in Mid Weight 6.2-oz or Light Weight 4-oz Hemp/Tencel, you're all set to shrug off summer heat in style. Come cooler times, the Trapeze Tunic makes a great layering element.
The Trapeze Tunic also can serve as a great alternative to linen dresses. Thanks to the hemp/Tencel blend I use, it resists wrinkles and helps you keep your cool thanks to its natural breathability and antimicrobial (smelly sweat-repelling) properties.
If some wrinkling has occurred after wearing, it usually relaxes with just a spritz of water or some hang time in a steamy bathroom. Only deep creasing requires an iron. Heat (from a dryer or iron) and moisture (humidity from steam or water) are the enemies of wrinkles. Savvy Sympatico travelers roll up their clothes then let them hang out overnight on arrival.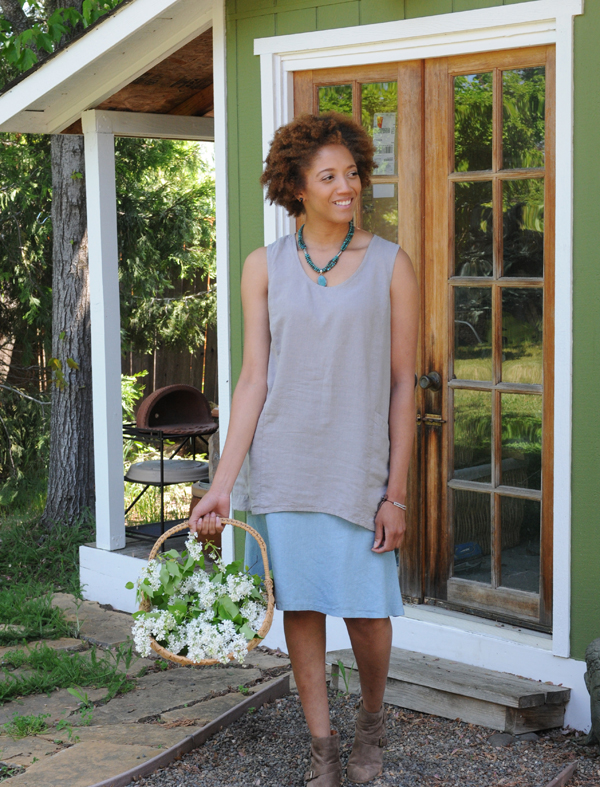 Nikki's Trapeze Tunic in Light Weight Grey Fog hemp/Tencel is an easy choice on scorching day.
The Trapeze Tunic is cut with a darted front and plenty of ease through the hips. It's easily layered but the neckline and armhole worn without a layer underneath don't reveal an uncomfortable amount of body. The fabric is super soft and lets your skin breathe when temperatures soar while also layering comfortably when it's cool outdoors. When you add wearing comfort to the fact that both fibers come from the earth and are sustainably farmed, it's a win-win for you, your wardrobe and the world.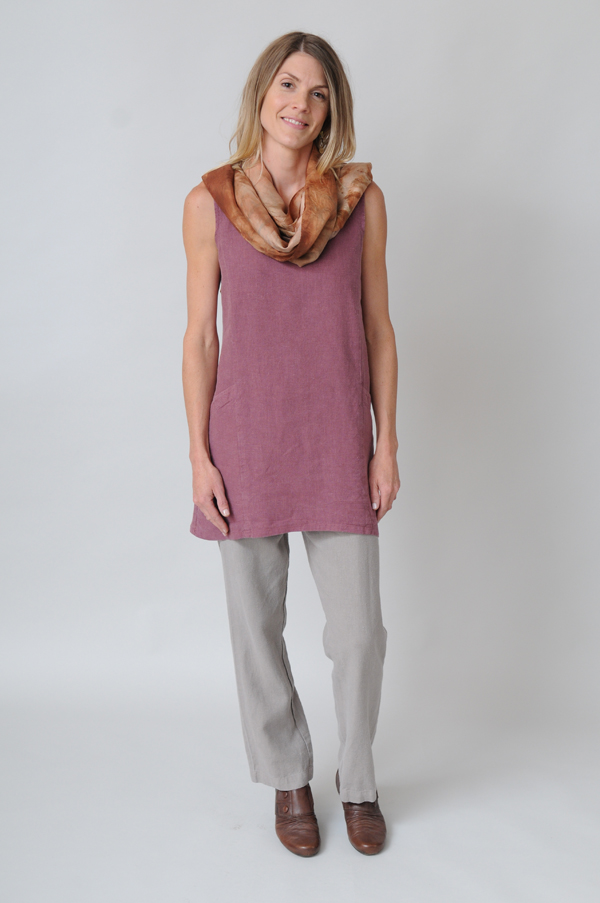 The Tencel content in Sympatico's Mid Weight Vintage Rose Trapeze Tunic adds attractive drape and easy care to hemp's virtues.
That's what I love about Sympatico's unique blend of 55% Hemp with 45% Tencel. Neither hemp nor Tencel are grown with the use of synthetic pesticides and fertilizers and both fibers are modest users of water. Hemp's incredible durability is tempered with Tencel's sheen and drape that imparts a soft hand. Because Tencel is harvested from sustainably farmed eucalyptus trees and processed in an earth-friendly closed loop system, it has none of the negative environmental impacts of conventionally produced rayon and bamboo fabrics. And in the case of hemp, growing it actually improves the soil's structure because it has deep roots that aerate and enrich. When your Sympatico clothes have reached their life's end, they'll revert to the soil, unlike fibers made from petrochemicals that don't go away. Now that we're getting such alarming news about microfiber pollution, much of it from clothing, that's good news for everyone.