Understanding ease: Get a great fit shopping for women's clothes online
Posted by Rose on 3rd May 2018
Like snowflakes, DNA, and fingerprints, no two figures are quite alike. As a result, coming up with size schemes that make sense on actual bodies is a challenge that has never been satisfactorily solved by clothing makers. Toss in the question of how much ease you need, and shopping for women's clothing online becomes pretty tricky.
Before the Industrial Revolution, sizing was largely a non-issue. Those who could afford it had their apparel tailored to order and the rest of the population got by with often shapeless, utilitarian garments that could be pretty much lived in between occasional baths.
Ready-made clothing marked the start of sizing confusion. The U.S. government attempted to codify standards for sizing in the 1940s but found them almost impossible to establish for women because of the nature of our bodies. As I note below, online size charts are all over the place today. But taking ease into account can help overcome some of that variability.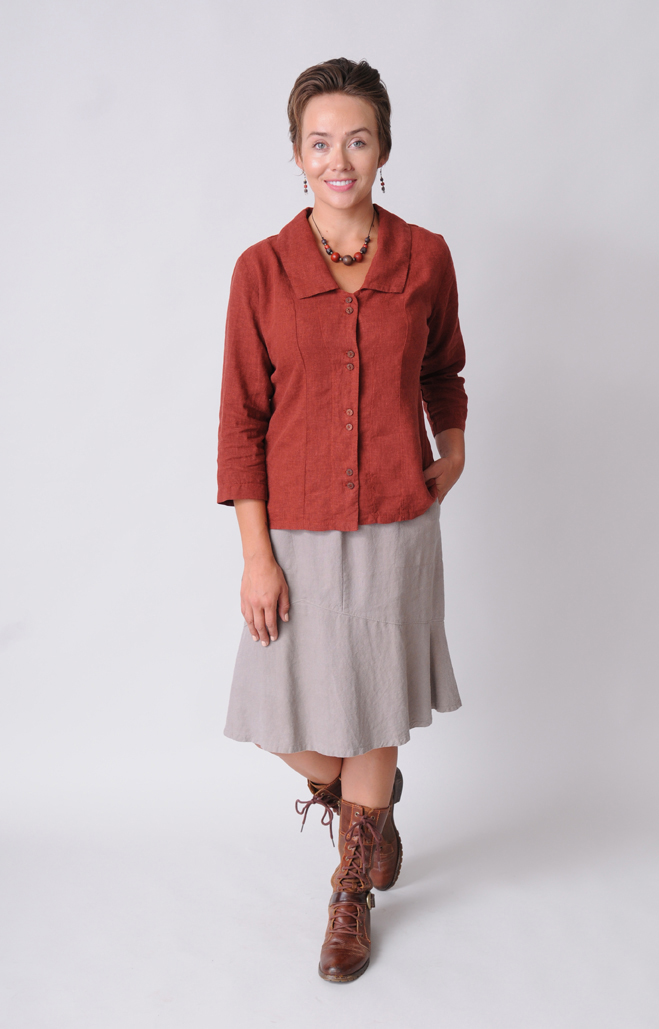 Sympatico's Princess Top has a generous cut to allow for layering, but the drape of the Light Weight fabric falls nicely against the body. The Flip Skirt. has a Trim Fit with movement but not design ease.
Understanding ease helps you zero in on a good fit
Every woven non-stretch garment needs two types of ease. Wearing ease allows you to move comfortably. Design ease defines the shape and style of the garment and varies with the type. Undergarments and strapless dresses have very little ease since they are worn close to the body while coats need lots of ease to accommodate layers of clothing underneath. A pencil skirt requires less ease than a gathered one. Combining wearing and design ease determines how much extra fabric you'll need to look and feel good in your garment.
Fabric also influences ease. A thin cotton voile cut in a fitted design may need additional ease to avoid being torn as the wearer's body moves. A drapey rayon or silk may have a lot of ease because despite being cut full, the drape reveals body shape. Structured fabrics may need less ease so they don't look boxy.
Your body size also influences how much ease is attractive. A large body may need more ease to conceal bulges or cellulite whereas a small body may need less to avoid looking overwhelmed by fabric.
Taste is another factor in determining the right amount of ease. Some people are comfortable wearing more fitted and somewhat more constricting clothing. Others prefer a loose look and feel.
Wearing ease for a woven, non-stretch garment can be anywhere from 1-1/2" to 4" in the bust and hips and 1" to 1-1/2" in the waist. As you can imagine, total ease (wearing plus design) varies a lot. A close-fitting top may have 2" of ease and a loose one, 8." Fitted pants or skirts may look and feel great with only 2" of ease. Loose pants could have 6" or more of ease.
In trying to make an informed decision, think about the style you are buying, the fabric it's made of, your body, your taste, and what you'll be doing in the garment.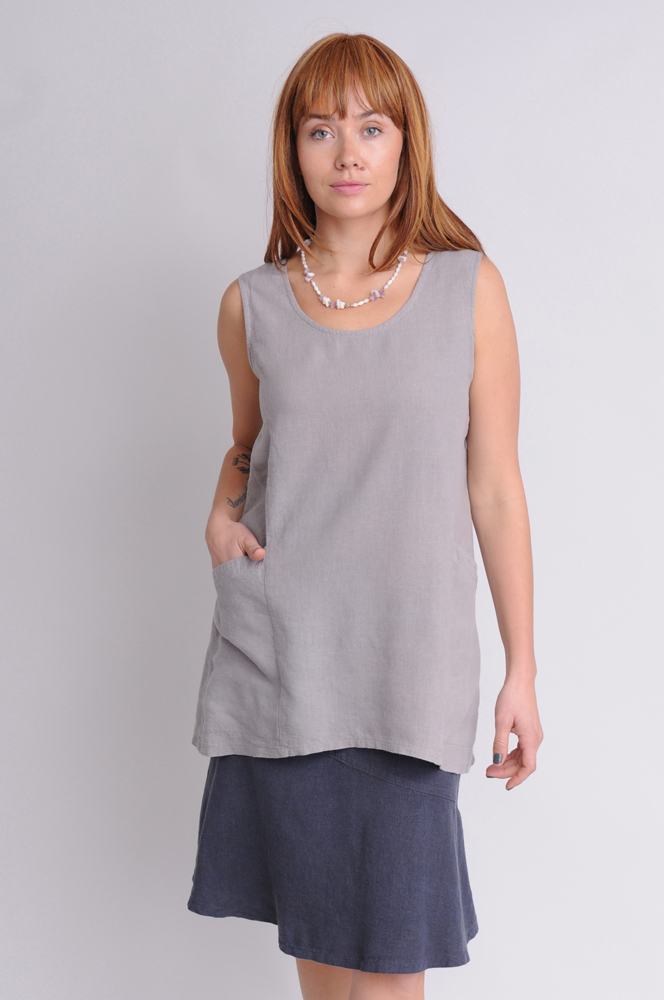 The fit of the Trapeze Tunic is Trim through the bust and generous through the hips. The Flip Skirt. has a Trim Fit with movement but not design ease.
Understanding online size charts
As you likely have already realized, even if you are a size 10 in one line, you may be an 8 or a 12 in other size schemes. I explore this problem in my blog post, The Uncertainty of Sizes.
Size charts generally come in two forms; lists of garment measurements where you figure it out, and charts where you can plug in your measurements to see which size is closest.
For charts showing garment measurements for the bust, waist, and hip, it's entirely up to you to decide how much style and design ease you need. Measuring a similar well-fitting garment in a comparable fabric should give you an idea of what to expect.
There is a caveat to using this method: fabric is not exact. Shrinkage rates may vary a bit, even with careful testing. Even the measuring technique matters: How much smoothing out, what tool is used — yardstick or tape measure — and exactly which part is being measured. Stitchers may use a slightly wider seam at times, another source of sizing variation. It all adds up. But usually these factors should only matter with a very close fit.
Traditionally, size charts show the body size range that works in a given size. In these charts, the designer has established what the design and wearing ease should be and customers just need to know their measurements, usually at the three key points: bust, waist and hips. Sympatico's size chart uses this system. You check your current measurements and then see where you fit on the chart.
It's not always straightforward, though, as many of us who've bought online know. Mostly that's because every body is different. Though there's a beauty in that, it does make things a little more complicated.
To give customers as many fitting clues as possible, I show the amount of ease in each Sympatico product description using this approach:
Generous fit garments measure 4"- 5" greater than the largest bust or hip measurement given for each size on the size chart.
Slightly fitted garments have about 3" ease in the bust or hip beyond the largest measurement for each size on the size chart.
Trim fit garments have 2" hip or bust ease beyond the largest measurement for each size on the size chart.
I hope you find this helpful in getting a great fit when you shop online. If you have any Sympatico fit questions, I'll be glad to try and help. Drop me an email here anytime, or call me at 541-899-3988 between 8am and 5pm West Coast time.
---
If you find yourself in the Southern Oregon region or are local, I sell Sympatico wear at the Lithia Artisans Market in Ashland most weekends during April through October. Give me a call at 541-899-3988 or send an email to confirm I'll be there when you visit.