What's the difference between knit vs woven natural fiber clothing?
Posted by Rose on 13th Jul 2021
In the world of sustainable clothing, both have their place.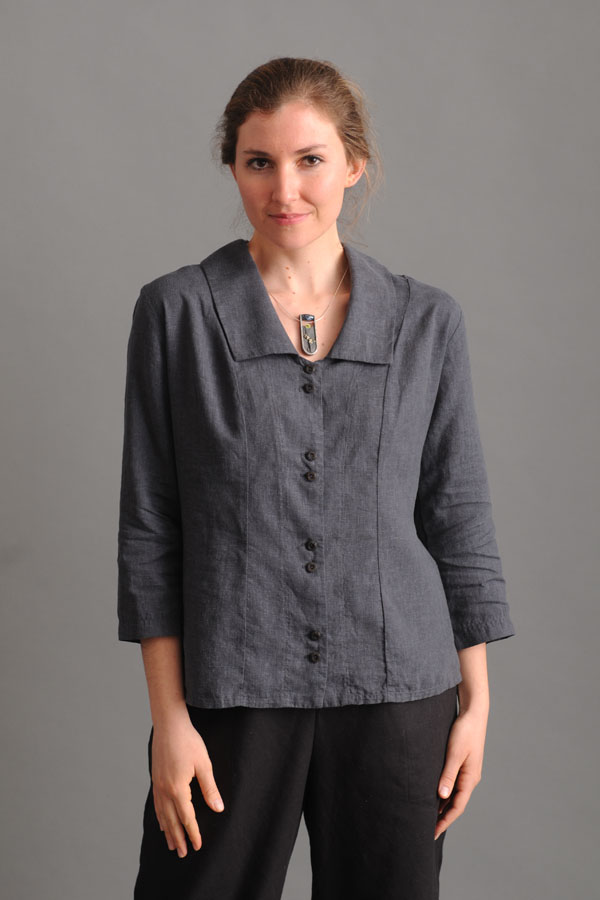 Sympatico's Princess Top in Graphite has subtle shaping that's not possible using knits. Acacia's also wearing Cropped Pants in Black.
Understanding how woven versus knit fabrics are made explains a lot about their respective qualities, benefits and limitations. In a nutshell, knits are made from a single yarn that's continuously looped creating a braided effect. Woven fabrics are made on a loom in which multiple yarns are interlaced as they cross at right angles to each other.
If you've ever bought any clothing patterns, they usually specify whether you should choose a woven or knit fabric and often suggest specific fabrics. Due to their entirely different construction, knits and woven aren't usually interchangeable. In fact, most industrial cutting and sewing operations focus on one or the other fabric type since each requires different equipment and handling.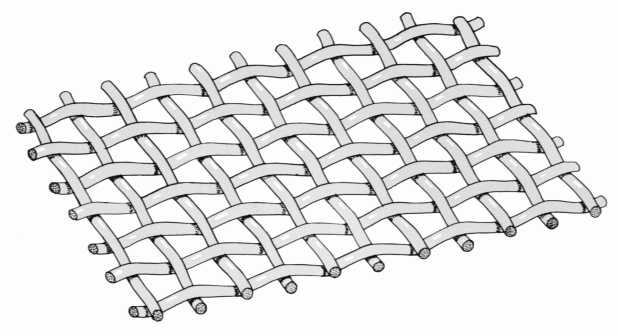 Woven fabric (above)
Knit fabric (above)
With knits, it's all about the stretch
Stretched along its width, a knit fabric expands easily; less so with the length. With wovens, there is usually little or no stretch unless the woven yarns include some stretchy material such as spandex or Lycra. Some woven fabrics may offer a little stretch in their diagonal dimension; this is called the bias.
One of knit fabrics' pluses is its wrinkle-resistance. But that quality is countered by knits' tendency to be shapeless. When you're looking for garments that offer more shaping, and distinct lines, wovens will be usually be essential. And where knits can be clingy, garments intended to drape attractively are usually made from wovens.
Unfortunately, many fleeced knit fabrics contain polyester and acrylic fibers that contribute to our mushrooming micro-plastics problem. In general, knits also tend to wear out more quickly than woven fabrics. Cheaply made knits can also be plagued by pilling. Knits fabrics' main attraction, of course, is the comfort and easy-fit their stretchiness affords. Knits are also snug. Though I often layer wovens in cold weather, a woolen knit sweater on top can be essential when temperatures plunge. And knit undies, of course, are the norm.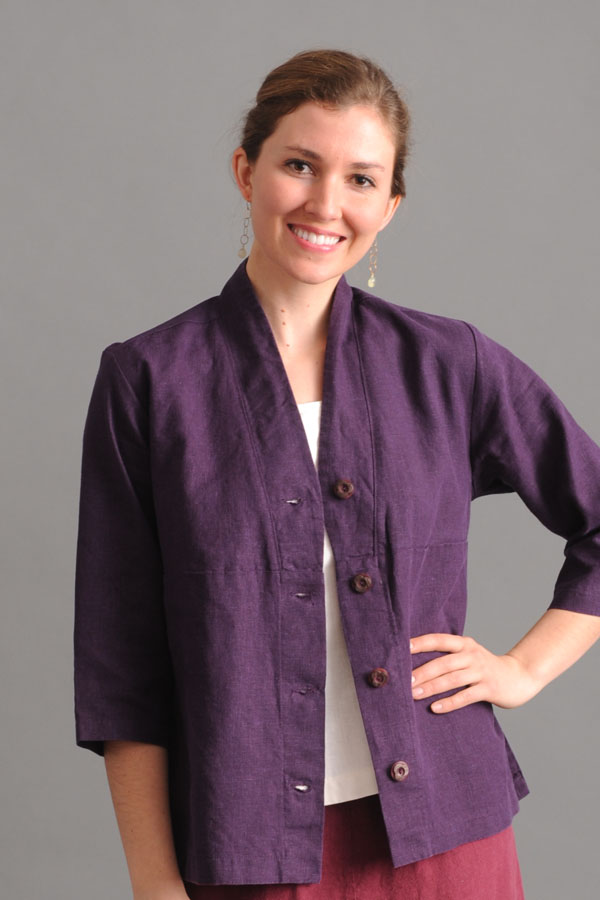 The Tuxedo Top in Plum breathes beautifully in summer while also providing a sustainable layer in cooler weather.
With woven fabrics, it's all about breathability
In summer I find woven fabrics far more comfortable and cool. As we have all experienced, woven natural fibers such as hemp, cotton, and linen breathe really well.
The blend of hemp and Tencel Sympatico uses offers that breathability, while the sustainably made Tencel content helps with drape and wrinkle-resistance.
Shrinkage is another area where wovens outshine knits. If you've ever inadvertently tossed a tee shirt into a hot dryer, you know about the probability of extreme shrinkage ensuing. Typically, wovens will shrink somewhat in length and less so in width. Because natural fibers are, well, natural, shrinkage may vary slightly from one production lot to the next. Laundering in cool or cold water and keeping the heat down in dryers will help minimize shrinkage in woven garments. (Plus it's better for the environment.)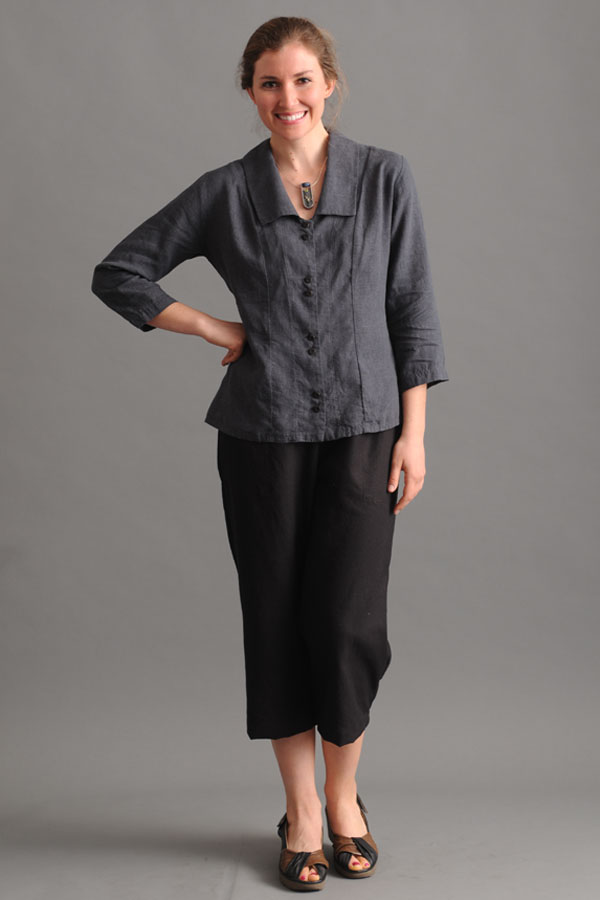 Sympatico's unfussy hemp/Tencel fabric has minimal shrinkage and wrinkles usually disappear on the hanger overnight.
Summing up, there's no right or wrong about wovens versus knits. They each have their pluses and minuses. Used in appropriate designs and with the right purposes in mind, both have their place in the realm of textiles.