Why hemp clothing is such a great choice for layering
Posted by Rose on 8th Oct 2020
Organic clothing shoppers are beginning to appreciate hemp's amazing ability to keep you cool in summer, warm in winter, and odor-free year 'round
Like great movies and novels, a smart outfit for changeable autumn and spring weather is one that's multilayered. As I've aged, I've noticed my comfort range has shrunk a little and that I turn more and more to layering to stay comfortable.
Layering is the way to go when the weather's changeable and chilly. Trapeze Tunic in Graphite, Flip Skirt in Black. artisan scarves here.
The science behind layering is pretty intuitive. Layering creates layers of still air resulting in more thermal insulation and moisture vapor resistance as compared to a single layer of fabric. The best layering fibers offer more room to keep more still air within the fibers or the fabric structure itself.
Sympatico hemp and Tencel fabric helps trap heat when worn in layers but never gets clammy like synthetics. Princess Top in Toffee, Stovepipe Pants in Grey Fog, Vintage Batik Cotton Scarf.
It turns out that hemp is excellent when it comes to layering. Its unique fiber structure is the secret. Lawrence Serbin of Hemp Traders who supplies all my fabric explains this phenomenon in a white paper about hemp's many benefits:
Hemp has the best ratio of heat capacity compared to flax and cotton, giving it superior insulation properties. This keeps hemp warm in cold weather, and cool in warm weather. Many of these properties unique to hemp are due to the porous nature of the fiber. Under the microscope, hemp does not look like a flat rod, but rather is filled with nooks, crannies and holes. Hemp has a greater surface area and is more water absorbent.
Increased surface area allows the fiber to dye well and retain its color better than any fabric including cotton or linen. This porous nature allows hemp to "breathe," so that it is cool in warm weather. Air which is trapped in the fibers is warmed by the body, making hemp garments naturally warm in cooler weather. This flow of air hinders the growth of anaerobic bacteria, giving hemp antimicrobial properties. As a fabric, hemp provides all the warmth and softness of a natural textile but with a superior durability seldom found in other materials.
Lawrence has been studying and working with industrial hemp for decades. Early on he found his only viable source for industrial hemp and hemp fabric in the quantities he envisioned were in China. Growing industrial hemp in the US continued to remain illegal until 2018 when cannabis containing less than .3% THC was legalized.
Incredibly up until then, industrial hemp had been lumped together with its botanical cousin, marijuana, during the 1970s. As part of the War on Drugs, all forms of cannabis were classified by the US government as narcotics.
Thankfully, that state of affairs has come to an end. But looking beyond all the medicinal hemp being grown in the US for CBD these days, there is still no infrastructure here to grow, harvest, process, and mill hemp grown for fiber on an industrial scale.
I share Lawrence's fervent hope that as the US grows aware of hemp's many benefits, he'll be able offer hemp fabrics cultivated and produced in the US. I think all of us who support organic clothing and earth-friendly farming methods can get behind that.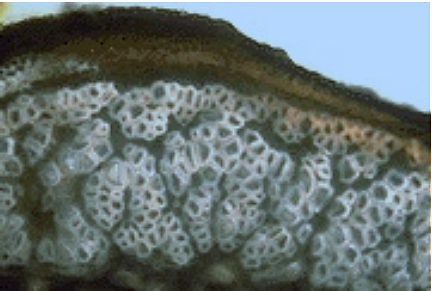 This enlarged cross section of hemp fiber shows its individual fiber bundles that contribute to its insulating and cooling properties.
Similarly, the Tencel content in Sympatico's fabric also possesses warming and cooling capabilities. The fabric has a wonderfully soft, fluid quality to it when woven with other fibers. When it comes to layering, it has thermo-regulating characteristics that help keep you warm in winter, yet cool in summer. And like hemp, Tencel is antimicrobial—its extremely smooth cellular structure resists bacterial growth.
Blended together, hemp and Tencel work in concert to keep you comfortable throughout the year.