Why women travel | How a journey enriches
Posted by Rose on 30th May 2019
Why do you travel? Do you view it as a chance to enjoy some serious R&R or are some journeys in search of something more? A getaway might offer a respite from the busyness and routines that fill our usual days, giving us a chance for some reflection or revived creativity. If you in a rut, travel can alleviate that situation fast!
An interesting story on Vox points out how the demographics of travel have changed dramatically in recent years. More women than men are traveling solo these days, and they're going places for personal growth as well as fun. And women are more likely to initiate travel than men.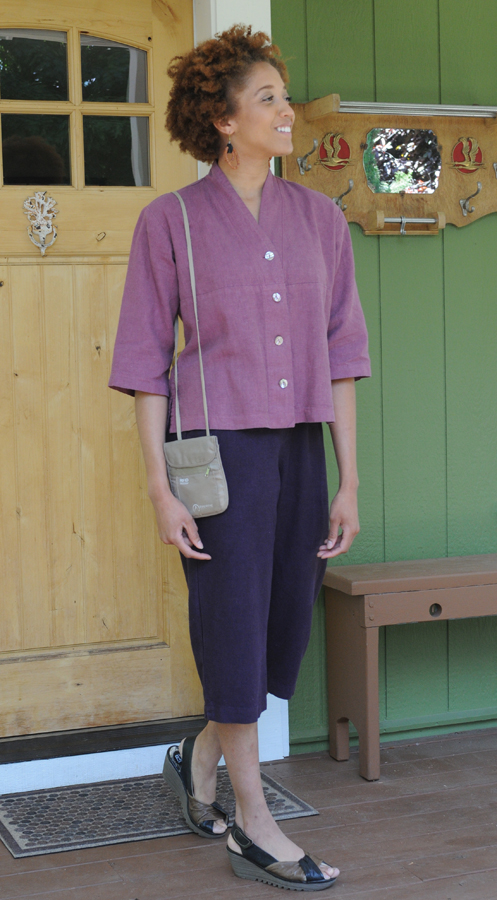 If you're making tracks this summer, a Vintage Rose Tuxedo Top and Plum Cropped Pants can make great "travel companions."
In my case, adventure and curiosity are often at the heart of it. I love the happenstances of travel; for example getting thoroughly lost then being invited to the home of a rescuer for tea. I love seeing close up how people of other cultures live their lives, and it's often those warm, chance encounters that grant us such a view.
By nature, I'm an extrovert, but when I first traveled overseas where language was a barrier, my more introverted husband suddenly became the more gregarious one. It took time for me to become comfortable improvising in order to communicate. Now I'm much less self-conscious about my tin ear where it comes to grasping accents and being understood. Thanks to Sympatico and all the solo travel it has entailed, I'm usually able to have fun and get my needs met, even when language is a challenge.
My first international voyage was in the mid-1990s when, along with my husband and two kids, ages 15 and 13, I traveled around the world over a six-month span. Traveling as a family granted us entree into situations we might not have otherwise enjoyed. We found ourselves invited to all sorts of events including a cremation in Bali as well as weddings in Lombok, Malaysia and Morocco.
Often when we travel as a group, it's our respective interests that lead to adventure and discovery. My son's fascination with volcanoes led to spectacular sunrises and rim walks. My husband's love of music resulted in our sitting in with a gamelan. And of course, the family traipsed along when I explored my textile obsessions. I still relish uncovering ethical clothing companies run by the artisans I encounter along the way.
Probably above all, what I get from travel is perspective. I come back with appreciation for all the material comfort my life affords, but also a clearer awareness of where I fit into the web of humanity.
Why do you travel? I'd love to hear what motivates you to hit the road. If your voyages also involve wearing Sympatico and you have photos, submit an entry as part of Sympatico's ongoing Travel Tales.