Casual skirt shoppers make the Angled Skirt a bestseller
Posted by Rose on 13th Jan 2021
A sustainably made and versatile hemp skirt, it's easy to wear and care for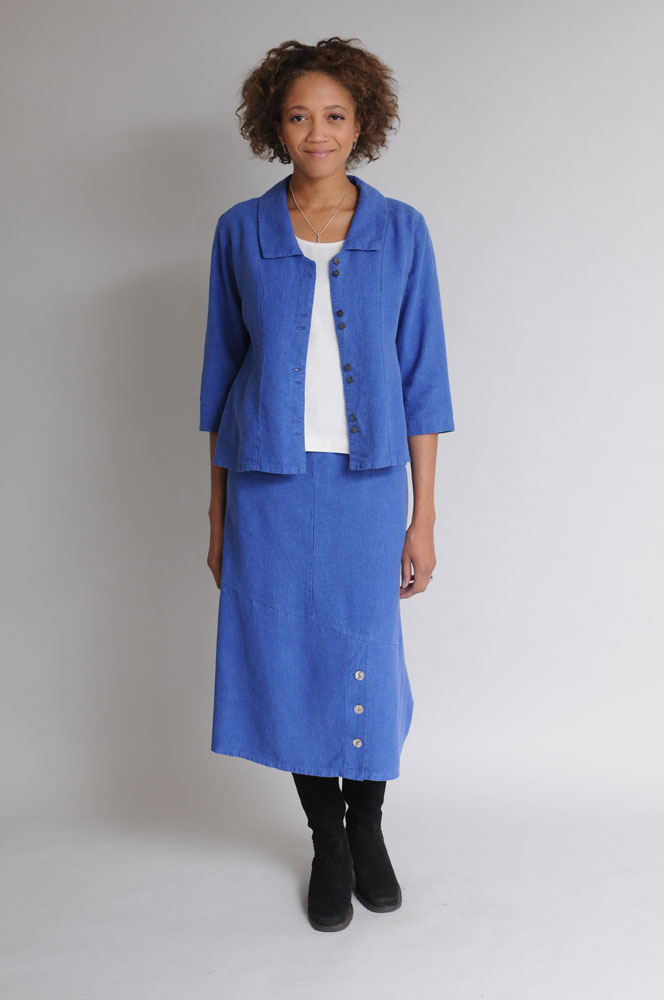 An Angled Skirt in Sapphire with a Princess Top and Tank Top in Natural plus boots is comfy indoors and offers layering advantages when you're out and about.
As we enter the depths of winter, layering continues to be the order of the day for many of us. The Angled Skirt is one of Sympatico's styles that's admirably suited to the season thanks to its layering-friendly qualities.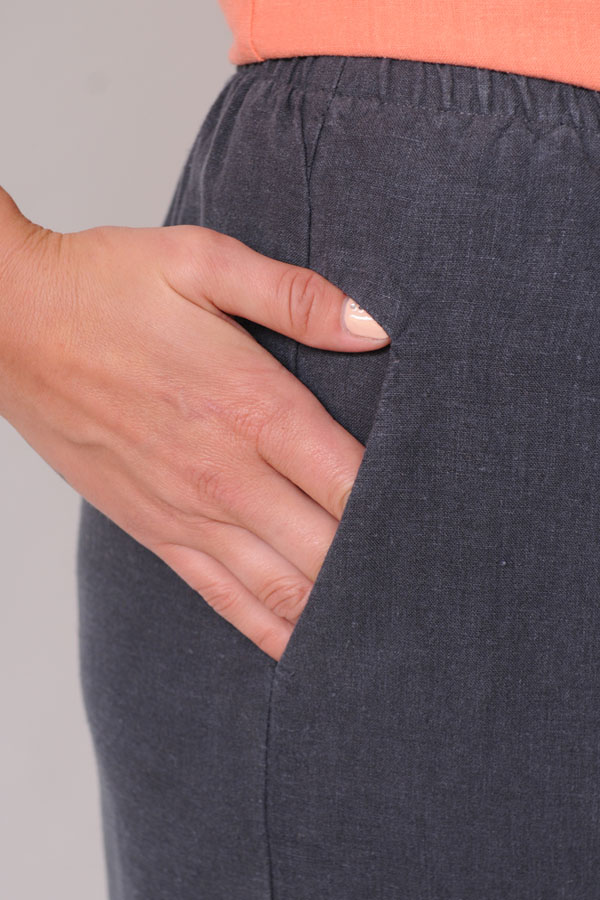 Tidy inset pockets give the Angled Skirt serious practicality.
One key element of the Angled Skirt is the practicality of two inset pockets for keeping all your necessaries at hand. Basing its attractive trumpet profile on Sympatico's trim fit guidelines, I built enough ease in the elastic waist and button-able kick pleat to allow unhampered movement. I was also focused on a pleasing shape that avoids the formlessness of a lot of long skirts. The length makes it an excellent choice for travelers who'll be going places where modesty is valued. As I've blogged about before, the entire Sympatico skirt selection lends itself to travel thanks to its packability and breathability. (Can you tell I'm missing my usual overseas sojourn this year?)
The gorgeous figuring and iridescence of paua abalone buttons add a delightful accent. They're beautifully fashioned in shapes that complement the luster of the authentic mother of pearl.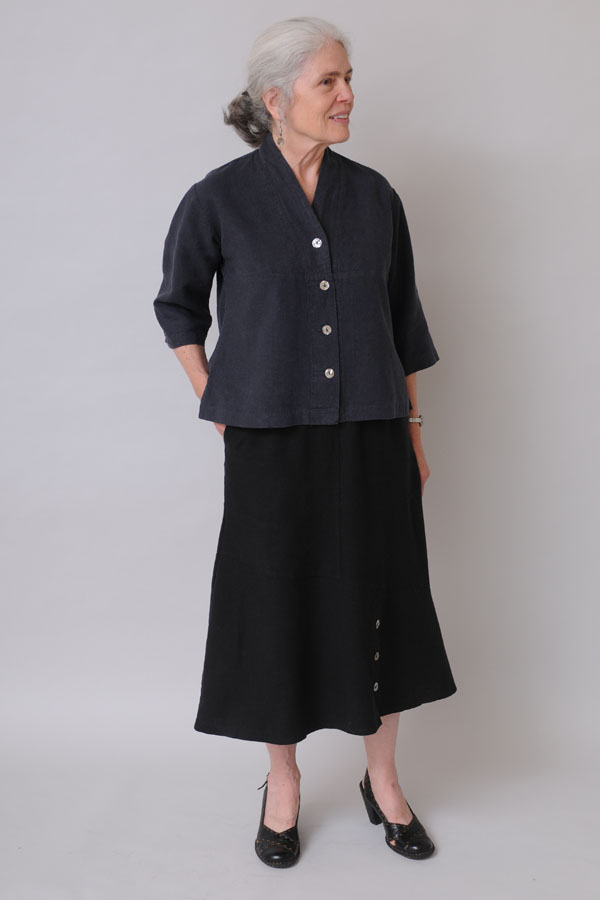 I've found the Angled Skirt in Black to be an ideal basic. (Tuxedo Top in Graphite.)
When it comes to layering, Sympatico's hemp and Tencel fabric blend excels. Both fibers have insulating qualities on their own, and when combined offer excellent breathability and drape. Sympatico's 6.2 oz Mid Weight fabric is substantial and durable as well as antimicrobial thanks to its hemp content. As a key component in a capsule wardrobe, the Angled Skirt is artisan-made to endure. And when its service life is over, the material can be recycled, regenerated, or composted.
Here's what some Sympatico customers have to say about their Angled Skirts:
This well considered original design takes in all the practical factors. Comfort is fully achieved without sacrifice of graceful lines and elegance. The design is freeing and creates a sense of ease. The Hemp/Tencel Angled Skirt is versatile for every day or evening and invites constant use.
I agree that this skirt is an excellent professional length for a 5'5" person. It is very comfortable, and the pockets are a plus. But it is also stylish---interesting cut. The mid-weight fabric has enough body to wear it for work, and I enjoy the look and feel of it. Washes well, ages nicely. This is my second angled skirt already!
Ordered this skirt in Grey Fog. All I can say is wow! Fabulous lines. Fabulous drape and details. This is my go-to now, because it always looks great - dressed up or down. Love this skirt. Travels well. Got compliments on the streets of Chicago, and in Vietnam. Very comfy in all weather - cold or hot. So I ordered 3 more! Fabulous company. Fabulous product. Well done!