Designing styles for my artisan-made collection, great fit and function are key requirements
Posted by Rose on 24th Jul 2021
Well-chosen design elements add to both visual impact as well functional needs like freedom of movement.
Years ago taking a design course, I vividly remember the instructor talking about "coffin designs." She was dismissive of the the kind of garment where all the design details are on the front. Her message must have gone in; I routinely find myself adding details all the way around the apparel I design. Because my ultimate focus is on fit and comfort, I'm always curious to see how the details I incorporate help inform the shape and thus become an element of the design.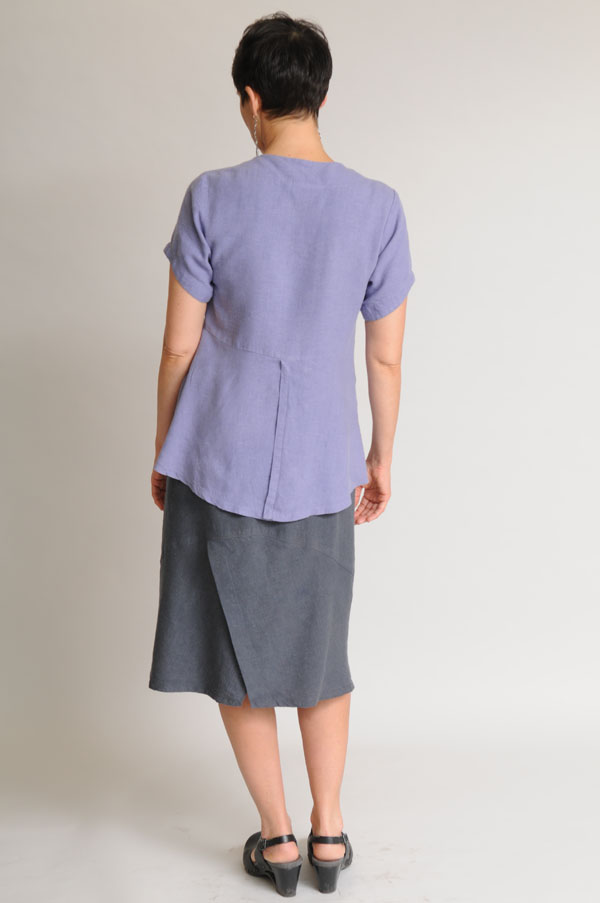 Strategically shaped and placed vents add visual interest and freedom of movement to the Swallowtail Top in Periwinkle and Curved Skirt in Graphite.
Take the Swallowtail Top. The vents in the back are designed to add both visual interest as well as offer ease. The Curved Skirt's kick pleat is designed to allow you to gracefully step up into an SUV or pickup. Unlike conventional kick pleats, though, this one doesn't reveal the back of the leg when you step up.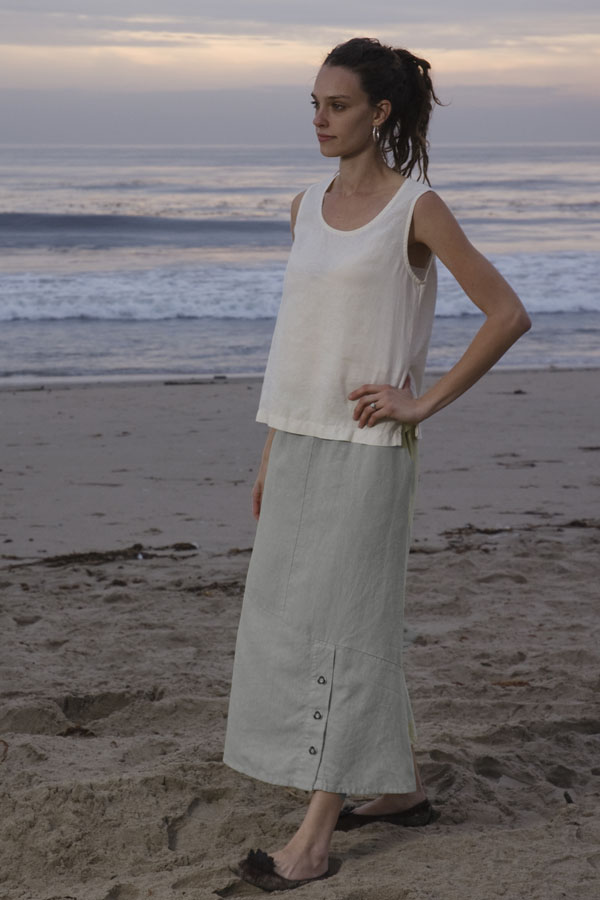 Side vents on the Tank Top in Natural and a side front vent on the Angled Skirt contribute to a good fit while adding a little flair.
The addition of side vents in the Tank Top offers ease and better fit at the hip while adding a nice detail to the minimalist design.The Angled Skit's side front vent that fastens with sustainable harvested paua abalone buttons has proven a long-term fan favorite. And it definitely helps free up your stride — sometimes an issue with long skirts.
It's simple elements like these that are the underpinning of functional, comfortable fashion.
---
An advocate for locally made clothing, Rose Gerstner is the founder of Sympatico, an artisan-made clothing company. She regularly blogs about sustainable fashion and natural fiber clothes.
---