Posted by Rose on 17th Aug 2018
Although intrepid women explorers are sometimes shown wearing pants, there's a convincing case to be made for the long travel skirt when it come to adventurous excursions. On my own overseas jaunts I've found a long skirt often makes an ideal travel companion. Why? Let me count the ways:
A well chosen long skirt dresses up or down easily. Dress it up with a jacket for a more formal, suit-like look or keep things casual with a simple Tank Top.
In many cultures a longer skirt is not only seen as feminine but also respectful and modest.
In hot and sticky climates, nothing beats a skirt for air flow.
As with the top you choose, you can dress up a long travel skirt with boots or dress it down with sandals.
What are the makings of a great travel skirt? Choose a length short enough to avoid tripping but long enough to make sitting easy. Pick a substantial enough fabric that'll handle the rigors of travel while also being layer-able in cold climates and cool enough in hotter destinations.
How long is long enough?
Like the answer to most profound questions, the answer to that question is, it depends. The lengths of my Angled Skirt and Curved Skirt are low-calf and mid-calf respectively, on women of average height and proportions.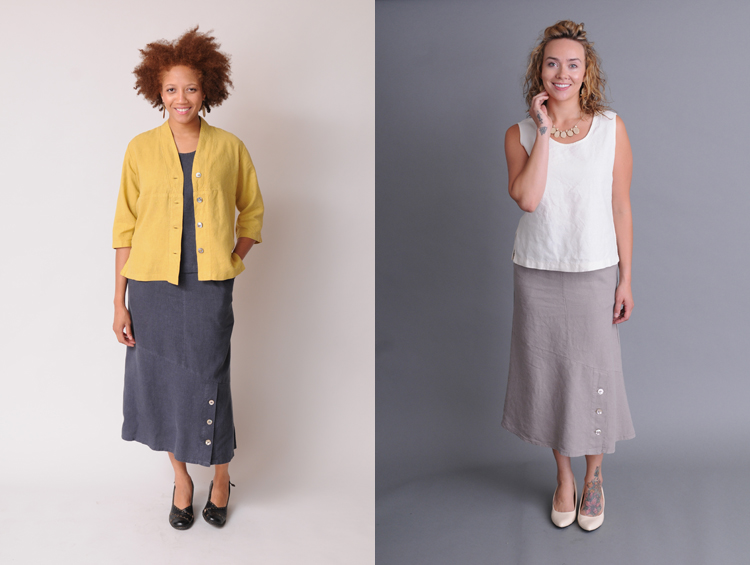 The Angled Skirt offers plenty of coverage as a travel skirt. Nikki (L) is 5'10" while Anastacia is 5'9".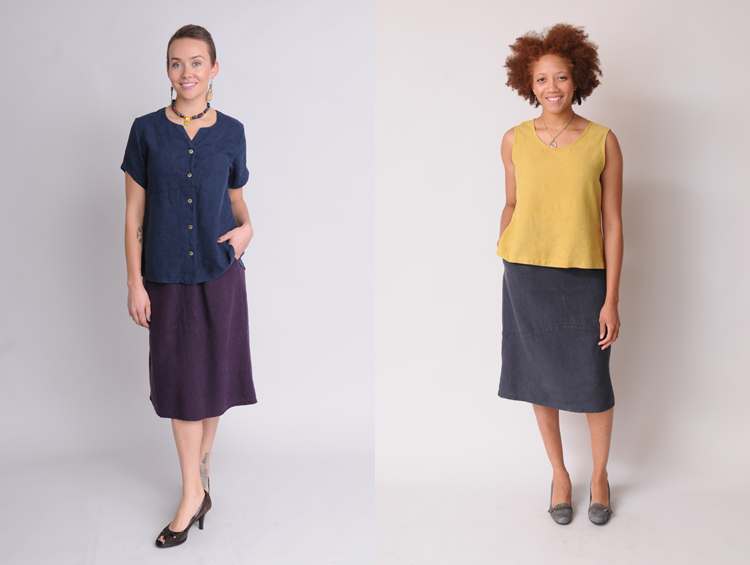 Sympatico's Curved Skirt finds the pivot point between modest and modern on figures of average and petite height and proportions.
Which length skirt is best for you may come down to your height
As a recent entry in Sympatico's Travel Tales contest brought home, even the longer version of the Flip Skirt can work on petites.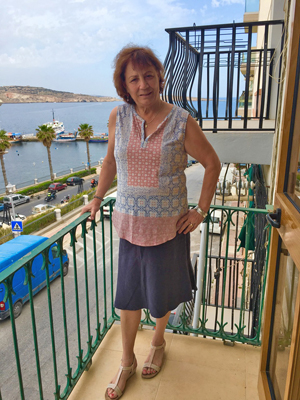 At an average height of 5' 5 1/2", customer Rose Fonda wore the 24" Flip Skirt as a versatile knee-length travel skirt on a recent trip to Malta.
Rose travels frequently to Italy and Malta to visit family and often packs her Sympatico skirts and tops for her journeys.
On Petites (typically 5'3" or less), the 24" Flip Skirt can serve as a long travel skirt.
By the way, if you have a Travel Tale to tell that involves Sympatico wear and I use it, you'll receive a $100 Sympatico gift certificate. Check out some tips on submitting a winning Travel Tales entry here. I look forward to seeing and hearing about your adventures decked out in Sympatico.