Mix it? Match it? The Sympatico color palette
Posted by Rose on 16th Sep 2021
My line of hemp and Tencel clothing takes dye wonderfully so carefully chosen shades offer maximum versatility.
The basic concept of Sympatico's color scheme is straightforward. Classic colors such as Graphite, Natural and Grey Fog work like neutrals and form the base of the Sympatico capsule wardrobe. My fashion colors, in this case, Peach, add panache. Shades must communicate and work with each other to make the cut in my color scheme.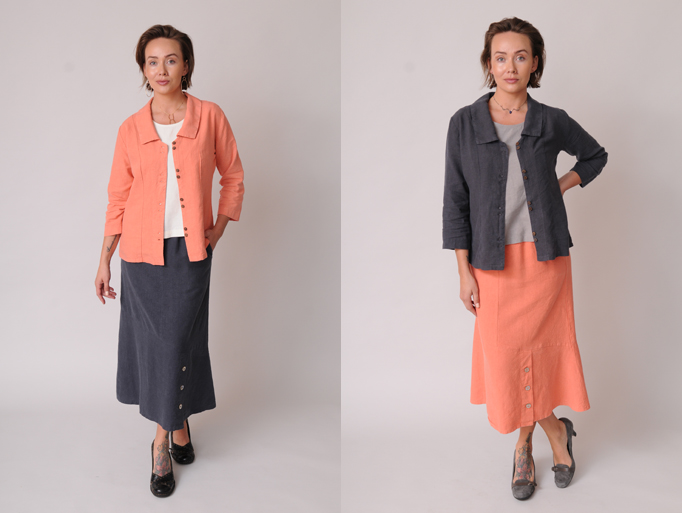 Mix and match or matched set? Lots of looks with my classic and fashion colors. On the left a Peach Princess Top, Natural Tank Top and Graphite Angled Skirt. The image on the right features a Graphite Princess Top, Grey Fog Tank Top and Peach Angled Skirt.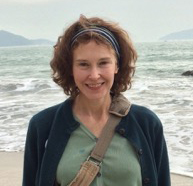 When it's time to add a new shade to Sympatico's palette, I turn to my friend, Chris Carpenter.She worked for many years at the Oregon Shakespeare Festival's costume shop in Ashland, Oregon. A veteran dyer, Chris understands how tones do and don't work together and how they interact with skin colors. She's an invaluable resource in pinpointing shades that complement one another and that will work in the dye bath. After a career dialing in exact shades for fussy production and costume designers, she enjoys the challenge of helping put together Sympatico's color lineup.
Chris has a brilliant eye for color compatibility that proves itself each time Sympatico rolls out a new shade. She sees subtleties and chromatic connections between tones that I might easily miss. As a result, more often than not, she's able to pinpoint a specific color value for a new shade that makes it easy to coordinate with the rest of the Sympatico platte.
Minimizing the environmental impact of Sympatico's colors
As I explain in greater detail in this post, Sympatico's hemp and Tencel clothing collection is dyed using low-impact fiber reactive compounds that minimize pollution while also imparting shades that will hold up to long-term laundering and wear. I see extending the life and serviceability of every garment I produce as part of the core mission of creating truly sustainable fashion.
My dyer is another critical partner in the process of developing new colors. The company operates in California where wastewater and other regulations are extremely strict. Being aware of the immense pollution issues resulting from dyeing operations in the developing world where most fast fashion is made, it is crucial that Sympatico do better. And my dyer helps make that possible.