One top, two looks
Posted by Rose on 9th Feb 2018
Sustainable clothing style tips: Here's a hemp top that's all about versatility.
It's no wonder that since day one, the Tuxedo Top in super breathable blended hemp and Tencel has been Sympatico's #1 bestseller. I designed it to work in just about any setting from casual to career to just hanging out at the farmers' market. The Tuxedo Top is sized to layer nicely, making it a true three-season top in most climates.
Adding to its versatility, I offer the Tuxedo in two weights. Thanks to its somewhat more structured construction, the Mid Weight Tuxedo Top provides a little more of a jacket feel and look. The Light Weight Tuxedo Top has a little less body and is exceedingly breathable in hot and sticky weather.
Whichever version you choose, you'll find your Tuxedo Top is an unfussy garment that machine washes and dries readily. The hemp and Tencel blend is ideal for travel; when packing, just roll up your Sympatico hemp tops. On arrival, hang them up and they should be totally presentable by morning. Deeper wrinkles can usually be remedied by placing the garment in a steamy bathroom or spritzing your hemp tops with a little water. One of the appealing traits of our hemp Tencel blend is its ability to relax wrinkles away.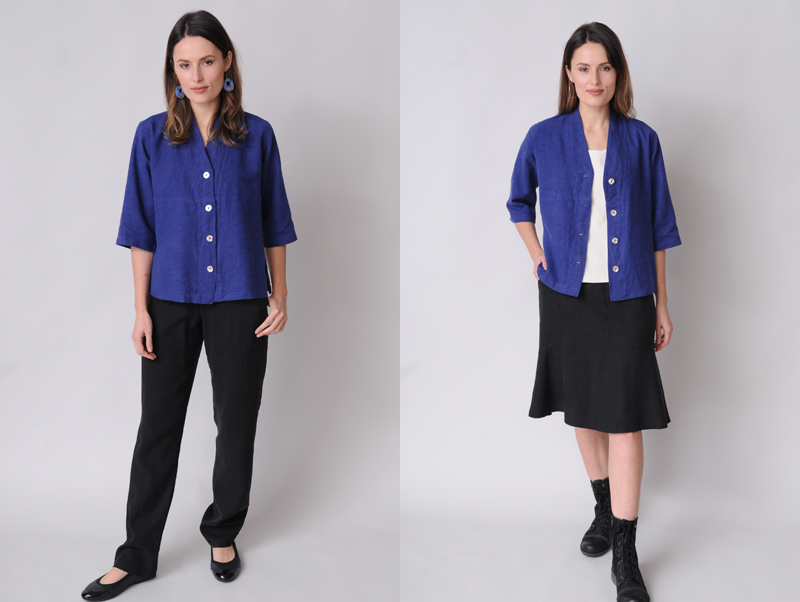 Anna's Tuxedo Top in Twilight worn with Stovepipe Pants in Black (left) creates a tidy profile; (right) pairing the Tuxedo with a Tank Top and a Flip Skirt in Black and boots produces a different look.
In designing the Tuxedo Top, I sized it to be layered so you'll be able to wear it most anytime. Speaking of sizing, the Tuxedo's letter sizes run large. Be sure to check the size chart carefully before ordering so as to avoid disappointment. If you're still not sure what size you are, use your bust measurement. Read more about Sympatico sizing here.
---

Rose Gerstner's blog posts offer clothing style tips for conscious consumers who are concerned about the negative impacts of fast fashion. You can sign up to receive her weekly newsletter at the bottom of this page.
---
The Tuxedo hemp top pairs attractively with Sympatico's lineup of hemp pants and skirts. A lot of my customers especially like the tidy look of a Tuxedo Top worn over Sympatico's Stovepipe Pants.
The Sympatico collection of hemp tops for women is an excellent place to start when shopping for sustainable fashions. Both the hemp and Tencel used in every Sympatico garment is derived from fibers that are Earth-friendly and produced sustainably. Similarly, I seek out accessories such as abalone and coconut shell buttons that are sustainably harvested.
Concerned womens clothing buyers can rest easy knowing every Sympatico garment is artisan-crafted in the US. As a microbusiness, my priorities are the fair treatment and compensation of workers throughout the supply chain coupled with an abiding concern for our planet.