Pockets are paramount for this sustainable clothing brand
Posted by Rose on 11th Jun 2020
A look at pockets through the ages reveals how they've determined who gets access to the tools that confer power
My favorite podcast these days delves into the meaning of clothing and fashion in ways I haven't heard or seen elsewhere. If the subtext clothes carry is something that interests you, I can't recommend Articles of Interest highly enough. A miniseries project of 99% Invisible, the show is now in its second season and has been applauded by the New Yorker, BBC, and many more.
The third episode of the debut season delved deep into pockets, a subject close to my heart and one I've already blogged about. The show makes some highly observant socioeconomic and gender-based connections with pockets.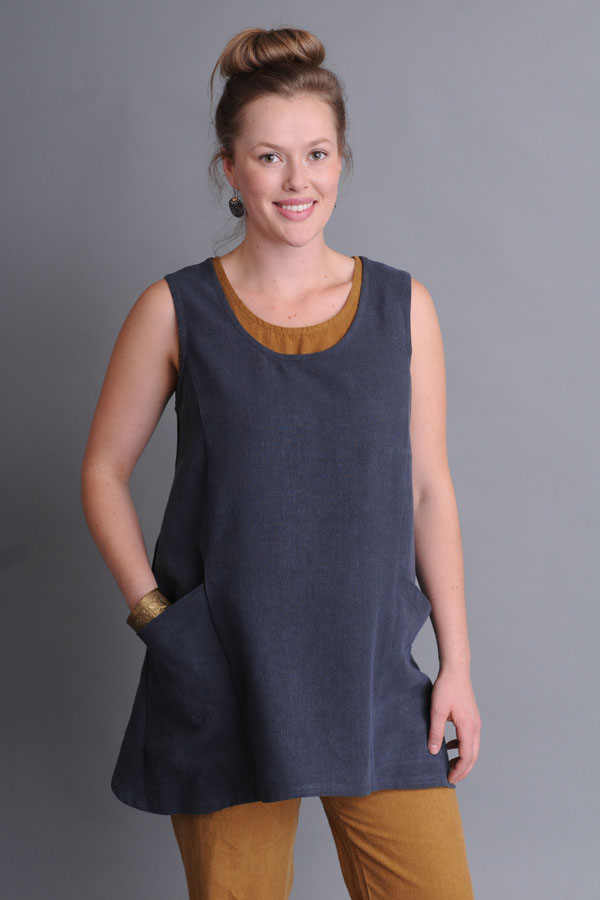 Our Trapeze Tunic has deep and fun pockets (and so do the Stovepipe Pants underneath).
Pockets weren't always internal. Beginning in the middle ages, both men and women wore pouches or bags suspended from their waists in order to keep necessities at hand. Whether they contained a scrap of leftover breakfast or a tool, these pouches were highly functional. Over time, as modern trousers took shape, pockets moved to the interior of men's clothing. Dress styles grew more and more voluminous, and women began tying their pockets under their clothing and accessing them through slits cut in their petticoats and dresses. Women's pockets were worn like lingerie.
The 19th century world of fashion proved to be a dark time for pockets in women's wear. Women's fashions grew more slender and formfitting in shapes inspired by Grecian columns, and the reticule came into vogue. Journalists joked that these tiny purses were named for the word ridiculous because they were too small to carry much of anything. The assumption in these designs was that women didn't need to do much except function as beautiful creatures.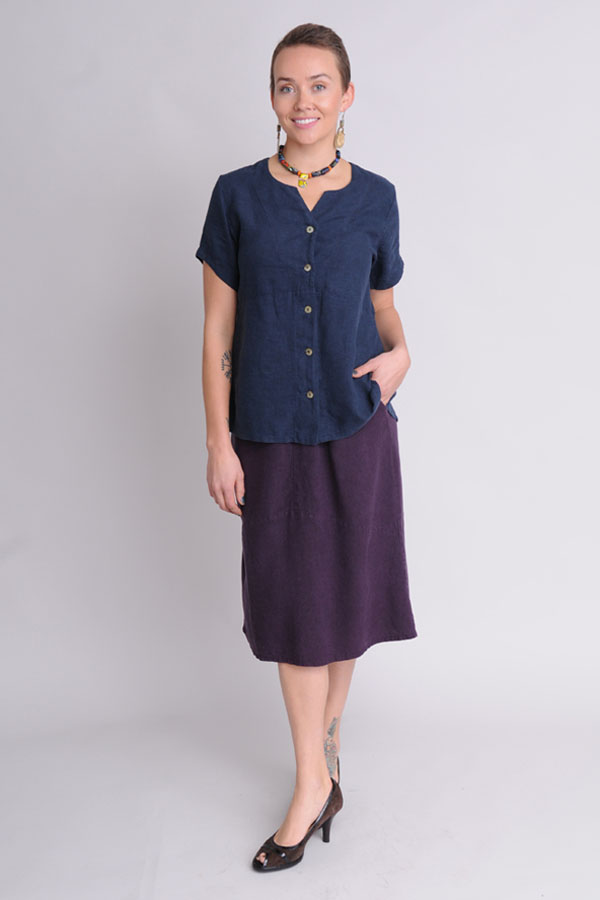 All of our skirts and pants have two useful pockets. Seen here: the Curved Skirt and the Swallowtail Top.
In the Victorian era, some men's tailors began producing fashions for women. But they tended to undersize pockets in their women's designs. They made the pockets so small as to lack utility. Women were obliged to carry handbags in order to keep their accoutrements at hand. These bags lacked the intimacy and secrecy of men's pockets and could easily be stolen or lost.
Men have actually sometimes struggled with too many pockets. (By 1944, the average man's outfit had 24 pockets!) Between suits, overcoats, vests, and trousers with their specialized ticket and watch pockets, there can be too much of a good thing. "Where did I put that lottery ticket?" Not so for Thomas Jefferson, notorious for his love of tools and gadgets.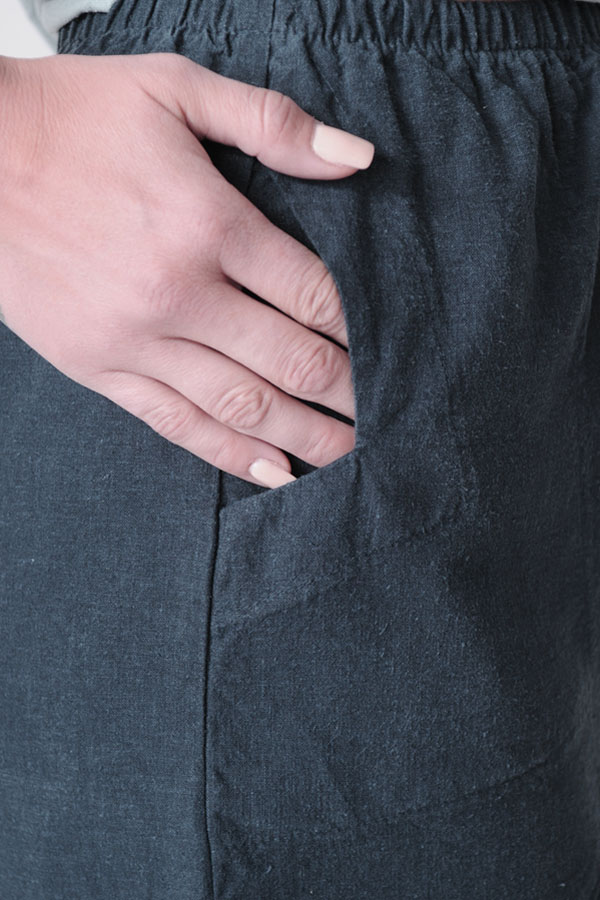 Our Flip Skirt pocket is deep enough for most cell phones and is designed so it won't bulge when you sit.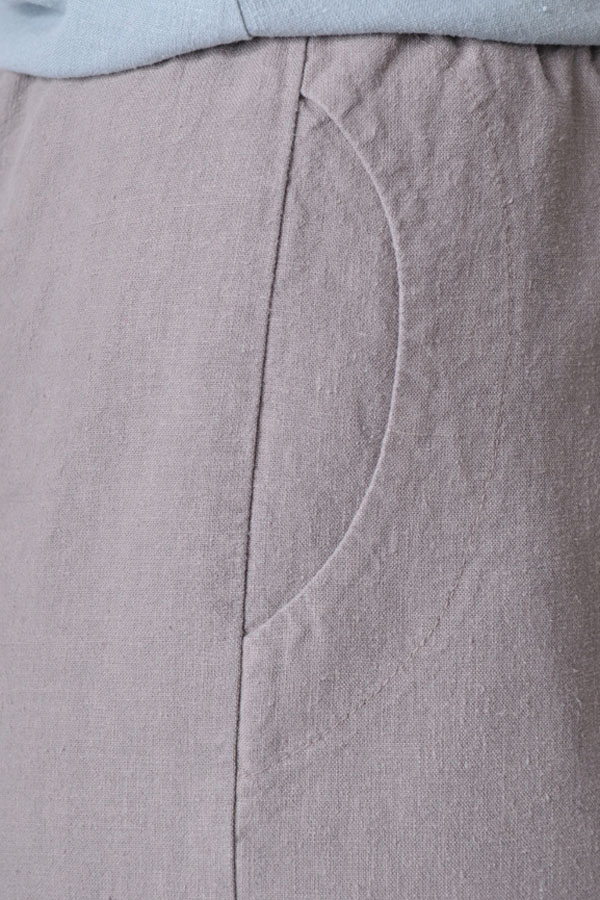 Our pants pockets have plenty of stash-ability; this pocket opening is on the Cropped Pants.
In a fascinating field trip, the show visits a police uniform shop where the proprietor reveals that though there are uniforms made for females available, virtually all cops wear men's uniforms. Why? It's the pockets! The women's uniforms may fit better, but their undersized pockets are a big flaw for cops who have to carry an impressive amount of gear.
Which raises interesting questions about pockets and power. Today, (s)he who has ready access to tools wields power. Mobile devices put many of the tools Jefferson lugged around and many more he couldn't imagine at our fingertips. These tools have helped to level the playing field. But imperfectly so—too many people lack access.
The podcast goes on to imagine a utopian, crime-free future in which none of us needs pockets; the tools we need being bionically implanted or otherwise universally accessible. In the meantime, I plan to continue offering plenty of functional pockets for today's women.