What I did on my winter vacation
Posted by Rose on 19th Feb 2019
I spent January in Jogjakarta, Indonesia, and it proved a perfect chance to put some of the tips that have appeared in Travel Tales posts to a(nother) real-world test. Teeming and tropical, "Jogja," as the locals call it, is the cultural heart of Java. It's also home to my daughter and her husband who love the city's cultural vibrance. Crowned by an opulent sultan's palace and thrumming with performance and visual arts, Jogja is also a center for batik and other artisanal textiles—aside from family, the other big drawing card for me.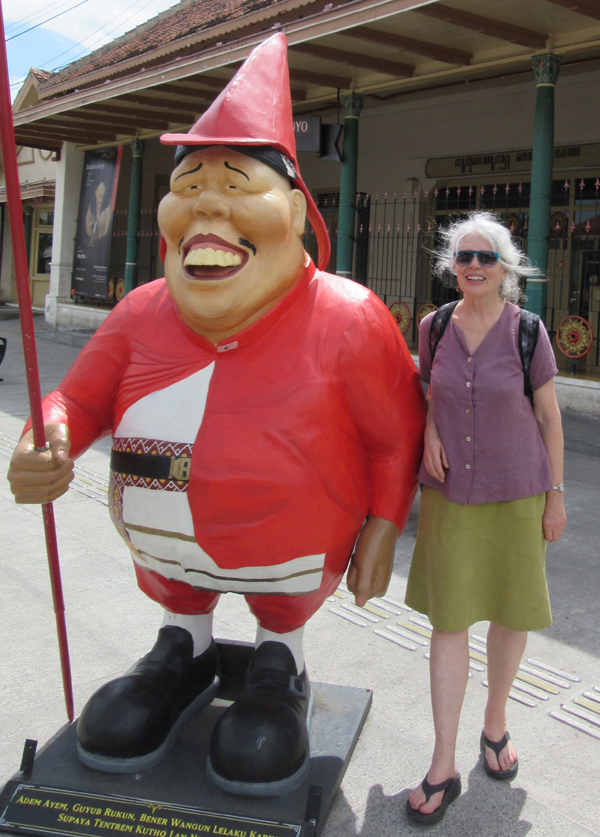 Making new friends in my Swallowtail Top and Flip Skirt.
The slimmed down travel wardrobe

I packed light with a capsule wardrobe of Sympatico styles. The sweltering heat and humidity brought home just how comfortable and breathable Sympatico's tops are in the Light Weight version of my fabric. I brought three tops with sleeves and two sleeveless. Alternating them with a knee-length Flip Skirt, an Angled Skirt and pair of Cropped Pants offered a lot of possibilities.
On the right, I wear my Angled Skirt on a long day trip to Surakarta.
Two pairs of shoes, some jeans for the plane trip and the rare cool evening, plus layers for frigid aircraft cabins comprised my "outer wear" wardrobe. My suitcase was light and had space to bring home presents plus some stunning scarves--more about those and the fascinating craftspeople I met there in future newsletters.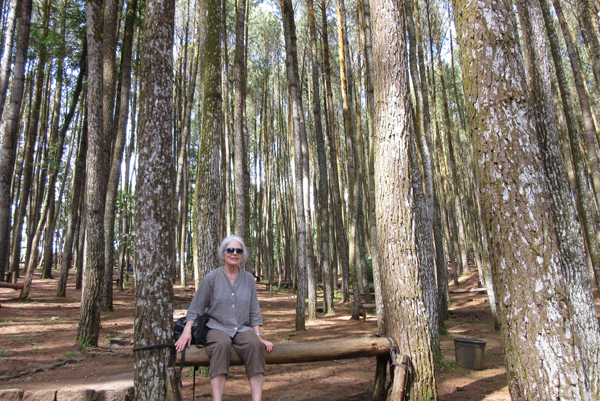 My Light Weight Tuxedo Top and Cropped Pants were cool and comfortable on an excursion to the pine forest.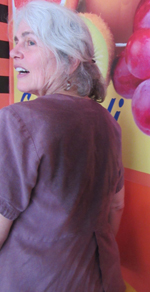 Travel wear on the road
On the planes, I carried a synthetic backpack, sturdy enough to hold both my computer and iPad. A cotton knapsack was stowed in my checked luggage for carrying camera, wallet, map/iPad and a small umbrella once I arrived. I loved that knapsack, but sadly the zipper has become unreliable and the pack is worn. So I am on a quest for a well-made pack of natural fibers. If anyone knows of a good one, I'd love to hear about it.
(The photo, left, demonstrates the downside of a synthetic pack in the tropics!)
On excursions to see textile artists, attend musical performances or just to explore, I walked, took a "Grab" (the Indonesian Uber) and occasionally rode a motorcycle, the ride of choice for most Javanese. Crowded city buses and walking despite tropical showers didn't lend themselves to staying well-pressed and neat. But except for days when I switched to my synthetic backpack because my cotton one was wet, I managed to stay quite comfortable and presentable.
To launder or not to launder?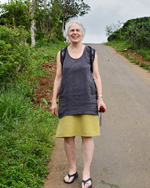 I washed a couple items, but mostly found that, despite having sweated profusely, odors in my Sympatico items dissipated when left to hang over night. (That's thanks to the hemp content in the fabric, which is antimicrobial.) Spot cleaning spills was the order of the day to stay neat and presentable.
These winter getaways are wonderfully restorative and also are a fascinating glimpse into an unfamiliar culture. Stay tuned in coming weeks as I share some of my adventures and textile discoveries.