My latest sustainable fashion shade: Mulberry!
Posted by Rose on 21st Oct 2021
I've just added this easy-to-wear color to Sympatico's artisanal clothing collection.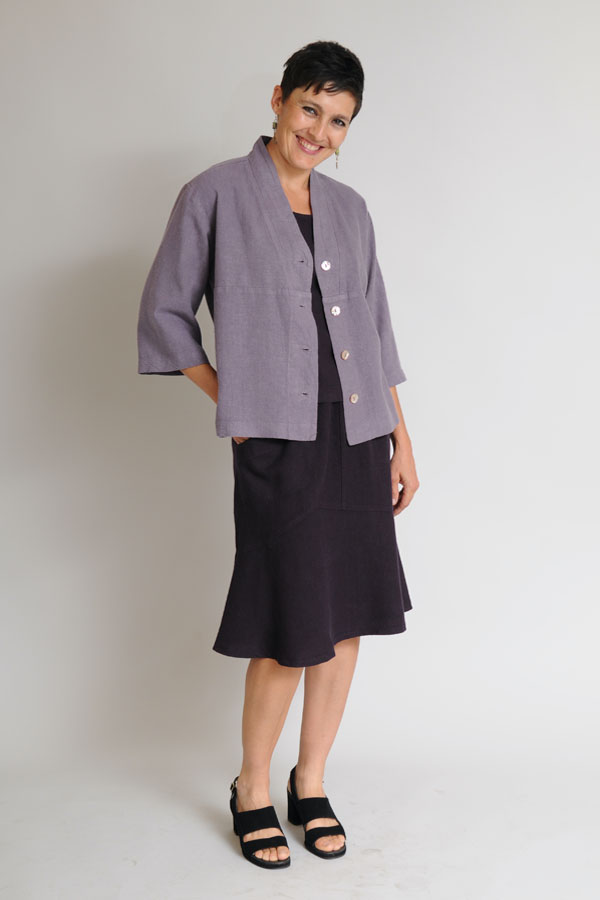 A Tuxedo Top in Mulberry looks terrific over a Plum Tank Top and Flip Skirt.
With the invaluable help of my color advisor, Chris, and my dyer, Mary, Sympatico's newest shade achieves just what I had in mind. Slightly muted, Mulberry is an easy-to-wear color that looks fantastic with my bestselling Plum shade. But it does extraordinarily well alongside just about the whole Sympatico palette and beautifully complements silver and greying hair.
I've stocked up on Mulberry in most all sizes and styles. But as many fans know, as a micro business, I only carry a couple or so items in a given size and color. If you don't see what you're looking for, as long as I have uncut Mulberry on hand, I'll cut and sew items to order at no extra charge. Just allow a couple of weeks for me to cut and sew your order. Call me at 541-899-3988 or drop me an email here to arrange it.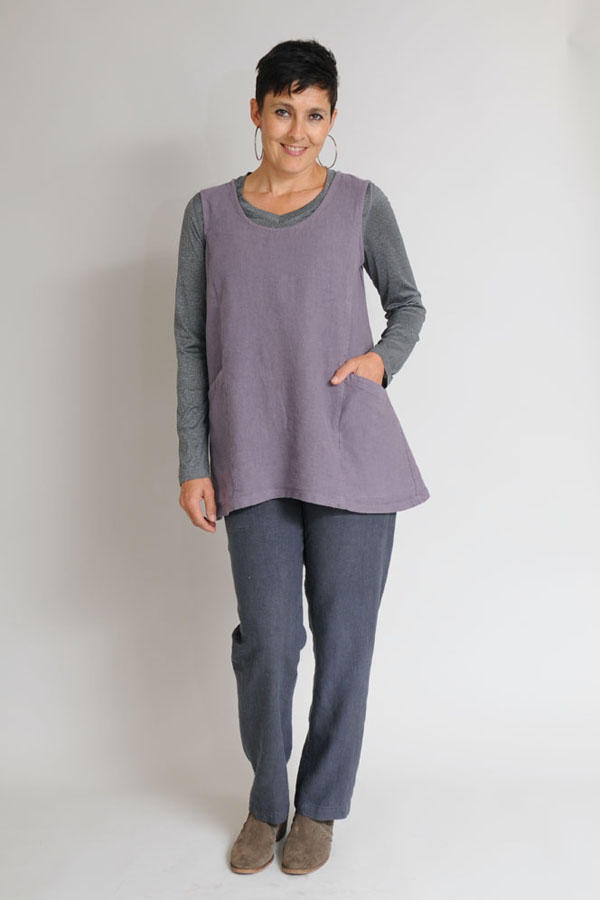 The Trapeze Tunic in Mulberry works beautifully with neutrals such as Stovepipe Pants in Graphite.
We're all deeply connected
Each day a small study group I belong to considers a verse expressing wisdom we can make real in our lives. Today's was especially resonant for for me and I'd like to share it:
I began to think about how many people were involved in the making of my shirt.
I started by imagining the farmer who grew the cotton. Next, the hundreds
or even thousands of people involved in the manufacturing of the tractor.
And all the designers of the tractor. Then, of course all the people who processed the cotton,
the people who wove the cloth, and the people cut, dyed, and sewed that cloth.
The cargo workers and truck drivers who delivered the shirt to the store
and the sales person who sold the shirt to me. It occurred to me that
virtually every aspect of my life comes about as the result of others' efforts.
Howard Cutler
I've always thought of the intermeshing of parts and gears in a sewing machine as a small miracle. The complex business of connecting makers and consumers is perhaps even more miraculous—a point being brought home with the pandemic and its interruptions to our supply chains. Though I see Sympatico as an extremely personal manifestation of my convictions, it's undeniable that without countless others, it couldn't exist.